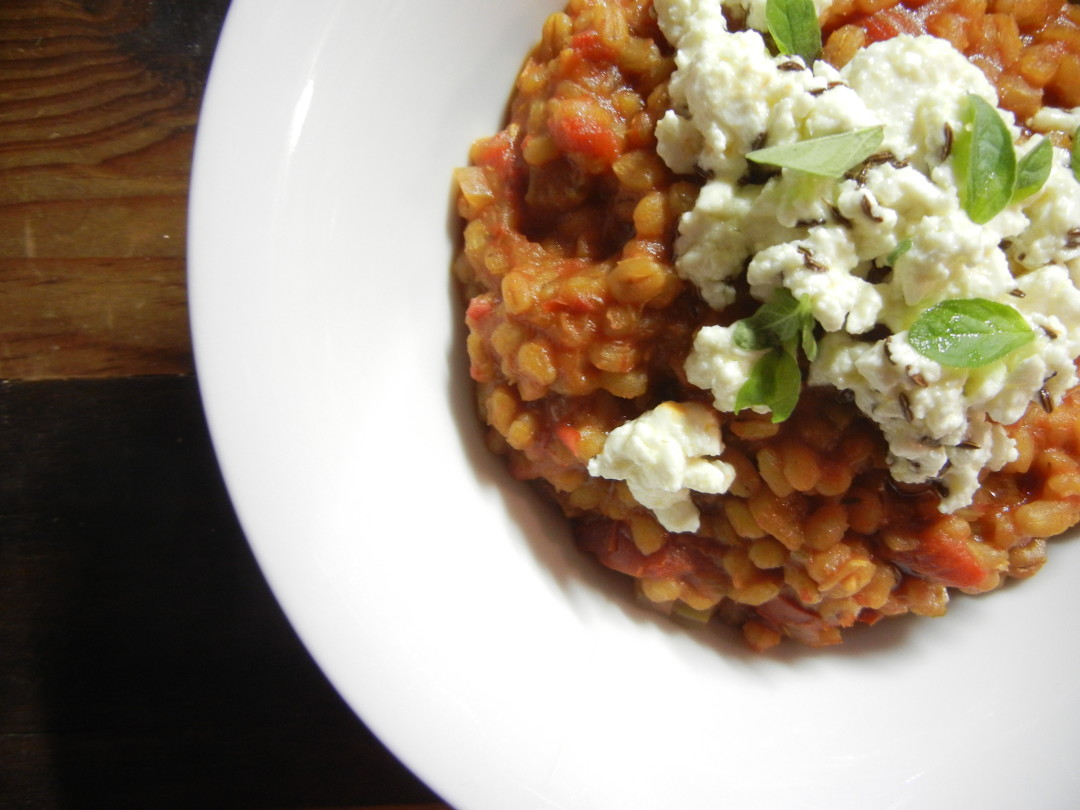 Flipping through the pages of Yotam Ottolenghi and Sami Tamimi's beautiful cookbook Jerusalem, I found myself lingering not on the pages with pictures of their delicious-looking recipes, but instead on those with images of the holy city. Especially the ones with pictures taken inside the markets where rows of stalls could easily overwhelm the senses. Some were stacked high with freshly baked bread. Others sported shelves bending beneath the weight of so much hummus. Many displayed a colorful array of fruits and vegetables, and still others were lined with containers of pickled vegetables and bags of spices.
The photograph of a half melon with a well-worn hand saw driven into its bright orange flesh was particularly poignant. The fruit sits in front of a sand-colored stone wall and there is a box of cherry red tomatoes in the foreground. It was the contrast of colors and evidence of the past in the present that reminded me of my trip to Jerusalem.
My friend Abi's sister got married in Israel the summer before our junior year of college and I am still so grateful I was able to tag along. In Tel Aviv we tried shakshouka and walked for miles alongside the ocean hoping for a breeze that would, if only for a moment, relieve us from the heat. The wedding was at an outdoor venue overlooking an orchard and I remember the festive and celebratory effect of the Christmas lights that hung above our heads, illuminating the evening, the happy couple, and their guests.
In the days after, we made a trip to Jerusalem and I was taken with the way the city's long and exalted, if sometimes tortured, history seemed to reverberate in everyday life. I could just imagine the millions of people over thousands of years who had made their way through the Old City as we did, through a maze of narrow winding streets that, for us on that day, led to the Western Wall. As throughout the city, many were wearing traditional clothing. Men and women prayed in separate areas in accordance with Orthodox Jewish law.
As a sacred site for three of the world's great religions, the conflict that has characterized so much of Jerusalem's history seemed encapsulated in the proximity of the Dome of the Rock to the Western Wall. Muslims and Jews worshipping in such close proximity, though they might as well have been miles apart for the barriers, both visible and invisible, that separated them.
We walked through one of the city's great markets, like those pictured in Jerusalem. Occasionally I tried to capture the vibrant array of colors and neat stacks of food for sale with my camera, but a feeling of self-consciousness would creep over me before I could even focus the frame. For the regulars, this bounty, the freshness and variety, were nothing out of the ordinary.
I was only then beginning to understand how food could be so much more than sustenance. It's the same passion with which Jerusalemites cling to their faiths that they approach their food. They are enthusiastic about it – competitive even – for recipes have been perfected over generations and there is much to be confident about. The food was fresh and flavorful, often influenced by more than one cuisine given the incredible amount of diversity among the city's inhabitants. If communities had remained separated from one another, their foods seemed to have ignored the division.
After flipping through Jerusalem, I returned to the introduction. Yotem Ottolenghi is a Jew and Sami Tamimi a Muslim and in the opening paragraphs of their book, they describe how, though they lived on opposite sides of the city and never knew one another, they shared a favorite childhood dish. Their memories of a similar couscous with tomato and onion gave way to the realization of more shared foods and flavors as they became friends and eventually business partners in London.
And I love that. Jerusalem is a wonderful book not only because it presents great recipes, but also because it shows food as something that transcends our differences. We can all find common ground in a delicious meal.
Barley Risotto with Marinated Feta
Serves 4
1 cup pearl barley
2 tbsp unsalted butter
6 tbsp olive oil
2 small celery stalks, cut into 1/4-inch dice
2 small shallots, cut into 1/4-inch dice
4 cloves garlic, cut into 1/16-inch dice
4 thyme sprigs
1/2 tsp smoked paprika
1 bay leaf
4 strips lemon peel
1/4 tsp chile flakes
scant 3 cups vegetable stock
1 1/4 cups passata (sieved crushed tomatoes)
1 tbsp caraway seeds
10 1/2 ounces feta cheese, broken roughly into 3/4 inch pieces
1 tbsp fresh oregano leaves
salt
Rinse the pearl barley well under cold water and leave to drain.
Melt the butter and 2 tablespoons of the olive oil in a very large frying pan and cook the celery, shallots, and garlic over gentle heat for 5 minutes, until soft. Add the barley, thyme, paprika, bay leaf, lemon peel, chile flakes, tomatoes, stock, passata, and salt. Stir to combine. Bring the mixture to a boil, then reduce to a very gentle simmer and cook for 45 minutes, stirring frequently to make sure the risotto does not catch on the bottom of the pan. When ready, the barley should be tender and most of the liquid absorbed.
Meanwhile, toast the caraway seeds in a dry pan for a couple of minutes. Then lightly crush them so that some whole seeds remain. Add them to the feta with the remaining 4 tablespoons of olive oil and gently mix to combine.
Once the risotto is ready, check the seasoning and then divide it among four shallow bowls. Top each with the marinated feta, including the oil, and a sprinkling of oregano leaves.