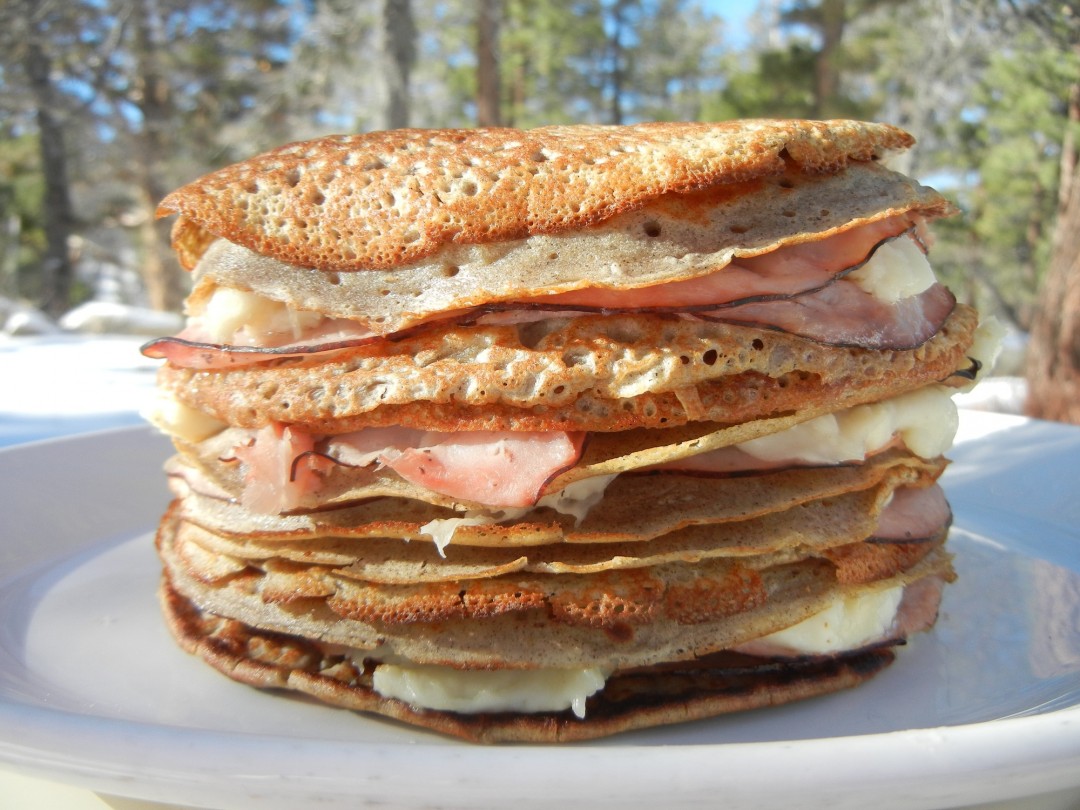 Let crepes cool before you layer them with any kind of sauces, frostings or fillings. This was a lesson I had already learned.
Béchamel Sauce was one I had not.
Several years ago I attempted a crepe cake for Dorian's birthday. Layers of rich custard and crepes were piled high and then draped in a rich chocolate ganache. Had it looked anything like it did in the pictures, I'm sure I would have dazzled him with that dessert.
Well if the crepes are still warm, they'll slide off the custard and all over the place and you'll be left with something straight out of Whoville, teetering precariously on the edge of collapse. But while the Who-pudding and Who-roast-beast remained intact, my crepe cake never recovered once its slide to the right was complete.
We were spending the weekend at the cabin in Big Bear and I wanted to once again try and dazzle Dorian, this time with The Silver Palate's Black Forest Crepe Torte. Lesson learned, I remembered to make the crepes the day before and figured I could whip up the Crème Fraîche and Béchamel Sauce easily the next morning before assembling this masterpiece.
The following is a pretty accurate account of my thought process that morning.
Hmm. Crème Fraîche needs to stand out overnight until thickened, which could take as long as 24 hours in cold weather. It's only 27 degrees here! Okay, I guess we can skip that…I mean it was just a garnish.
Begin the Béchamel…melt butter in a saucepan…okay last night's mashed potatoes are in the only saucepan, so will attempt sauce in frying pan. Whisk in flour…okay there are no measuring spoons on hand so will need to eyeball. Oh! That last spoonful was pretty generous…wonder if it will make a difference? Stir for 5 minutes…I didn't expect it to be so, erg, chunky. And they don't consider this "caramel" color to be brown…do they? Add butter-flour mixture to boiling milk and whisk constantly. God Lord! My arm is getting tired…and this is getting strangely thick. Not sure whether it is still a liquid. Act natural.
Let's layer. So easy, kids could do it. Crepe, ham, béchamel…hmm this clump is rather hard to spread evenly. Dot with butter. Crepe, ham, béchamel…okay if I drag from center I can cover a decent amount of the ham's surface. Dot with butter. And on it went.
The center was noticeably higher than the edges on account of the clumps I had tried to work out. As Dorian looked over from watching TV, I stepped back to stare at this "torte" and remember having flash backs of the crepe cake disaster…
Apparently measuring spoons would have served a real purpose here; I put in way to much flour.
Another lesson learned: measuring spoons needed.
Crème Fraîche
Makes 2 cups
1 cup heavy cream
1 cup dairy sour cream
1. Whisk heavy cream and sour cream together in bowl. Cover loosely with plastic wrap  and let stand in the kitchen or other reasonably warm spot overnight, or until thickened. In cold weather this may take as long as 24 hours.
2. Cover and refrigerate for at least 4 hours, after which the crème fraîche will be quite thick. The tart flavor will continue to develop as the crème fraîche sits in the refrigerate.
Buckwheat Crepes
Makes 16 crepes, 7-inch size
2 1/2 cups milk
4 tablespoons sweet butter, cut up
1 cup buckwheat flour
1 cup unbleached all-purpose flour
1/4 teaspoon salt
4 eggs
vegetable oil for frying
1. Warm the milk in a small saucepan with the butter. When the butter has melted, set aside and cool slightly.
2. Pour both flours into the bowl of a food processor fitted with a steel blade. Add the salt and process for an instant to blend. (Or just mix together in a bowl.) 
3. With the motor running, pour in the milk and butter mixture and then drop in the eggs; process until blended. Let better stand for 30 minutes.
4. Brush a 7-inch crêpe pan with a paper towel dipped into vegetable oil. Set over medium heat until smoking. Pour 1/4 cup batter into the pan and immediately tilt and turn the pan so that the batter will cover the surface evenly. The crêpe may have a few holes; this is fine. Turn the crêpe when underside is well browned, 3 or 4 minutes, and cook on the other side for 2 or 3 minutes. Slide crêpe out onto a kitchen towel to cool. Repeat with remaining batter, stacking finished crêpes; add additional milk if batter seems too thick, and re-oil skillet after each crêpe.
5. When crêpes are cool, use immediately, or layer with wax paper and refrigerate or freeze.
Béchamel Sauce
Makes 2 cups thick sauce
4 tablespoons sweet butter
6 tablespoons unbleached all-purpose flour
2 cups milk
salt, freshly ground black pepper, and freshly grated nutmeg, to taste
1. Melt butter in a heavy saucepan. Sprinkle in the flour and cook gently, stirring almost constantly, for 5 minutes. Do not let the flour and butter brown at all.
2. Meanwhile, bring the milk to a boil. When milk reaches a boil, remove butter and flour mixture from heat and pour in the boiling milk all at once. As the mixture boils and bubbles, beat it vigorously with a wire whisk.
3. When the bubbling stops, return the pan to medium heat and bring the béchamel to a boil, stirring constantly for 5 minutes. Season to taste with salt, pepper and nutmeg. Use at once, or scrape into a bowl, cover, and refrigerate until use.
Black Forest Crepe Torte
Makes 6 portions
2 cups Béchamel Sauce
1 1/2 cups Gruyère cheese, grated
16 Buckwheat Crêpes
32 very thin slices of Black Forest ham
8 tablespoons (1 stick) sweet butter
freshly ground black pepper, to taste
8 ounces Crème Fraîche
1. Preheat oven to 400°F.
2. Warm béchamel sauce in a heavy saucepan over low heat until just hot. Add the cheese and whisk until smooth. Season with black pepper.
3. On a round heatproof platter spread 4 tablespoons of the béchamel and cheese in a crêpe-size circle. Place a crêpe on sauce and cover with 2 slice of ham. Dot with bits of butter. Continue this sequence of layers (crêpe, ham, butter) until all crêpes and ham are used, ending with crêpe.
4. Pour remaining béchamel sauce over the torte. Bake for 20 minutes, or until browned and bubbling. To serve, cut into 6 wedges. Accompany with crème fraîche.