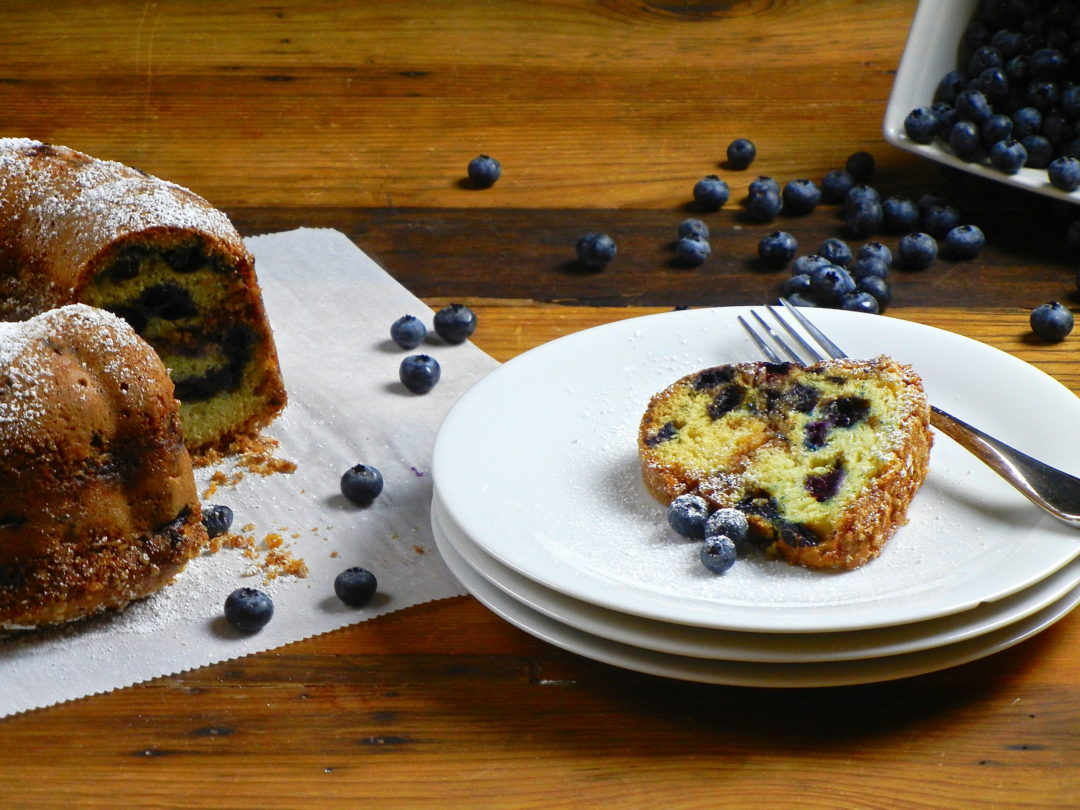 A quintessential coffeecake if there ever was one. Moist, but not too dense. Brimming with the last of summer's blueberry bounty and dependent upon a swirl of cinnamon-spiked streusel to deliver a hint of sweetness in every bite.
It was hard for me to imagine things getting any better than The Silver Palate's Sour Cream Coffeecake, my first solo contribution to the Thanksgiving feast. It went over well – or at least that seemed to be the case to my nine-year-old self – and would go on to make many repeat appearances on our annual trip to Charlottesville. This blueberry iteration, which gets it's richness from buttermilk rather than sour cream, comes close and for those who don't have an emotional attachment to the later, may even come out on top.
Incidentally I made this cake for Dorian's mechanic Andreas, a jolly German whose sole passion, profession and pleasure is to work on Volkswagen cars and buses. His fingers are perpetually grease-stained and his thinning hair always a little disheveled as he's usually just whipped out from beneath one of the cars on his creeper to say hello.
I've gotten pretty friendly with Andreas as my trips to pick Dorian up and drop him off again at the mechanics seem to be getting more frequent. I may have mentioned this earlier, but Dorian is a bit of an amateur car collector. He has a 1971 Volkswagen Bus, a 1971 Volkswagen Bug, and – knowing how "temperamental" classic cars can be – a premier-level AAA membership with unlimited tows and a 2001 Toyota Tundra for times when his presence somewhere really can't be left up to chance.
He loves running around town in those things and, I admit, I have fun tagging along. One thing that jumps out at you while you're in one of those old cars is how close together the driver and passenger sit; I think people must have liked each other a lot more back then!
Andreas recently helped Dorian reupholster the seats in his Bug for free; he just told Dorian to come by one Saturday and he would tell him how to do and be working nearby if he needed anything. The cake was a thank you for Andreas' time and I have never minded making a cake for someone to give to someone else less; the new upholstery is much more comfortable than the original interior decor!
Blueberry Streusel Coffeecake
Makes one 10-inch bundt cake
Almond Streusel
1/2 cup old-fashioned rolled oats
1/2 cup sliced almonds
1/2 cup light brown sugar
1 teaspoon ground cinnamon
4 tablespoons unsalted butter, chilled
Cake
8 tablespoons unsalted butter, room temperature
1 cup sugar
2 eggs
1 teaspoon pure vanilla extract
3 cups unbleached all-purpose flour
2 teaspoons baking soda
1 1/2 teaspoons baking powder
1 teaspoon salt
1 1/4 cup buttermilk
2 cups fresh or frozen blueberries, rinsed and drained
Confectioners' sugar, for dusting
1. Prepare the streusel: Combine the oats, almonds, brown sugar and cinnamon in a food processor and pulse several times to blend. Add the butter and pulse until a crumbly mixture forms. Cover and set aside.
2. Preheat oven to 350°F. Lightly butter and flour a 10-inch bundt pan.
3. Prepare the cake batter: In a large mixing bowl, combine butter and sugar with an electric mixer on high speed until light and fluffy. Add eggs, one at a time, beating to incorporate after each addition. Blend in the vanilla.
4. In another mixing bowl, whisk together the flour, baking soda, baking powder and salt. Add this to the butter and sugar mixture in batches, alternating with the buttermilk, and mix until smooth. The batter will be thick. Stir in the blueberries.
5. Spread one-third of the batter into the prepared pan, then sprinkle three-quarters of the streusel evenly over the batter. Spread the remaining batter over the streusel. Sprinkle remaining streusel over the rest of the batter and bake until cake has risen and browned and a toothpick inserted into the center comes out clean, 45 to 55 minutes.
6. Remove cake from the oven and cool for at least 10 minutes in the pan before inverting onto serving platter. Sprinkle with confectioners' sugar just before serving. The sugar will disappear into the cake after half an hour.