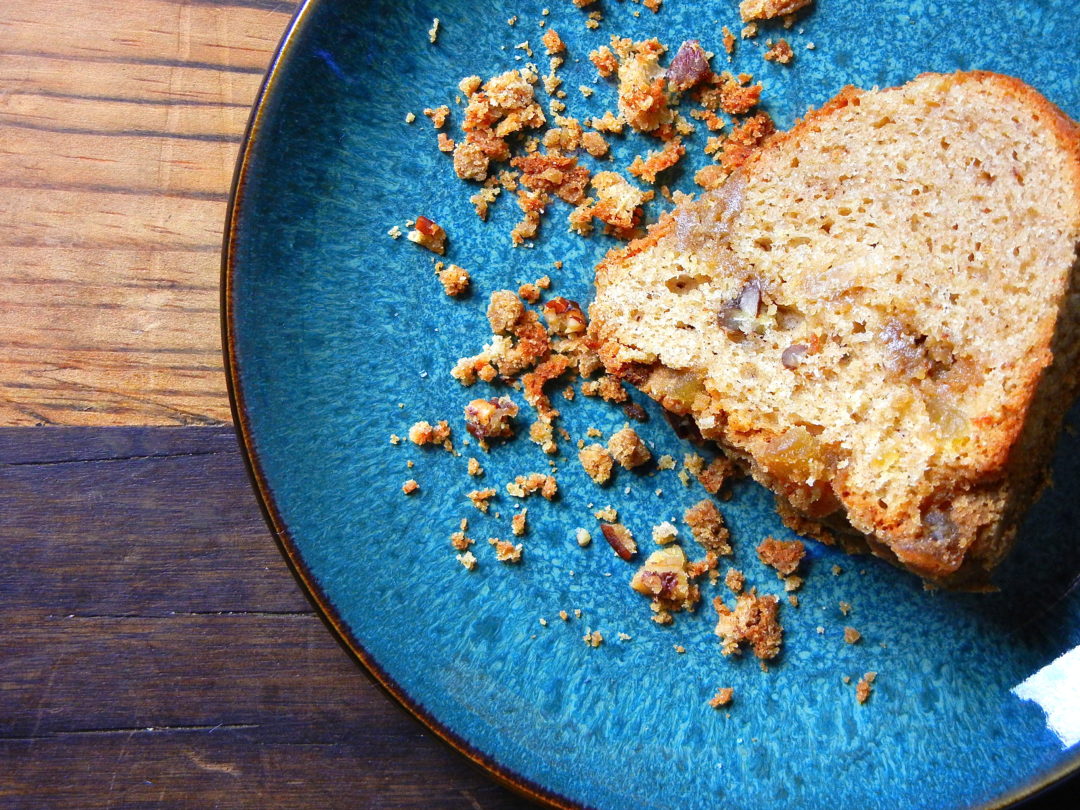 The first recipe I used to make on the regular, often by request, was the Sour Cream Coffeecake from The Silver Palate. I must have been eight or nine when I started bringing the dense and delightful cake to our Thanksgivings in Charlottesville and ever since then I have come to believe that sour cream is the key to a great coffeecake.
This version I discovered in a Thanksgiving issue of Bon Appétit and I first gave it a whirl at this year's Thanksgiving. It's a good one, but how could it not be with sour cream and ginger in there! The browned butter adds a depth of flavor, albeit a subtle one. The recipe has been adapted here and approved for Christmas morning. 
Brown Butter & Ginger Coffeecake
Serves 8 -10
Brown Butter:
2 cups plus 2 tbsp unsalted butter
Topping:
1 ¼ cups all-purpose flour
1 cup packed dark brown sugar
¼ tsp kosher salt
1 cup chopped crystallized ginger
1 cup pecans, coarsely chopped
Cake:
Unsalted butter (to grease pan)
2 cups all-purpose flour
¾ cups whole wheat flour
1 tbsp baking powder
1 tsp kosher salt
1 tsp ground cinnamon
1 tsp ground ginger
¾ tsp baking soda
½ tsp allspice
1 ¾ cups sugar
4 large eggs
1 ½ cups sour cream
½ cup whole milk
1 tbsp vanilla extract
To brown butter
Simmer butter in a medium saucepan with a light colored bottom so you can watch for the change in the butter's color over medium heat until browned bits for, 6 – 8 minutes. The butter should smell different – warmer – once it's been browned. Set aside.
For the topping
Whisk flour, sugar and salt together in a medium bowl. Stir in ¾ cup plus 2 tbsp brown butter, reserving what remains for the cake, until moist clumps form. Stir in ginger and pecans and set aside.
Make the cake
Preheat oven to 325°F. Butter and flour a 10-inch bundt pan or a similar-sized tube pan with a removable bottom. Whisk all-purpose flour with whole wheat flour, baking powder, salt, cinnamon, ginger, baking soda and allspice in a medium bowl.
Using an electric mixer, beat remaining brown butter with sugar in a large bowl. Add eggs one at a time, beating after each addition. Beat in the sour cream, milk, and vanilla. Stir in the flour mixture until blended, but do not over-mix.
Spoon half of batter into prepared baking pan. Sprinkle half of the topping over batter. Repeat steps with remaining batter and topping. Bake until a toothpick inserted into the center of the cake comes out clean, about an hour and 20 minutes. Let cool before removing from pan.
Coffeecake is best made a day ahead of time.