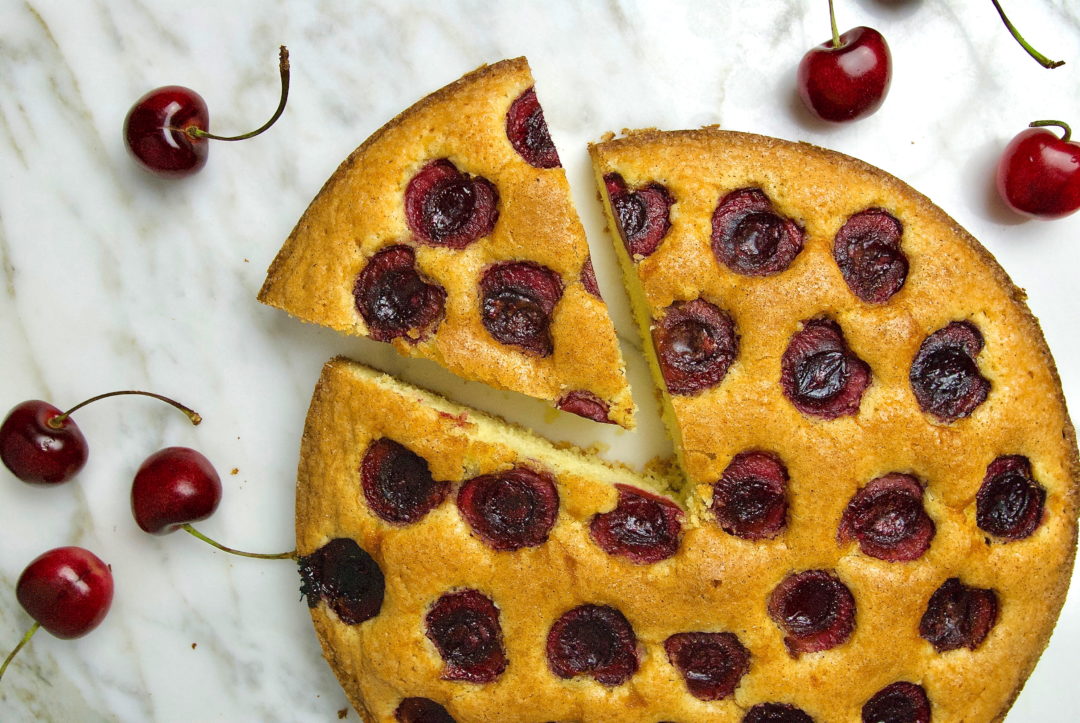 Taking inspiration from one of my favorite fellow food bloggers, Jennifer Emilson, whose blog The Lemon Apron is something to aspire to, I'm making a cherry version of Marian Burros' famous Plum Torte. Marian's Plum Torte is one of the most sought-after recipes ever published in The New York Times cooking section. Since it first appeared in 1983, it has since been reprinted no less than 10 times. After that, editors probably thought most home cooks had, by then, printed the recipe and stashed it among the collection of family recipes to be past down from one generation to the next.
Looking at the short list of ingredients and simple steps, you might have reservations about what makes this cake such a stunner. Just. Try. It.
Below is the original recipe from The New York Times. I, like Jennifer, substituted cherries for plums. For a list of all kinds of variations to the recipe, check out this page.

Plum Torte
Makes one 9 or 10-inch cake
3/4 cup plus 1 or 2 tablespoons sugar
8 tablespoons (1 stick) unsalted butter
1 cup unbleached all-purpose flour, sifted
1 teaspoon baking powder
2 eggs
Pinch salt
24 halves pitted Italian (aka prune or purple) plums
1 teaspoon ground cinnamon, or more
Vanilla ice cream, optional
Arrange a rack in the lower third of the oven. Preheat the oven to 350°F.
With an electric mixer, cream the 3/4 cup sugar and butter. Add the flour, baking powder, eggs, and salt and beat to mix well. Place in a 9- or 10-inch ungreased springform pan. Cover the top with the plums, skin side down. Mix the cinnamon with the remaining 1 or 2 tablespoons of sugar and sprinkle over the top.
Bake for 35 to 45 minutes, until the center tests done with a toothpick. Remove and cool to room temperature or serve warm. Serve plain or with vanilla ice cream.