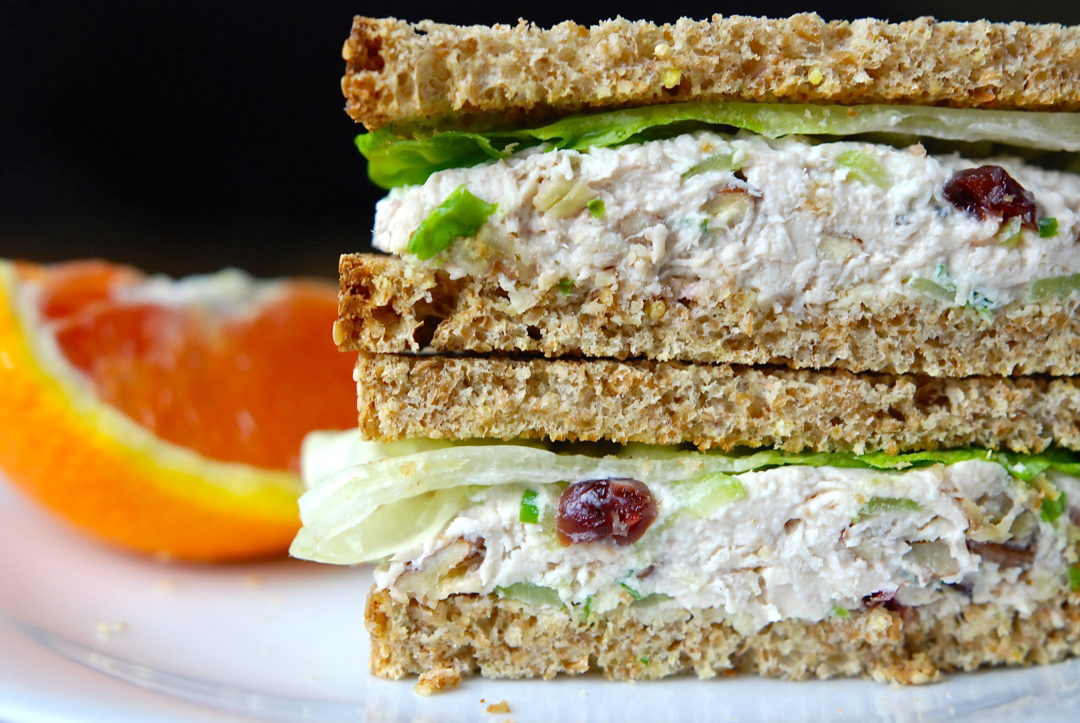 It's pretty hard to beat good chicken salad. This one, with celery, toasted pecans and craisins is a classic, but even with classics, variations abound. Growing up, we used to get the chicken salad from Gladwyne Gourmet which was studded with red grape halves. One boozy afternoon while visiting our grandmother in Florida, my brother and I had the brilliant idea to take her golf cart off the plantation and over to the nearest Harris Teeter to grab some lunch, finger-wagging elderly bikers be damned. The chicken salad we picked up came with relish and, I think, a little bit of yellow ballpark mustard; making those sandwiches well worth running the risk of explaining to an officer just what we were doing so far off the range.
Chicken Salad

Makes enough for 4 generous sandwiches
When it comes to chicken for chicken salad, I used to prefer boiling boneless chicken breasts, relying on other ingredients in the salad to add flavor. I would add the chicken to a pot of water, bring it to a gentle simmer, and cook over medium-low heat for 20-30 minutes, depending on the size of the breasts. A rigorous boil makes the chicken tough. I would then dice up the chicken to add to the salad.
Recently I have been shredding roast chicken to use in chicken salad, which offers a different texture, one that's creamier in a way. The shredded chicken also stays put on a sandwich better than cubed. I am still undecided on which cooking method makes a better chicken salad. For now, I think whether you boil or roast the chicken should be determined by the texture you prefer.
4 cups chicken meat, cubed or shredded
1 cup mayo
1 teaspoon paprika (optional)
1 teaspoon salt
1 ½ cups dried cranberries
1 cup chopped celery or red pepper
2 green onions, thinly sliced
1 cup pecans, toasted and chopped
fresh ground black pepper
Mix mayo, paprika if using, and salt in a medium bowl. Add cranberries, celery or red pepper, green onions, pecans and chicken. Stir to combine well and season with salt, if needed, and freshly ground black pepper. Refrigerate until ready to serve.
Chicken salad is great plain or on a sandwich. I often toast my bread and spread a little butter over the top before loading up the chicken salad. Feel free to add lettuce or tomato slices as you like.