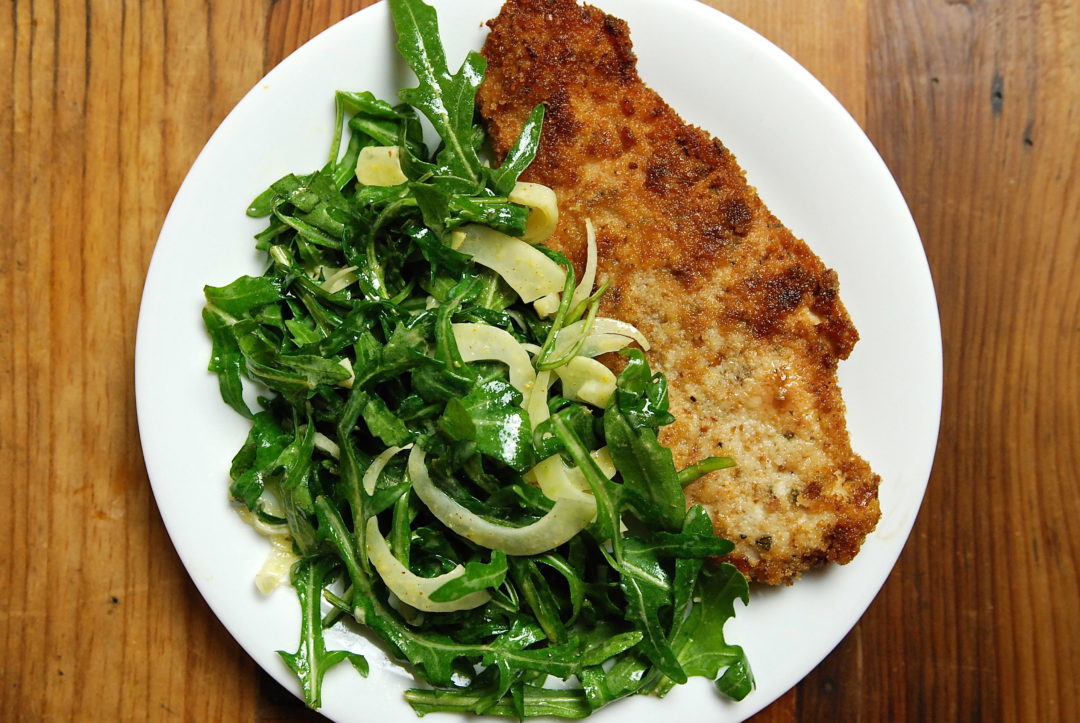 Once I committed to making stuffed cabbage, I pretty much signed myself up for a feast.   Polenta was a must. Which meant so too was the French feta we buy in brine from the Russian supermarket. Salad, while not a must, was nice to have. And chicken schnitzel was to be the centerpiece. Those thin strips of lightly crisped slightly fried chicken cutlets are like chicken nuggets refined if you've never had them. 
This recipe is slightly adapted from The Smitten Kitchen Cookbook, one of my all time favorites and one started by one of the great food bloggers out there Deb Perelman.
Chicken Schnitzel
Serves 4
2 boneless skinless chicken breasts
Kosher salt
Fresh ground black pepper
½ cup all-purpose flour
1 egg white
2 tablespoons smooth Dijon mustard
2 garlic cloves, minced
1 teaspoon dried oregano
1 ½ cups breadcrumbs, homemade or panko
Vegetable oil, for frying
On a cutting board, thinly slice chicken breasts open from one end to another using a sharp knife. You just butterflied the breasts and should now have four pieces with which to work. Lay a piece of plastic wrap on top off the pieces of chicken and, using a meat tenderizer, gently pound out breasts to ¼-inch thickness. Remove plastic and season both sides with salt and pepper.
Place the flour on one plate; the breadcrumbs in another and combine the remaining ingredients – save the oil – in a bowl and pour half of the egg white-mustard mixture into a third plate placed between the other two. You should have three plates lined up next to one another.
Take one chicken breasts at a time and lightly dredge in the flour mixture, then evenly coat with the yellow mustard mixture and finally dredge liberally in breadcrumbs. Place coated chicken breasts on a parchment-lined baking sheet. Pour the rest of the egg white-mustard mixture on to the second plate after preparing the second piece of chicken.
Cover the baking sheet with plastic wrap and put the chicken in the fridge for at least an hour, and up to a day to help the coating set.
When ready to cook, preheat oven to 175°F. Pour ½ inch of oil into your frying pan over medium-high heat. Cook the chicken breasts, without crowding them, until golden brown on both sides, about 3-4 minutes on the first side and 2-3 minutes on the second side. When chicken is finished cooking, pull out of the oil and drain quickly on paper towels before putting on a plate and transferring to the oven to remain warm while you continue cooking the other pieces of chicken.