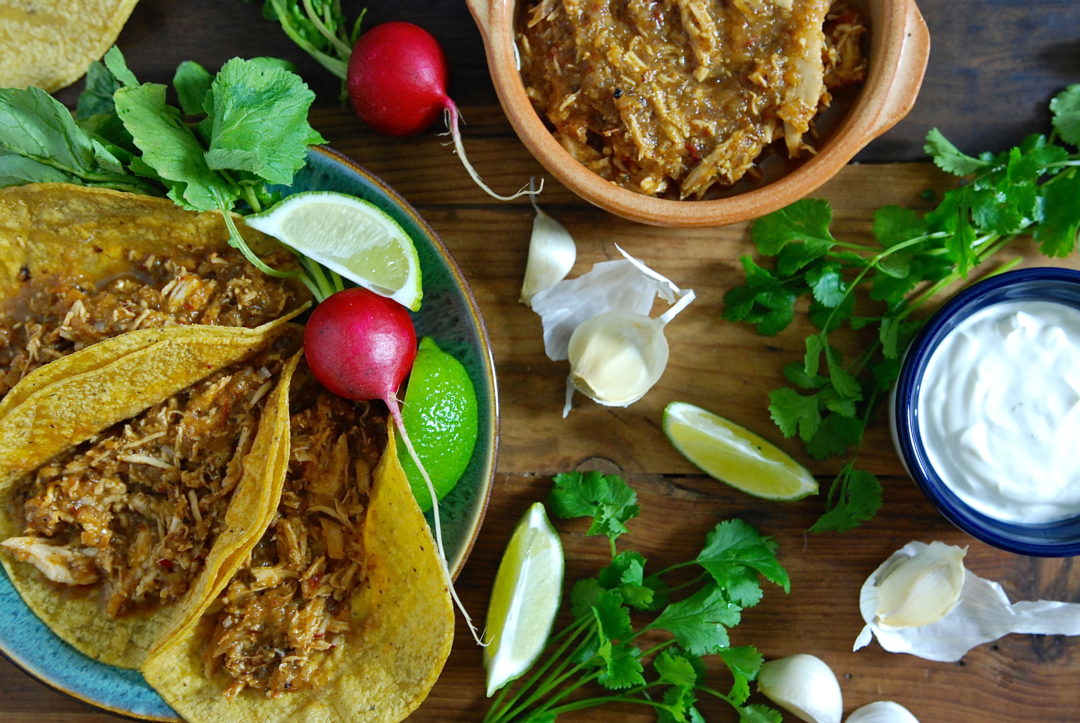 One recent and rainy Wednesday night, I made the trip to Skirball Center for a class on masa, the corn dough that's used to make tortillas, sopes, tamales, pupusas and lots of other delicious Latin American foods. The Center is dedicated to preserving Jewish heritage and though it has a robust adult education program centered around food, there is nothing Kosher about the classes I'm attending.
Discussion circled around how masa is made, the influence it has had on Mexican cuisine in particular, and what makes a good tortilla. I loved the analogy that tortillas are to Mexicans what the baguette is to the French. Everyday across the country, people go and get a stack of fresh tortillas from the tortilleria, much the same way a Frenchman or woman might venture to the boulangerie each morning for a freshly baked baguette. 
It was after one of the cooking demonstrations, while I ate a guisado (poblano and corn stew) taco on a freshly made tortilla, that I first heard about chicken tinga. It was funny to hear all these little old Jewish ladies run a list of the tacos they prefer and don't prefer, but hey, this is Los Angeles. Spanish is the second official language, Mexicans work in every kitchen no matter what kind of food is served out front, and taco shops outnumber juice bars – by a long shot.
Tinga is quick braised and shredded chicken breast in a sauce of tomatillos, tomatoes, onions and, of course, chipotle peppers. It was exquisite on the fresh tortillas I brought home with just a dollop of sour cream.
This recipe comes from the great Serious Eats.
Chicken Tinga
Serves 4 to 6 for tacos
2 bone-in, skin-on chicken breast halves
Kosher salt and freshly ground black pepper
2 tablespoons vegetable oil
3 medium tomatillos, peeled
2 medium ripe plum tomatoes
4 medium garlic cloves
1 small white onion, finely chopped
2 teaspoons dried oregano
2 bay leaves
2 tablespoons cider vinegar
2 cups low-sodium chicken stock (or water)
2 to 3 canned chipotle chilies in adobo sauce, plus 1 tablespoon sauce from can
2 teaspoons Asian fish sauce
Tortillas
Sour cream (optional)
Cilantro (optional)
Season chicken generously with salt and pepper. Heat oil in a medium saucepan over high heat until shimmering. Add chicken skin side down and cook, without moving, until well browned, 6 to 8 minutes. (Lower heat if pot is smoking excessively or chicken starts to burn.) Flip chicken and cook on second side for 2 minutes. Transfer to a large plate and immediately add tomatillos, tomatoes, and garlic to pot. Cook, flipping occasionally, until blistered and browned in spots, about 5 minutes.
Add onion and cook, stirring, until softened, about 2 minutes. Add oregano and bay leaves and cook, stirring, until aromatic, about 30 seconds. Add vinegar and stock. Return chicken to pot, bring to a boil over high heat, then reduce to a bare simmer. Cover the pot and cook, turning chicken occasionally, until chicken registers 145°F when an instant-read thermometer is inserted into the center of the thickest part, 20 to 30 minutes. Transfer chicken to a bowl and set aside. Continue cooking the sauce at a hard simmer, stirring, until reduced to about half its original volume, about 5 minutes longer.
Add chipotle chilies and adobo, remove and discard bay leaves, and blend the sauce using an immersion blender or by transferring to a countertop blender. Sauce should be relatively smooth, with a few small chunks. When chicken is cool enough to handle, discard the skin and bones and finely shred the meat. Return it to the sauce. Add fish sauce and stir to combine.
Bring to a simmer and cook, stirring, until sauce thickens and coats chicken. It should be very moist but not soupy. Season to taste with salt and pepper, is necessary.
While sauce thickens around the shredded chicken, heat up you tortillas in a skillet over medium heat with a little oil or butter. You want them to be warmed through, pliable, and, if you like, have a little crunch.
When tortillas are ready, pile them with the tinga and toppings of your choice, a little sour cream, a little fresh chopped cilantro, a squeeze of lime or whatever else you like.