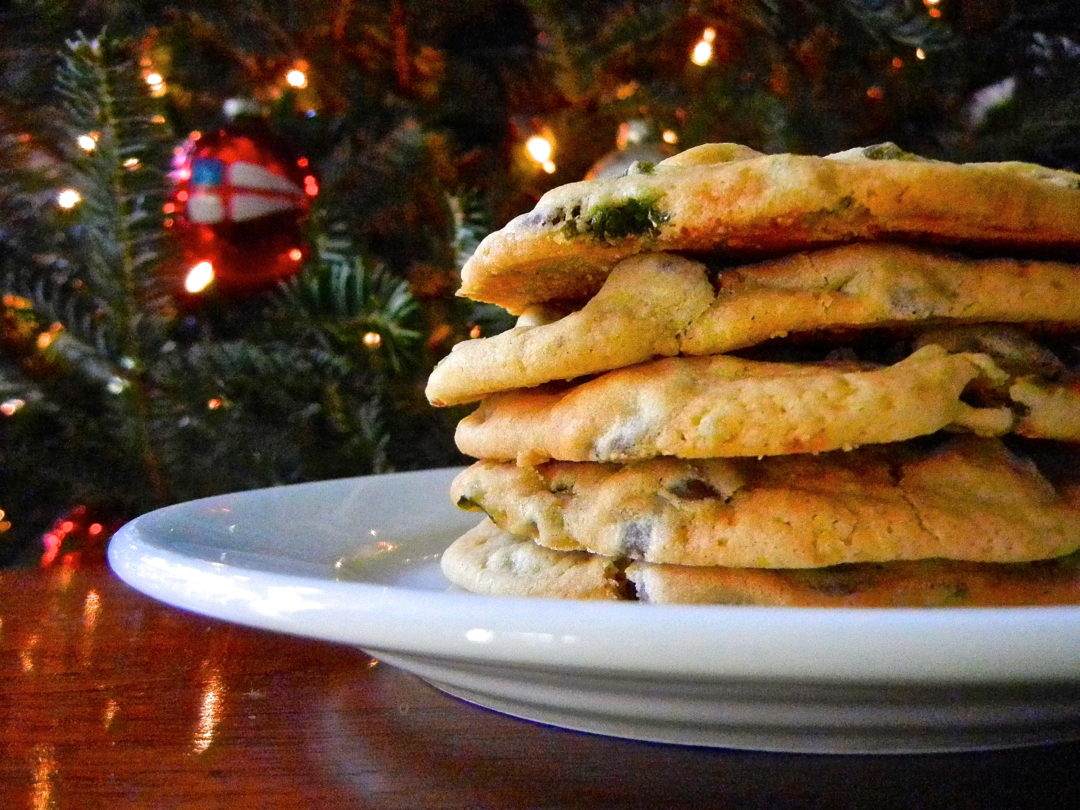 Ever since delighting in a spicy hot chocolate at MarieBelle in New York during one fiercely cold Christmas shopping trip, I have been all about the chile-chocolate combo. There have been guajillo mochas and chile chocolate bars and, now, a chocolate chip cookie with bits and pieces of finely chopped roasted, stemmed and seeded chile peppers. It's a subtle heat that counters the rich dark chocolate chips and buttery cookie dough. I thought it would be the perfect dessert for the barbecue party my parents threw when we were all home for Christmas! 
Chocolate Chile Chip Cookies
Makes 27 cookies
From: Melissa's Hatch Chile Cookbook
8 ounces (2 sticks) unsalted butter, softened
1 cup granulated sugar
1 cup packed brown sugar
2 eggs
2 teaspoons vanilla extract
3 cups all-purpose flour
1 teaspoon baking soda
½ teaspoon salt
2 cups semisweet chocolate chips
2 Hatch or Anaheim chiles, roasted, peeled, stemmed, seeded and finely chopped
1. Preheat the oven to 350 degrees. Use a handheld mixer or stand mixer to cream together the butter and sugars until smooth. Beat in the eggs, then stir in the vanilla.
2. Stir in the flour, baking soda and salt, then mix in the chocolate chips and chiles.
3. Drop the dough by large spoonfuls onto ungreased baking sheets. Bake until the cookies begin to brown, about 10 minutes. Cool on a wire rack.