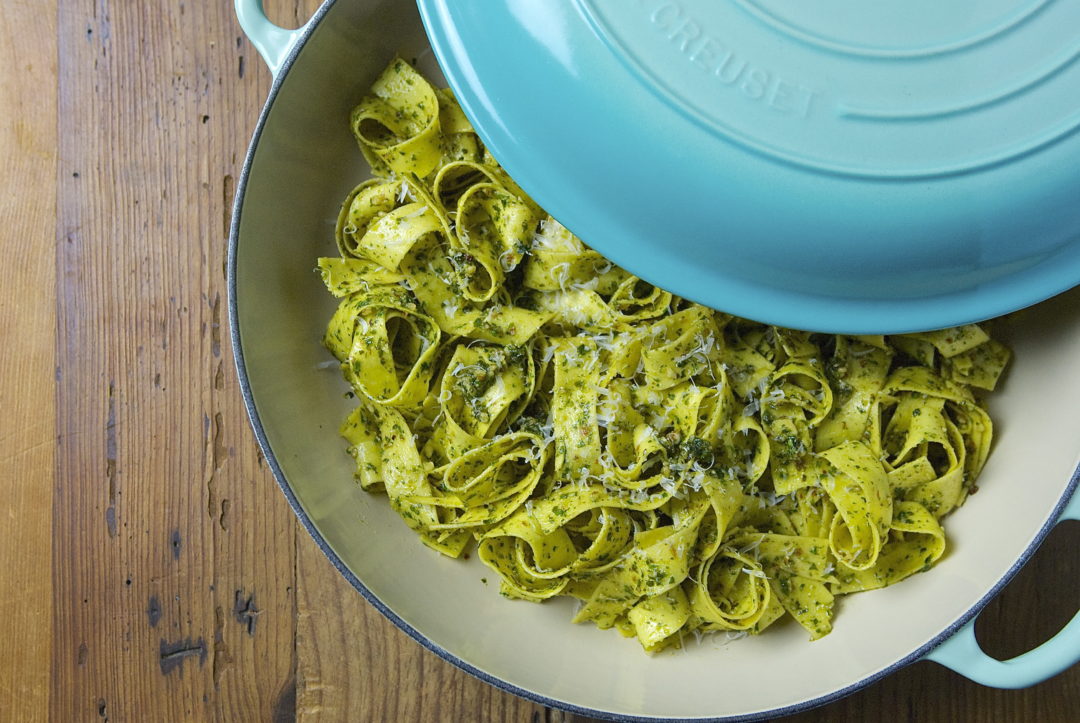 Shake up everything you know about pesto with this twist on the classic. You can build your own pesto much the same way you might build your own burger or ice cream sandwich. Start with an herb – cilantro today – and add garlic, then nuts – here it's roasted, unsalted almonds. Pulse to combine and slowly pour in extra virgin olive oil. Remember you want the good stuff because olive oil plays a starring role here; it's not being used to sauté onions or marinate chicken thighs. Add a good squeeze of lemon and season to taste with salt.
Basil pesto, what we're all used too, is made with pine nuts and grated parmesan. Add cheese or don't. Kick this version up a notch with a little crushed red pepper. Try walnuts instead of almonds; parsley instead of cilantro. It's an easy recipe to adapt according to preferences and take comfort in fact that honestly, few of us have ever come across a pesto we didn't like.
Getting a glimpse of summer with this egg pappardelle swirled with cilantro pesto and topped with fresh grated pecorino romano. Pappardelle are the long flat noodles, wider than fettuccine, and take their name from the verb "pappare," meaning to gobble up. Fits nicely, no?
Cilantro Pesto
Makes ½ cup
¼ roasted, unsalted almonds
2 cups cilantro leaves, rinsed
2 garlic gloves
¼ cup plus 2 tablespoons extra-virgin olive oil
1 tablespoon fresh squeezed lemon juice, from half a lemon
Kosher salt
Pulse almonds, garlic and cilantro in a food processor or blender until mixture resembles a coarse meal. Slowly stream in olive oil while continuing to pulse mixture. Add lemon juice and salt to taste and mix again to combine.