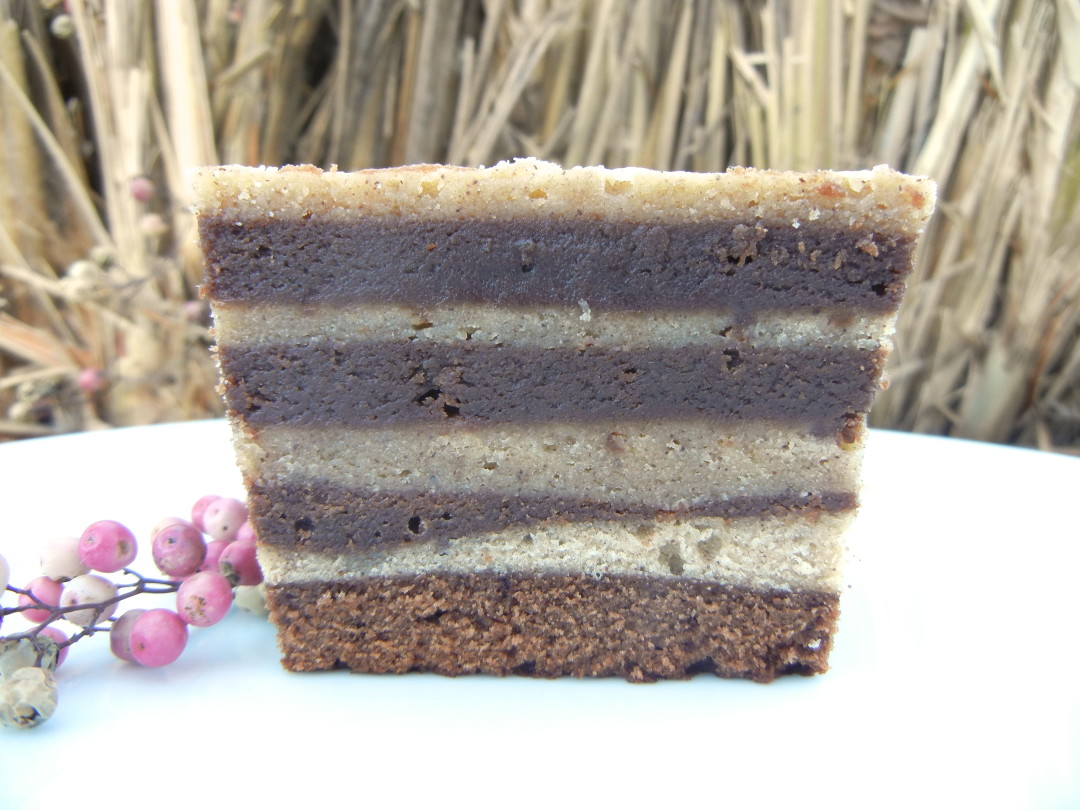 If the Super Bowl was boring, our dessert was anything but. After chips, dips and pepperoni pizza, came this eight-layer chocolate-cinnamon sensation.
The cake caught my eye because each layer is baked on top of the last, meaning the bottom layer bakes for two hours and the top layer for just 15 minutes. Despite assurances from Sweet & Southern cookbook author Ben Mims that the bottom layers would not overbake, mine did. I think this happened because I used a dark metal baking pan, which gets much hotter and conducts heat better than a glass or ceramic baking dish. Next time I will reduce the oven heat by 25°F and hope to avoid drying out the bottom layers. The rest of the cake was, however, dense and moist, with the top layer adding a slight crisp to an otherwise brownie-like texture.
This is my first introduction to spekkuk, a buttery Indonesian spice cake born during the era of Dutch colonization. European baking techniques combined with local flavors in a dessert that's often saved for special occasions or served when friends come to call.
The Super Bowl aside, it was a special occasion with my friend Lisa in town. She enjoyed the fruits of my labor as much as her own as she made the cake with me. It's thanks to her you see those nice even layers – you might be able to tell where she took over.
Cinnamon-Chocolate Spekkuk
Makes One 8-inch Square Cake 
3 cups cake flour, sifted
4 1/2 teaspoons ground cinnamon
2 teaspoons fresh grated nutmeg
3/4 teaspoons baking powder
1/4 teaspoon ground cloves
1 teaspoon kosher salt
2 1/4 cups (4 1/2 sticks) unsalted butter, softened
2 1/2 cups sugar
6 large egg
4 large egg yolks, lightly beaten
1 tablespoon vanilla extract
3 ounces dark chocolate, melted
3 tablespoons Dutch-process cocoa powder
1. Heat the oven to 325°F. Spray an 8-inch square baking pan evenly with baking spray.
2. In a bowl, whisk together the flour, cinnamon, nutmeg, baking powder, cloves and salt. In the bowl of a stand mixer fitted with the paddle attachment, combine the butter and sugar and beat on medium-high speed until pale and fluffy, about 4 minutes. Add the eggs one at a time, beating well after each, then beat in the egg yolks and vanilla. Add the dry ingredients and beat until just combined. Divide the batter in half and stir the melted chocolate and cocoa powder into one half until smooth.
3. Pour one quarter of the chocolate batter into the prepared pan, spreading it evenly over the bottom, and bake until it springs back when lightly touched, about 14 minutes. Remove from the oven and carefully pour one quarter of the plain batter over the cake; repeat the baking process. Repeat the pouring and baking process with the remaining batters, using a quarter of each at a time, until all the batter is used and the cake is done.
4. Let cool completely. Run a knife around the edge of the pan to loosen the cake, then invert it onto a cutting board. Invert again and cut into large squares.