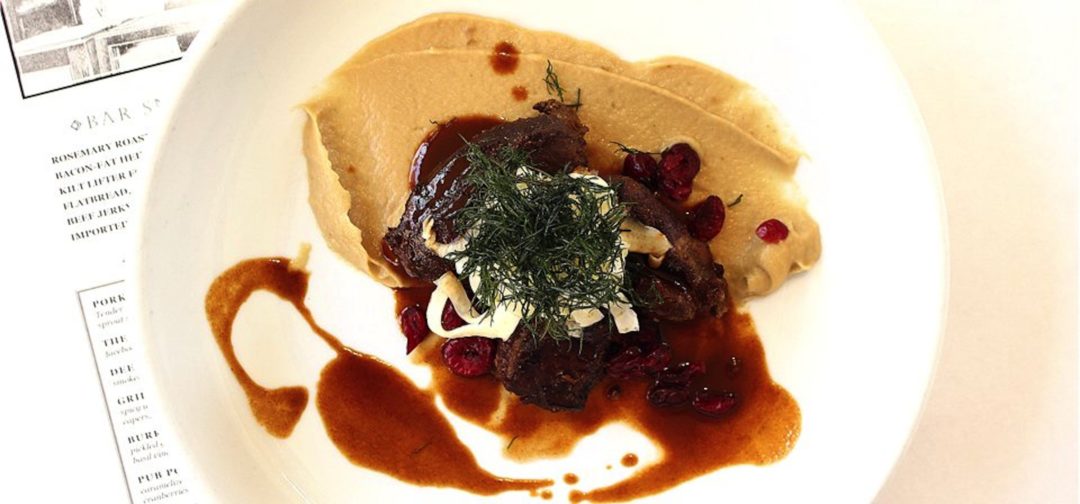 After spending Thanksgiving in Needles on the Colorado River, we made the drive southeast to one of the southwest's great towns. I had never been to Scottsdale before and, after two days wandering around Old Town and Downtown, I cannot wait to go back.
The town has a lot to offer, from desert hiking to high-end shopping, but I was especially taken with the food scene. With hundreds of restaurants, and many award-winners, it's hard to not eat well. For other first time visitors, I suggest getting a room in the Old Town/Downtown area close to the action. We stayed at the Scottsdale Marriott Suites Old Town, just off Scottsdale Road, the main drag, but there's a Hyatt Place and the W Scottsdale close by as well.
I had picked up the latest issue of Phoenix magazine, listing this year's best new restaurants in the valley, but our real leads came from the hotel bar man and a bike bar driver. While his group was inside getting drinks at Giligan's, the pedal hopper host told us about Brat Haus, a biergarten with great beer, sausages and giant soft pretzels. If you're into this kind of fare, which I think was elevated by the eclectic outdoor eating area with its picnic tables, high top tables and wall art featuring lederhosen-wearing beer-swigging gents, you'll like this spot. The brats were on point and the beer cheese sauce that came with that giant soft pretzel was bar none.
Brat Haus

3622 N Scottsdale Rd.
Scottsdale, AZ 85251
(480) 947-4006
The turkey feast of the day before, and associated stomach pains, must have seemed a distant memory because Dorian and I followed our German-inspired lunch with burgers and more beer at Rehab Burger Therapy later that night. A favorite spot for locals, the kitschy interior was hung with bikes and surfboards. The burger list was extensive, and I would recommend the Hatch Burger with cheddar and chipotle aioli to anyone looking for a suggestion.
Rehab Burger Therapy
7210 E 2nd St.
Scottsdale, AZ 85251
(480) 621-5358
The highlight of our Scottsdale dining experience however came the next night when we headed over to Citizen Public House, an upscale gastropub number that seemed to be well-liked by locals and visitors alike.
Inside the restaurant it was – surprisingly – a little stark. White walls and hardwood floors, the bar at the room's center was the focal point. Tables draped with white table cloths and unassuming wooden chairs seemed to radiate from it. If the decor might was underwhelming, the food certainly was not.
The cocktail menu was a fun one, but with twists on classics and a few developed by the mixologists behind the bar, I'd recommend asking your server for a suggestion. To start, the pub pork cheeks. Pork cheeks, more often seen cured as guanciale – used to flavor soups and stews like one might use pancetta – were braised and served with caramelized onion purée, pickled fennel, cranberries, and pork jus. For those who like tough cuts cooked low and slow, and full of flavor, these cheeks were a
home run.
Our bartender at the Marriott, who made a mean margarita in addition to offering
excellent dining recommendations, had given Citizen rave reviews. His brother lived for their meatloaf and each time he came to town, made a point to get himself some. Dorian filed this fact, and opted for the house favorite Amaro Meatloaf, a blend of three different kinds of meat, served with silky masked potatoes, roasted zucchini, veal demi-glace and mushroom cream. This one really upped the bar on "home-cooking" classics.
I'm often drawn to scallops when dining out, largely I think, because I have been unable to master cooking them at home. For me, they usually turn out rubbery and bland. At Citizen, three delicate and flavorful scallops were served atop roasted corn grits with slab bacon, wilted snow pea greens and cola gastrique. This last component is a reduction of cola and some kind of vinegar, among other ingredients, which I think was first developed as a base for certain cocktails. The scallops were fantastic and I would go back to Citizen just to order them again. Along with the pork cheeks.
Citizen Public House
7111 E 5th Ave.
Scottsdale, AZ 8525
(480) 398-4208
There is no shortage of good places to eat and drink in Scottsdale, nor is there an issue finding things to do. There's great hiking – we ventured over to Tom's Thumb in the McDowell Sonoran Conservancy – and golf courses galore. Spas and resorts abound, though I didn't make time to take advantage of these. Frank Lloyd Wright's summer house was here in Scottsdale, so if you're an architecture buff, a visit to Taliesin West might be right up your ally. And this is just Scottsdale at a glance – venture into neighboring Phoenix and the possibilities seem endless.