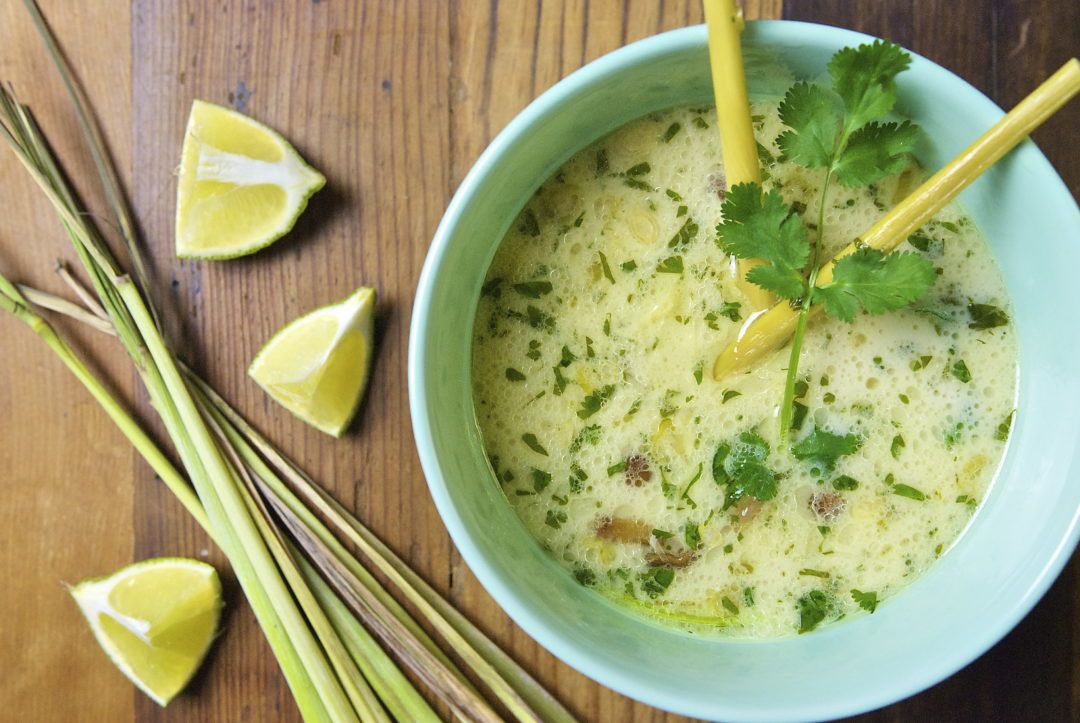 The ban on cookbooks – a self-imposed ban given the disconnect between the size of my collection (impressive) and the size of my apartment (equally impressive but of an utterly different sort) – has been lifted. Christmas came and with it, cookbooks. Lots and lots of cookbooks. I have two new book shelves in my bedroom. They already sag beneath the weight of my culinary ambitions.
One skinnier volume, Quick and Easy Thai, was a present from my brother Will and his girlfriend Kelsey and a memento from their trip to Thailand. I don't know Thai food very well and must confess the smell of fish sauce and I are at odds, but so far the results have been good!
A few tweaks to the recipe from the book in my version below.
Coconut Chicken Soup
Serves 4
2 tablespoons fresh squeezed lime juice
2 tablespoons fish sauce
2 green onions, thinly sliced on a bias
2 tablespoons cilantro, chopped
1 ½ cups unsweetened coconut milk
1 ½ cups chicken broth 12 thin slices fresh peeled ginger
2 stalks fresh lemongrass, cut in half
1 pound boneless chicken breasts, cut into small bite-sized chunks
1 cup thinly slice mushrooms
In a large serving bowl, combine lime juice, fish sauce and green onions. Set aside along with a separate bowl for the chopped cilantro.
In a medium saucepan, combine the coconut milk and chicken broth and bring to a gentle boil over medium-high heat. Stir in ginger and lemongrass. Add the chicken and mushrooms, return to a gentle boil, and simmer gently on low until the chicken is cooked through to 165°F, 10-15 minutes.
Remove saucepan from heat and pour contents in the large serving bowl with the lime juice, fish sauce and green onions. Stir well. Sprinkle with chopped cilantro and serve.