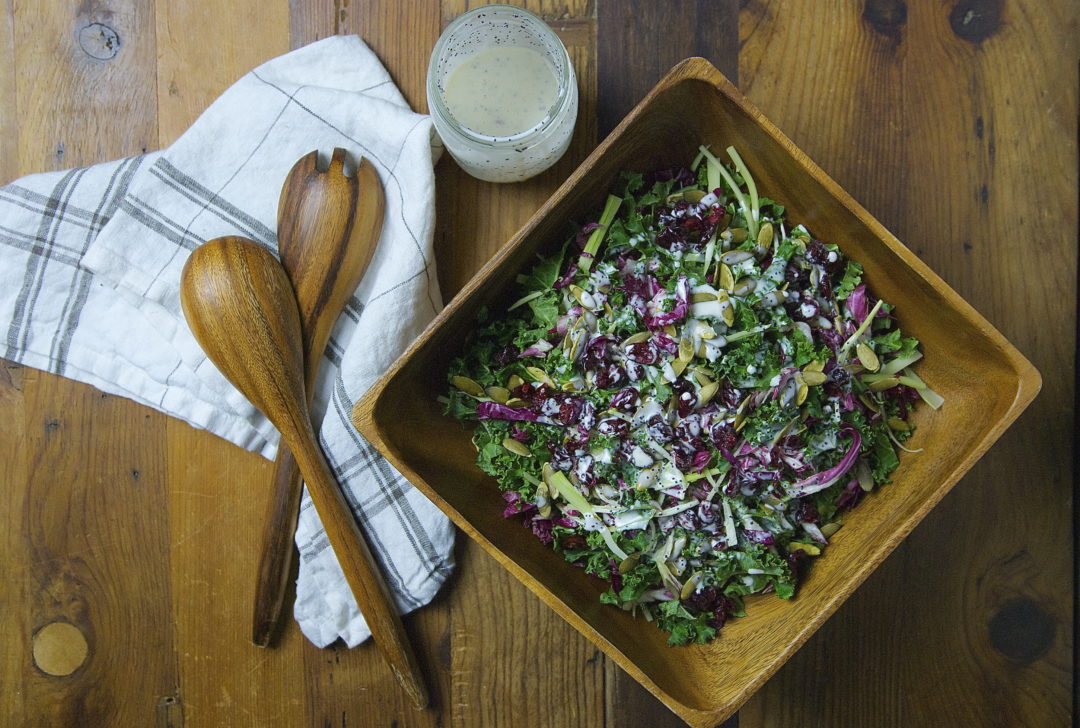 While at the rehearsal dinner for a friend at a neighborhood farm-to-table restaurant on the Upper West Side, I had the most delicious salad. The waitress told me the ingredients, among others, included kale. "Kale?" I replied. I had never tasted kale that was so delicate. "Well, it's been massaged," she replied with a straight face.
"Massaged?" You must be kidding me.
Yes, that is in fact this restaurant's secret sauce. Some poor demoted line chef or up and coming bus boy had been tasked with sensually rubbing down once tough, fiberous and excessively nutritious kale into a soft and pliable green.
And I thought I had a seen it all living in this health-conscious City of Angeles, this plant-powered nirvana I call home.
So I couldn't help but smile to myself as I squeezed the moisture out of strips of freshly-rinsed kale as I prepared this salad. My salad spinner bit the dust months ago and all the sudden hand-massaged kale didn't seem like such an outlandishly hipster concept.
I'm calling it the Costco Salad because anyone who has had the sweet kale Kirkland-branded salad kit with its broccoli and pumpkin crunch and tart dried cranberries knows exactly what I am talking about. This stuff, with its homemade creamy poppyseed dressing, is just as addictive.
Costco Salad
Serves 4 – 6
1 bunch kale
3 heads broccoli stems (reserve crowns for another use)
1 half head radicchio
½ cup mayonnaise
2 tablespoons sugar
2 tablespoons milk
2 tablespoons sour cream
2 tablespoons cider vinegar
1 tablespoon poppy seeds
½ cup pumpkin seeds
½ cup dried craisins
Rise and dry kale, broccoli and radicchio. Remove kale stems and cut leaves into ½-inch strips. Add to a medium-sized bowl. Cut broccoli stems from crowns, reserving florets for another use, and slice the tough outer skin off each side of the stem so you have a rectangle. Slice the stems vertically, about ¼-inch thick, to form planks. Stack planks one atop another and slice these vertically to produce thing matchsticks of broccoli stem. Add to the bowl. Quarter half of radicchio and remove core. Continue to thinly slice the radicchio, as you might shred cabbage for cole slaw and add shreds to bowl.
Combine mayonnaise, sugar, milk, sour cream, cider vinegar and poppy seeds in a jar with a lid and shake vigorously to combine. Pour dressing, to taste, over kale-broccoli-radicchio mixture and toss to combine. Sprinkle pumpkin seeds and craisins over salad before serving.
Remaining dressing will last a week in the refrigerator.