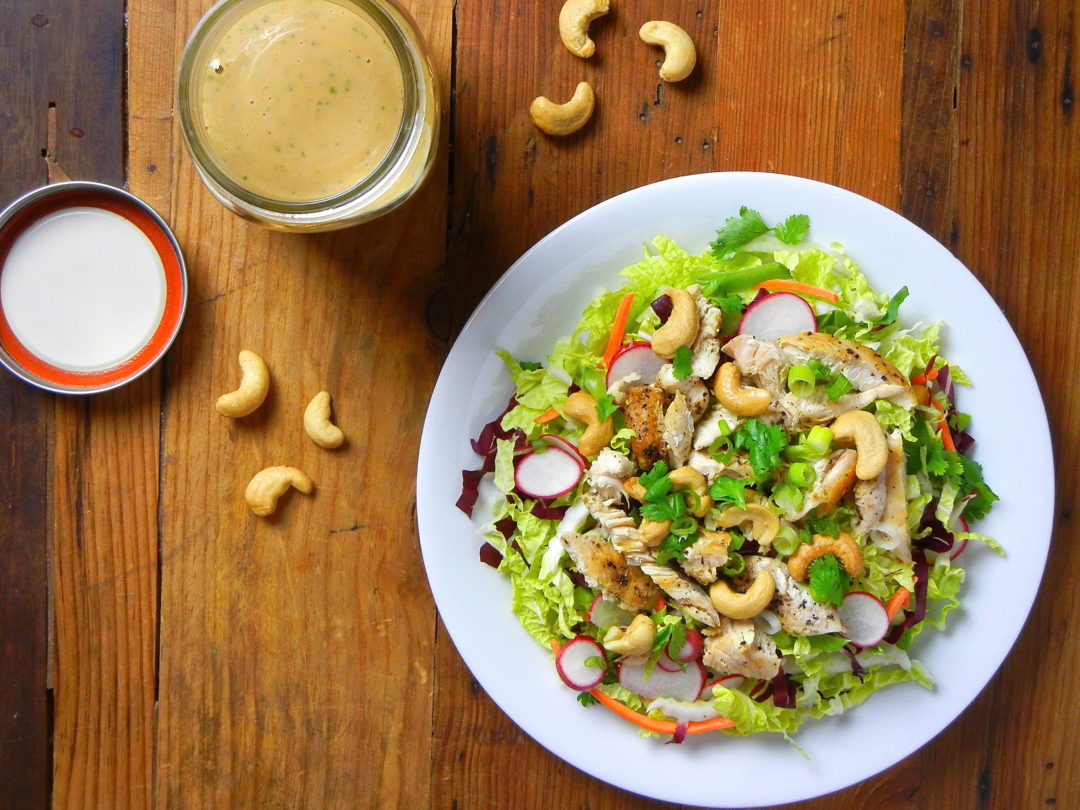 And here is another way to make chicken exciting again. And cabbage! It's addictive actually, much like this Asian Sesame Slaw is. While preparation means one long and arduous vegetable slicing marathon, I promise it is well worth the result. I made twice as much dressing so I could use it all week long.
Creamy Cashew Chicken Salad
Serves 4
Dressing
3 tablespoons cashew butter
1 tablespoon fresh ginger, minced
1 tablespoon cilantro, chopped
1 tablespoon shallots, chopped
2 tablespoons rice vinegar
2 tablespoons fresh lime juice
1 tablespoon soy sauce
1 tablespoon sesame oil
1 garlic clove
1 teaspoon honey
2 tablespoons sunflower oil
Salt and pepper, to taste
Chicken
1 pound boneless skinless chicken breasts
Salt and pepper
Salad
4 cups shredded Napa cabbage
2 heads baby bok choy, chopped
1 cup snow peas, sliced on a bias
1 cup julienne carrots
1 cup sliced radicchio
1 bunch scallions, sliced
1/2 cilantro, chopped
1/2 cup sliced radish
1/ 2 cup roasted salted cashews
1. To make the dressing: Combine cashew butter, ginger, cilantro, shallots, vinegar, lime juice, soy sauce, sesame oil, garlic and honey in the bowl of a food processor and pulse until a smooth mixture forms. Add sunflower (or any other mild-tasting) oil in a steady stream and process to combine. Season with salt and pepper.
2. Salt and pepper chicken breast and grill or pan fry on the stovetop.
3. In a large bowl, combine cabbage, bok choy, snow peas, carrots, radicchio, green onions, cilantro and radish; toss with dressing to coat. Divide salad among plates and top with sliced chicken and cashews.
*If preparing salad in advance, wait until just before serving to add cashews as they'll get a little soggy sitting around with all those vegetables.