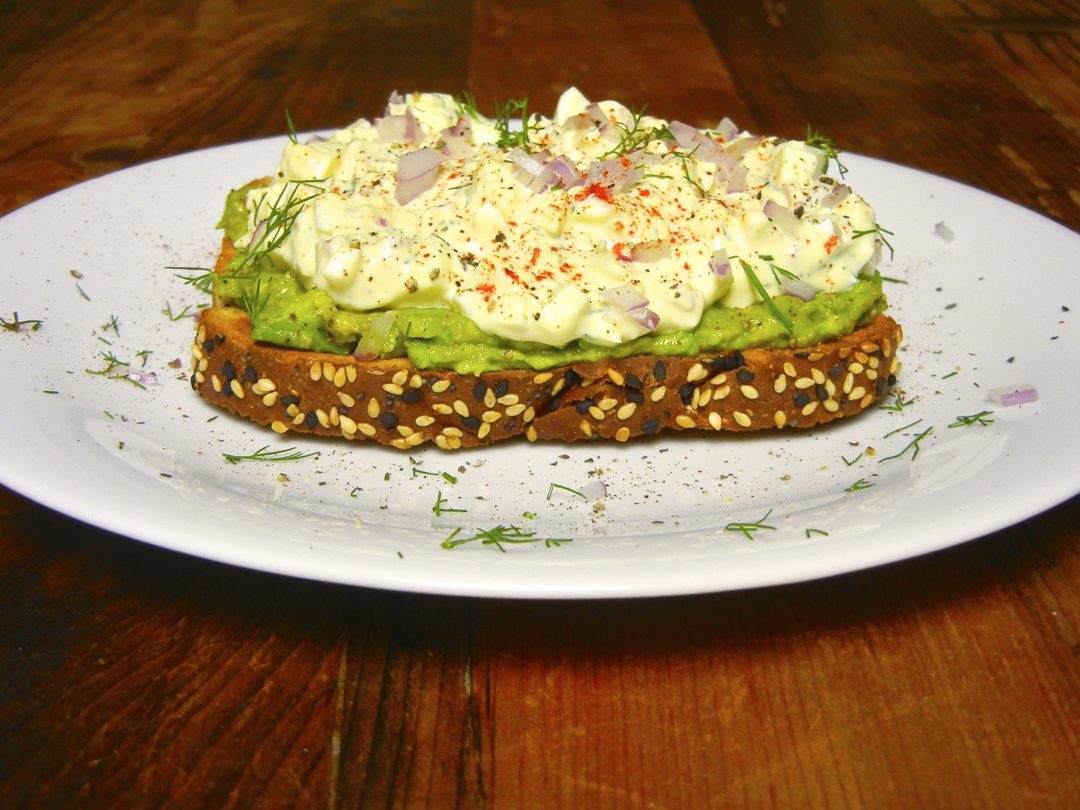 I was envisioning an open faced egg salad sandwich sprinkled with the remaining bits of red onion, chopped fresh dill, and a few grinds of black pepper. Simple and  – dare I say – elegant thanks to the addition of some fresh herbs.
My first introduction to egg salad came long ago while watching my mom use an egg slicer to first slice hard boiled eggs one way, then rotate them 90 degrees and slice again. She mixed the small dice with celery and mayonnaise and claims an egg salad sandwich is one of her favorite things to this day.
Here's an easy breakfast, brunch, lunch, or dinner for you. I like slicing up the eggs soon after they are finished cooking while still warm and loading a heaping spoonful onto a slice of toast. I lean easy on the mayo-sour cream-mustard dressing and decided to pair a Silver Palate-inspired egg salad with a smoked paprika avocado smash.
Egg Salad with Avocado Smash
2 generous portions 
4 hard boiled eggs
1/4 cup finely chopped red onion
1/4 cup mayonnaise
1 tablespoon sour cream
1/8 cup Dijon mustard
salt and pepper
chopped fresh dill (optional)
1 avocado
smoked paprika
salt
1. Peel the eggs and quarter them. Mix in a small bowl with remaining ingredients, including dill is using. Stir to combine and adjust seasoning as needed.
2. Mash avocados with smoked paprika and some salt. Adjust seasoning to taste.
3. Assembly: Toast bread of choice and slather with avocado smash. Spoon egg salad over avocado and sprinkle with any leftover red onion, dill, fresh ground pepper, or paprika.