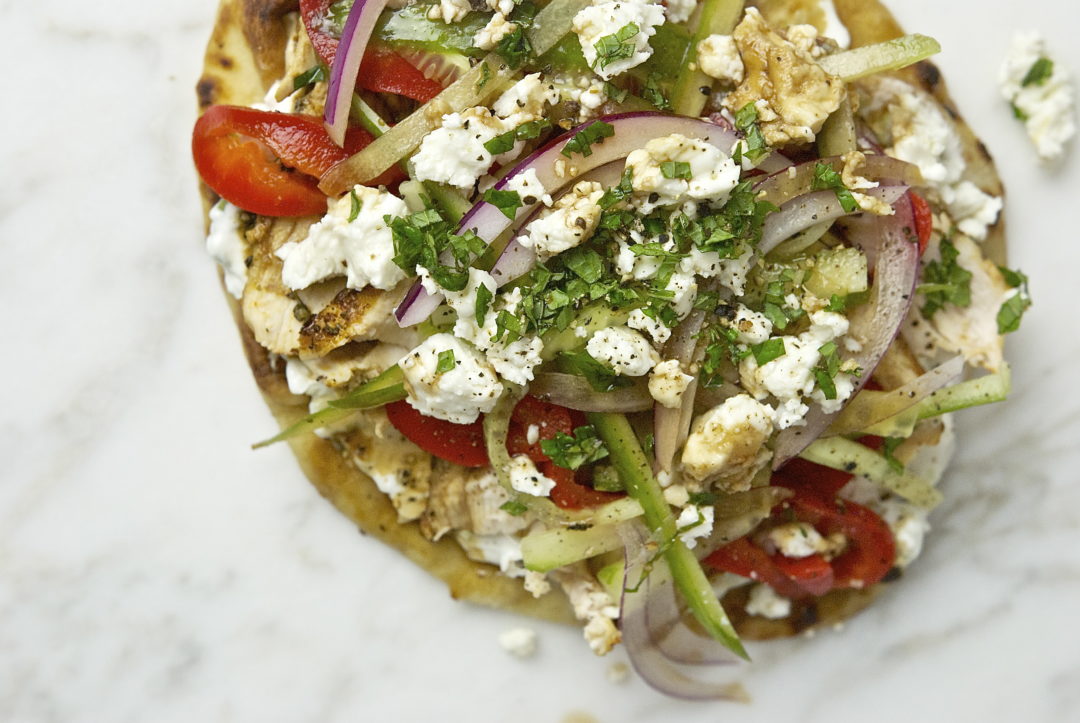 Ever look at your food, know things are about to get messy, and then proceed to dig in with relish? That is exactly how I feel when I make these Greek Chicken Gyros inspired by Lex Daddio whose food blog Restoring Radiance is quickly becoming a source of inspiration for me.
I actually caught myself in the mirror after eating this one and a piece of mint had made an escape attempt for my check. I caught him though!
The key here is to make your own tzatziki sauce and the balsamic reduction that you sprinkle over the top of the gyro. Tzatziki is one of the gifts of Greek cooking, though I think Indian cuisine has a counterpart in raita. A cool cucumber yogurt spread livened with lemon and freshened with mint, tzatziki comes together quickly and beats what you'll find prepared in the supermarket.
Make the sauce a day or two ahead – it's yogurt based so it's not going to go bad quickly – to save some time and amp up the flavor.
Greek Chicken Gyros
Boneless, skinless chicken breast
For the spice rub: 
Kosher salt
Fresh ground black pepper
Smoked paprika
Coriander
Dried oregano
Parsley flakes
Minced garlic
For balsamic reduction:
1 cup balsamic vinegar
1 tablespoon brown sugar
For assembly:
Pita, naan, lavash, or any other kind of soft, slightly leavened flatbread
Tzatziki (see recipe below)
Thinly sliced red onion
Thinly sliced cucumbers
Thinly sliced roasted red pepper
French feta, crumbled*
Fresh mint, finely chopped
*Use Valbreso or any other kind of feta you can find in brine. No negotiating here. The cheese in brine is so much creamy and less dried out than the pre-crumbled bits you find everywhere.
Season chicken breast with Kosher salt, fresh ground black pepper, smoked paprika, coriander, oregano, parsley flakes, and minced garlic in a friendly way on both sides. You really shouldn't be seeing too much, or any if you like flavor, of the chicken "flesh" through the rub. The garlic will be a little sticky so don't worry too much about spreading it evenly over the chicken.
Warm a few tablespoons of vegetable oil in a large, heavy-bottomed fry pan over medium high heat. I'm getting away from using olive oil to cook meat on the stove top because it seems to smoke more than all the other oils I use and often splatters more. Wait for the oil to shimmer and a little splash of water to sizzle in the skillet before laying chicken breasts in the pan. (I just run my fingers under the running faucet and flick some onto the skillet.)
Depending on thickness, the chicken will probably take 8-10 minutes a side, maybe more, maybe less. In all honestly, I often rely on a digital thermometer to let me know when the chicken reaches 165°F as I'm not always sure myself and I do get impatient. But be patient, don't flip the chicken to much and don't, whatever you do, overcook the chicken because you're terrified of getting salmonella. The line between what you think makes for a perfect breeding ground for bacteria and the tough, dry cutlets you serve is not fine at all.
While the chicken cooks, prepare a balsamic reduction to sprinkle over the laden gyro before eating. Bringing 1 cup of balsamic vinegar and 1 tablespoon brown sugar to a boil in a small sauce pan. Reduce heat to low and simmer 15 minutes, until mixture has thickened and coats the back of a spoon. This stuff is outstanding. Let cool until ready to use.
Warm bread. Slather with tzatziki. Layer and load on the toppings. Sprinkle with balsamic vinegar. Dig. In.
The original recipe used shave carrots in place of roasted red peppers and parsley instead of mint. Like any sandwich, customize according to your own preferences.
Tzatziki Sauce
2-3 Persian cucumbers, finely diced
2 cups yogurt
2-3 garlic cloves, finely minced
½ lemon juice
2 tablespoons mint, fresh chopped
Combine all ingredients in a bowl and mix well. Use immediately or cover and refrigerate until ready to use. The longer tzatziki sits the better it will taste.