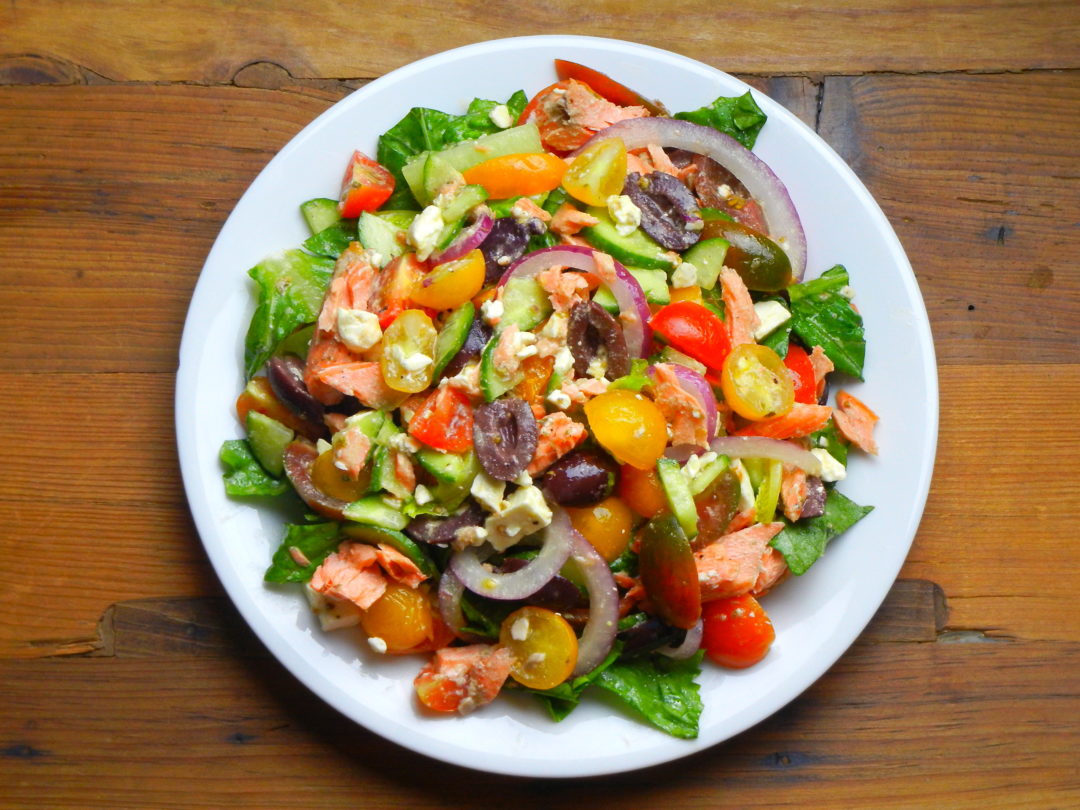 Greek Salad is a good one for the repertoire. It's great when you want to make dinner, but don't want to work hard. When it's hot and you want something light. It's perfect for when you want to eat healthy, but still feel satisfied or when you don't have much time, but still want a proper meal.
I topped this Greek Salad with salmon that I had rubbed in a little olive oil, dusted with salt, pepper and a sprinkling of dried oregano and then baked at 350°F for about 12-15 minutes. Baking salmon is easy; just adjust cooking time according to thickness. Some recommend cooking the fish at a higher temperature, but play around and see what works for you.
I'd stay away from arugula, kale, spinach or any of those other trendy greens here and let the toppings bring the flavor and texture. The toppings below are what I used this time around, but I have also incorporated sun-dried tomatoes and green bell peppers. Mix and match; it's hard to go wrong. However, to take your Greek salad to the next level I do recommend getting French feta in brine – you should be able to find the brand Valbreso at most supermarkets with a dedicated cheese section – instead of the crumbled Athenos feta. It's much denser and creamier than the other stuff and it will make you want to put feta on everything. Watch out.
I've started making my own vinaigrettes and I do think it makes for a better salad. The dressing I use for Greek salads starts with a little bit of Dijon mustard and white wine vinegar. Sometimes I get a squeeze of lemon juice in there which, if I do, I tend to omit the mustard. Then I add salt, pepper, dried oregano, sometimes garlic powder. Whisk to combine and then drizzle in good quality olive oil while continuing to whisk.
Greek Salad
Boston, Green Leaf, Red Leaf or Romaine Lettuce
Cherry tomatoes, quartered
Persian cucumbers, thinly sliced
Black olives, pits removed and quartered
Red onion, thinly sliced
Roasted peppers, cut into thin strips
Feta, freshly crumbled
Top washed lettuce with prepared vegetables and crumbled cheese. Toss to combine with dressing. Serve aside salmon or flake salmon and mix into the salad.