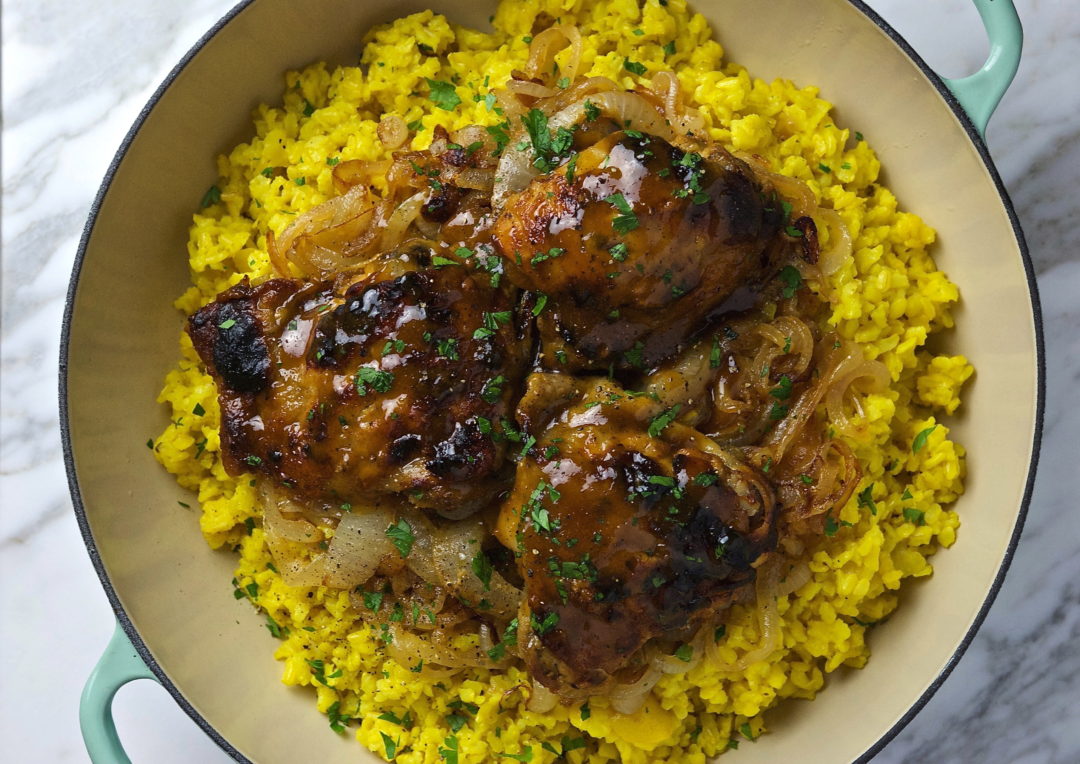 I've had an offer accepted on a condo, submitted a mortgage loan application, and, recognizing the costs associated with home ownership, plan to subsist entirely on peanut butter sandwiches. And chicken thighs. I imagine someday I'll be able to afford an excursion to Whole Foods once more for overpriced groceries.
All joking aside, I have developed a new appreciation for chicken thighs and not just because they're a budget-friendly cut. Dark meat, so juicy and tender, flavorful and hard to overcook, gets flack for being fatty but I think it's undeserved. They're fattier than chicken breasts, yes, but not outrageously so.
A three-ounce portion of chicken breast without the skin contains 142 calories, 3 grams of fat and .9 grams of saturated fat while a skinless chicken thigh of the same size contains 170 calories, 9 grams of fat, and 3 grams of saturated fat. Eating the skin will increase calorie count and fat content but in reading up on it, chicken skin is 55 percent monosaturated fat which is the "good" fat found in olive oil and avocados. So it's not all bad news there either.
It all comes back to moderation, doesn't it? If you're looking to change up you boneless, skinless chicken breast routine, you could do worse than chicken thighs is all I'm saying. Your downpayment will thank you.
Hot and Sweet Mustard Chicken Thighs
1/4 cup Dijon mustard
2 tablespoons brown sugar
2 tablespoons red wine vinegar
2 garlic cloves, finely minced
1/2 teaspoon ground mustard
1/2 teaspoon ground ginger
1/2 teaspoon salt
1/2 teaspoon black pepper
1/4 teaspoon ground chipotle pepper
pinch of cayenne
4 chicken thighs
Let the chicken marinate for at least 4 hours, but overnight would be better.
Rinse chicken thighs, pat dry and remove any serious skin excess. Laying chicken skin side up, plump sides together so the meat sits up with a nice little hump. Using a sharp pairing knife make two inch to inch-and-a-half slits crosswise through the skin and into the meat. These slits will help the marinade go deeper into the chicken, plus it will make the skin look pretty cool when you pull the thighs out of the oven.
Mix all ingredients save chicken in a bowl and stir to combine well. Place chicken thighs in a medium-sized Ziploc bag and pour in marinade. Rub the chicken thighs to coat evenly with marinade. The guy whose video I watched for tips on cooking chicken thighs, says to massage the meat well, in a way that would make anyone else in the room feel uncomfortable. What a goof. I usually put the Ziploc bag in a bowl in case there are any leaks. Refrigerate chicken thighs until ready to cook.
Preheat oven to 450°F. Cover a baking sheet with tin foil and place a rack on top of it. I do think using a flat baking sheet is better than a baking dish with sides to get the skin crispy because otherwise the pan can "steam," holding more moisture which prevents that crunchy crust from forming. Lay chicken thighs on the rack, brush with olive oil and sprinkle with some more salt and a dash of cayenne to season the skin. Cook 35-45 minutes, or until the skin is golden and crispy.