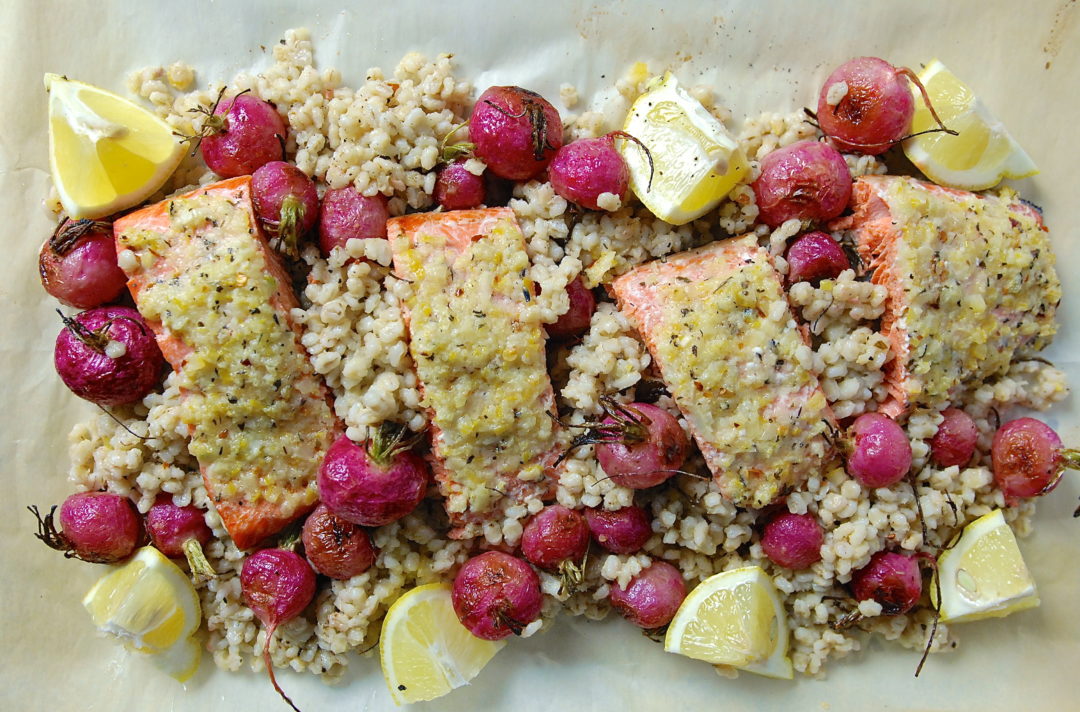 Knowing lemon and salmon are a good pair and having some preserved lemons on hand, I decided to shake up the usual pan fried salmon dinner by adding a crust of finely minced lemon and garlic. I'm still figuring out how to use preserved lemons, but it's interesting to me how the rind of the lemon transforms from something so fibrous to something so incredibly malleable; making a paste of the preserved lemon rind is quick work. While we typically throw out lemon rinds, when it comes to preserved lemons, it's absolutely the opposite.
The first night I made this salmon, I prepared pearl barley and roasted a few bunches of radishes for an easy weeknight meal. It's also great with roasted broccoli and parsleyed rice. 
Lemon and Garlic Crusted Salmon
Serves 2 
2 pieces of salmon, preferably wild caught
2 teaspoons preserved lemon rind, minced
1 ½ teaspoons garlic, minced
½ thyme, Herbes de Provence, or sage
fresh ground black pepper
olive oil
Make a paste of the lemon rind, garlic, herbs, freshly ground black pepper to taste, and bit of olive oil to incorporate it all together. Spread the mixture evenly over the non-skin side of the salmon.
Heat oil in a medium fry pan over medium heat. When oil sizzles with a sprinkle of water, lay the salmon fillets into the pan, skin side down so the crusted side is facing up. After 3-4 minutes, depending on the thickness of your fillets, flip onto the other side and continue cooking for another 3-4 minutes, or until the fish is cooked through.