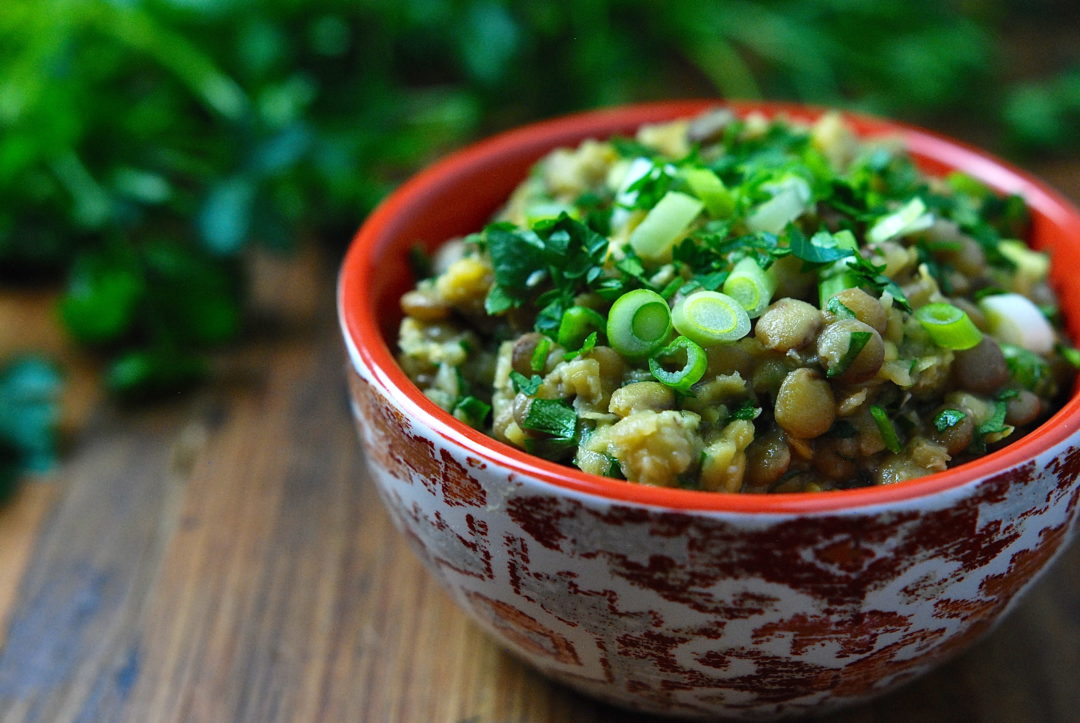 I am so glad I splurged on walnut oil!
This lentil salad was an instant winner. With bold flavors, it doubled as a fresh and satisfying work lunch as well as an easy but impressive dinner side.
The Silver Palate makes frequent use of red and white wine vinegars and in some recipes, like the Marinated Garbanzo Bean Salad, the tartness can be so pervasive. But not here. There was a restrained tanginess, and whether that was tempered by the garlic or countered with the scallions and parsley, I am not sure. I will make this again and encourage you all to splurge on walnut oil and give it a try too.
Green Lentil Salad
Serves 4 – 6 as a side
2 1/2 cups dried lentils, green or black
3 carrots, peeled and quartered
1 medium-size yellow onion, peeled
3 cloves
1 1/2 quarts Chicken Stock or canned chicken broth
1 bay leaf
2 teaspoons dried thyme
1/3 cup white wine vinegar
3 garlic cloves, peeled
1/2 cup walnut oil
salt and freshly ground black pepper, to taste
1 cup thinly sliced scallions (green onions), with green tops
1 cup shelled walnut halves (optional)
chopped Italian parsley (garnish)
1. Rinse the lentils and sort through them carefully, discarding any pebbles you may find.
2. Transfer lentils to a large pot and add the carrots, the onion stuck with cloves, chicken stock, bay leaf and thyme. Set over moderate heat and bring to a boil. Reduce to a simmer, skim any foam that may appear, cover, and cook for about 25 minutes (lentil cooking time varies widely), or until lentils are tender but still hold their shape. Do not overcook.
3. While lentils are cooking, combine vinegar, garlic and walnut oil in a blender or in the bowl of a food processor fitted with a steel blade, and process until smooth and creamy.
4. When lentils are done, drain them, discard the carrots, onion, cloves and bay leaf, and pour lentils into a mixing bowl. Rewhisk dressing and pour it over the still-hot lentils. Toss gently, season generously with salt and pepper and let salad cool to room temperature. Toss again, cover, and refrigerate overnight.
5. Just before serving, add scallions and walnuts if using. Add an additional tablespoon or two of vinegar or walnut oil if you like, and toss gently. Sprinkle heavily with chopped parsley and serve, accompanied by a pepper mill.