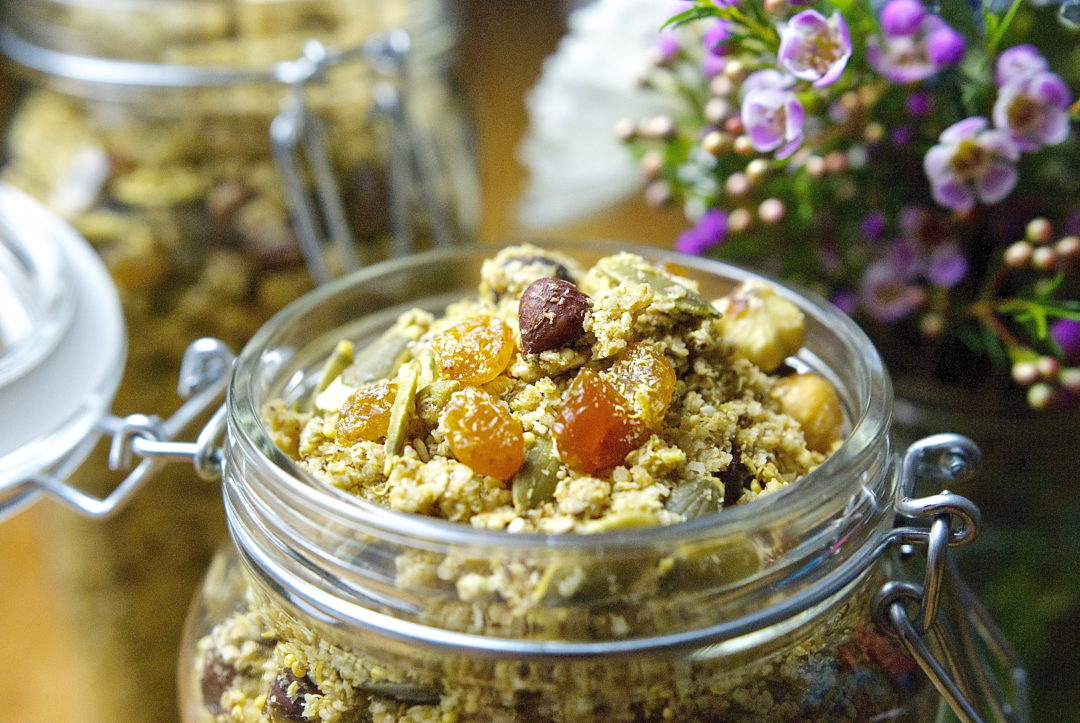 Silly as this may sound, I am not really sure how people go about developing recipes. Do they count tweaking an existing recipe as developing a recipe? If they pair elements from two separate recipes in a single dish, have they created a new dish?
Not that there needs to be any hard or fast rules around how to create something new, but I would be interested to hear what someone's approach to developing a new recipe might look like.
Perhaps I am taking a liberal approach to the term "recipe development," but I am counting adaptations I make to existing recipes as new recipes. This Maple-Raisin Granola is a riff off of the delicious Quinoa Granola with Hazelnuts and Cherries from The Violet Bakery Cookbook.
Making granola with quinoa flakes instead of rolled oats makes it more crumbly, with fewer of those nice bite sized chunks. I've begun realizing how much sugar is often in brand-name granolas, so this one is nice in that there are no refined sugars.
Maple-Raisin Granola
Makes 8 cups
6 cups quinoa flakes
1 cup whole hazelnuts
½ cup flaxseed meal
⅓ cup sesame seeds
¾ cup pumpkin seeds
¼ cup millet
¾ cup plus 2 tablespoons maple syrup
3 ½ tablespoons olive oil (not extra virgin)
½ cup coconut oil
½ cup water
1 ½ teaspoons vanilla extract
a few grates of fresh nutmeg
a pinch of sea salt
1 cup golden raisins
Combine quinoa flakes, hazelnuts, flaxseed meal, sesame seeds, pumpkin seeds, and millet in a large bowl and set aside.
Preheat oven to 300°F. Line two baking sheets or one large baking pan with parchment paper. In a medium saucepan, combine the maple syrup, olive oil, coconut oil and water. Place over medium heat and whisk constantly to melt all together.
Remove the syrup mixture from the heat and stir in the vanilla, nutmeg and sea salt. Pour this over the quinoa mixture and stir well to coat completely.
Spread the mixture on the lined baking sheets. Bake for 30 minutes. Remove from the oven, toss well and return to the oven. Lower the temperature to 285°F and bake for another 30 minutes, turning every 10 minutes, until the mixture is golden brown.
Remove from the oven and allow to cool completely before stirring in the raisins. Store in an airtight container.