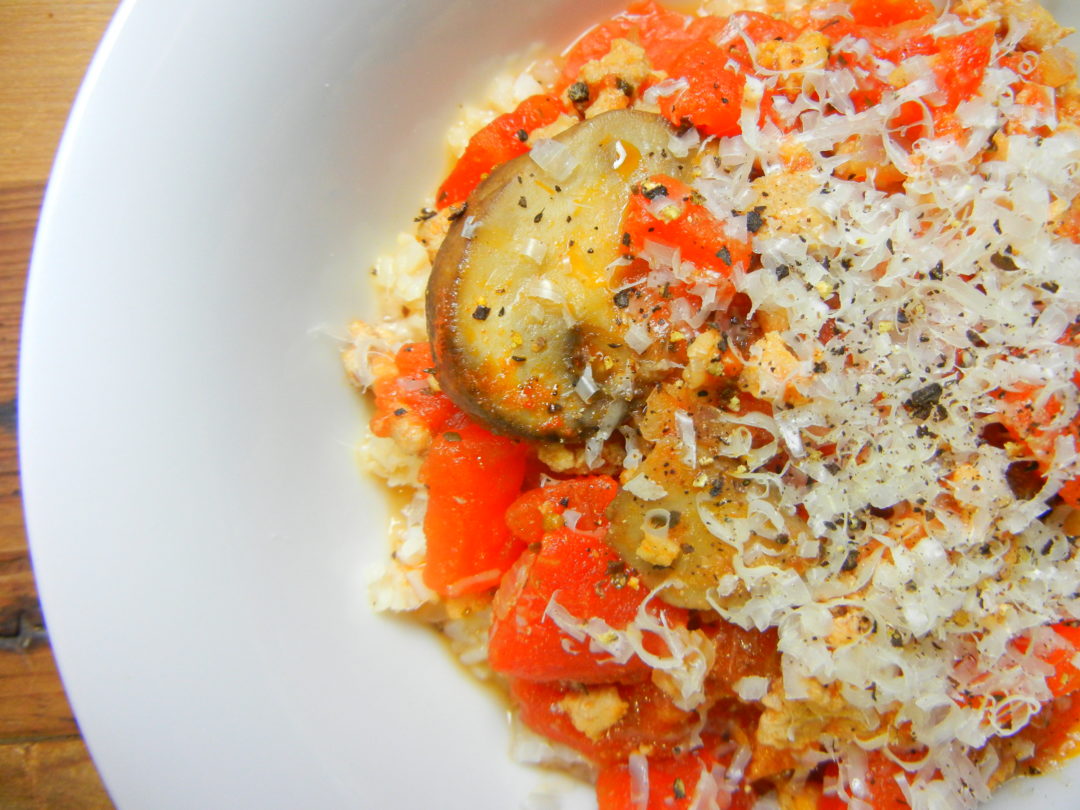 Oh, the weeknight dinner. Leaving the office after five, no thought yet given to dinner, is one of the worst predicaments in which I routinely find myself. The grocery store will be a mob scene, if I even make it in the door. That Trader Joe's parking lot is worse than the 405 at rush hour.
If I'm trying to eat healthy, getting take-out will likely lead me astray. I'm liable to order a fat pita from Tel Aviv grill that's stuffed with chunks of kabob and slathered in hummus. Dorian's been on a serious Mexican kick lately. If he decides where we go, I'll score a machaca burrito and then land a food coma. I like to let my stingy side shine Monday through Friday at five, so eating out isn't really on my radar.
Good thing I planned ahead this week.
I had a pack of ground turkey on hand. With a can of diced tomatoes, some leftover marinara sauce, half a bag of sliced mushrooms and an onion, I had everything I needed to make meat sauce. I've been playing around with meat sauce and the beauty of it is there are so many variations and they're all hard to mess up. It's also a great way to put that half onion to use or polish off the can a tomatoes you opened for last weekend's chicken parm.
Start with your onions. Yellow, brown, red, shallots – any kind of onion or any combination of them will do. Sauté diced onions and minced garlic with some butter or oil in a large sauce pot. Once softened and beginning to color, add mushrooms if using and sauté those as well.
Next, add your ground meat of choice. Beef, lamb, turkey and sausage all work well. If using ground turkey, be sure to use plenty of seasonings to flavor the sauce as turkey is, by nature, less flavorful. Brown the meat, making sure no pink remains, before adding pasta sauce or canned tomatoes. Using diced tomatoes yields a watery sauce, pureed tomatoes, a more full-bodied sauce.
Now add seasonings. Salt and pepper are a given. Oregano is a common ingredient in pasta sauce, but dried parsley and dried basil are nice alternatives. Mix it up. If you like spice, consider dried red pepper flakes or several dashes of hot sauce. Bring sauce to a boil, reduce heat and simmer, covered, until ready to eat. With the heat on low there is little chance of overcooking the sauce. In fact it only gets better the longer it cooks.
Like pasta, but hate carbs? Or just looking for a pasta alternative? I recently discovered riced cauliflower in the frozen food aisle at Trader Joe's. Warmed up on stovetop or in the microwave, it turns out to be a great pasta alternative. I've also enjoyed meat sauce over quinoa, brown rice and pearl barley. Any grain of this sort will do. When it comes to cheese, there's the classic Parmesan but for a creamier option, I've taken to a spoonful of ricotta cheese.
The options are endless and no real recipes are needed here!