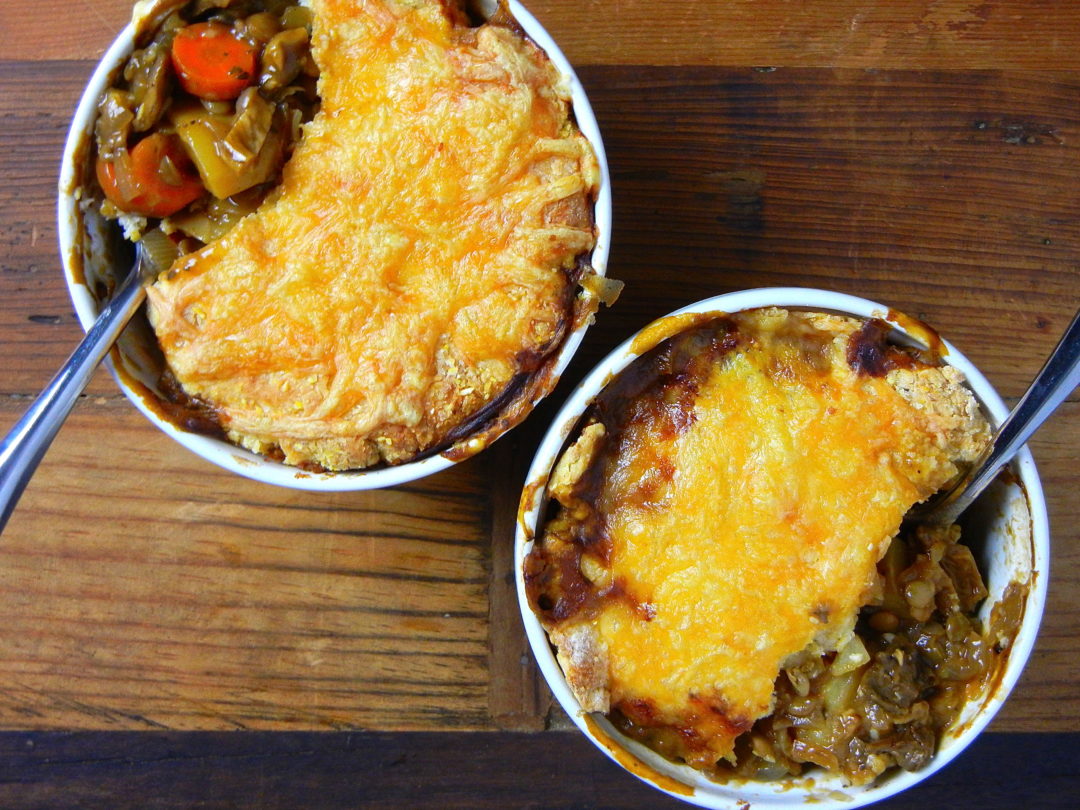 This recipe, adapted below from a Thanksgiving issue of Bon Appétit, introduced me to dried porcini mushrooms and the intensity of flavor they bring to a dish. While the dried mushrooms soak in hot water, your kitchen begins to smell amazing – woodsy and warm. You need to rehydrate the dried mushrooms before adding to the filling, but water that they soak in becomes the liquid for filling where you might otherwise have used chicken broth.
Mushroom and Lentil Pot Pies
Serves 4
Filling:
1/2 cup lentils
1/4 teaspoon salt
1 ounce dried porcini mushrooms
2 tablespoons olive oil, divided
6 ounces fresh mushrooms, sliced
1 medium onion, chopped
1 carrot, cut into 1/4-inch-thick rounds
1 1/2 teaspoons dried sage
1/4 teaspoon dried thyme
1 large garlic clove, minced
2 tablespoons all purpose flour
3 medium Yukon Gold potatoes, peeled, cut into 1/2-inch chunks
4 teaspoons soy sauce
Topping:
1 cup plus 2 tablespoons all purpose flour
6 tablespoons yellow cornmeal
1 1/4 teaspoons baking powder
1/2 teaspoon salt
4 tablespoons chilled unsalted butter, diced
1/2 cup buttermilk or whole milk
3/4 cup finely grated Manchego, Gouda or other cheese of choice
1. Cook lentils according to package directions and set aside.
2. Meanwhile, pour 3 cups boiling water over dried porcini mushrooms in a medium bowl; soak 25 minutes. Remove porcini from soaking liquid, squeeze dry, and chop coarsely. Reserve soaking liquid.
3. Heat 1 tablespoon oil in heavy large skillet over medium-high heat. Add fresh mushrooms. Sauté 3 minutes. Add 1 tablespoon oil, onion, carrot, sage, and thyme. Sauté 4 minutes. Add garlic; sauté 30 seconds.
4. Reduce heat to medium-low. Mix flour into vegetables; cook 1 minute. Add porcini soaking liquid. Mix in porcini, potatoes and soy sauce. Cover; simmer until potatoes are tender, stirring occasionally, 13 to 15 minutes.
5. Add lentils; season with salt and pepper. Divide filling among four 2-cup ovenproof bowls or one larger casserole. (The filling can be made up to 2 says ahead of time. Cover, chill. Bring to room temperature before continuing.)
6. Preheat oven to 400°F. Combine flour, cornmeal, baking powder, and salt in processor; blend 5 seconds. Add butter; pulse until mixture resembles coarse meal. Add buttermilk; pulse until dough forms moist clumps.
7. Turn dough out onto lightly floured surface. Divide into 4 equal pieces; shape each into 2/3-inch-thick disk. Set rounds atop filling; top with cheese.
8. Bake pot pies on baking sheet until tester inserted into biscuit topping comes out clean, about 30 minutes.