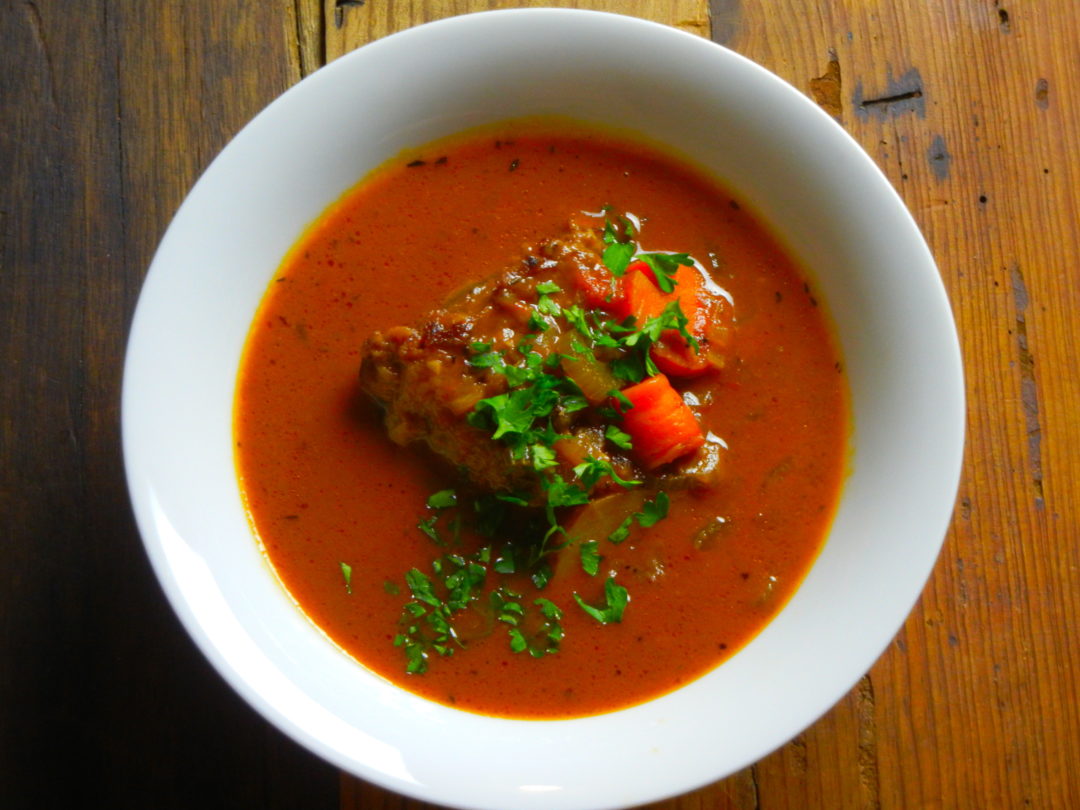 I first heard about oxtail when I started looking into Jamaican food, but missed an early opportunity to try it. When my grandmother Mimi and I went to the Jamaican Jerk Hut in Philadelphia, I opted for curry goat. The dinner was memorable but mainly because it was BYOB and Mimi had done due diligence in bringing a bottle of Sauvignon Blanc and got the biggest kick out of the fact that she would have to drink it out of a styrofoam cup. Most other diners had a six-pack of Red Stripe on their table.
Oxtail is fatty and you have to work around bone and tendons to get at the meat, but when you get it, it is good. I started making oxtail stew after I read an article about Jamaican cooking in Saveur magazine. The oxtail stew was paired with coconut rice and red beans and the photographs of it, taken on Chris Blackwell's stunning 2,500-acre farm on the island, were memorable.
I served this version up over polenta, putting a decidedly Italian twist on the dish. When cooked for a long time, oxtail adds a certain gelatinousness to the stew, making for something thick, filling and tasty.
Oxtail Stew
Adapted from The Silver Palate
Serves 6 
2 oxtails, about 5 pounds, cut into 2-inch pieces
1/2 cup flour
3 tablespoons olive oil
3 cups beef stock
1 cup red wine (a Pinot Noir or something similar)
1 cup diced tomatoes, in juice
2 garlic cloves, minced
2 bay leaf
1 teaspoon dried thyme
1/2 teaspoon nutmeg
1 teaspoon salt
1 teaspoon fresh ground pepper
2 cups coarsely chopped yellow onion
1 cup diced celery
1 cup carrot rounds, 1/8 inch thick
10-12 small red potatoes
1. Dredge oxtails in flour and shake off any excess.
2. Heat oil in a Dutch oven and sear oxtails until well browned on all sides. Don't overcrowd the pot as the meat will steam, rather than sear, if pieces are too close together and you'll miss out on the flavor browning provides. Once all pieces are browned, return them to the pot.
3.  Add stock, wine, tomato juice and tomato paste. Stir in garlic, bay leaves, thyme, nutmeg, salt and pepper. Add vegetables and sink into the liquid.
4. Set Dutch oven over medium heat. Bring to a boil, cover, reduce heat, and simmer for 2 hours, or until oxtails are very tender. Taste and correct seasoning. Skim any fat of the surface, garnish with parsley and serve.
Got leftover diced tomatoes, check out how to use them up with tomato sauce from scratch.