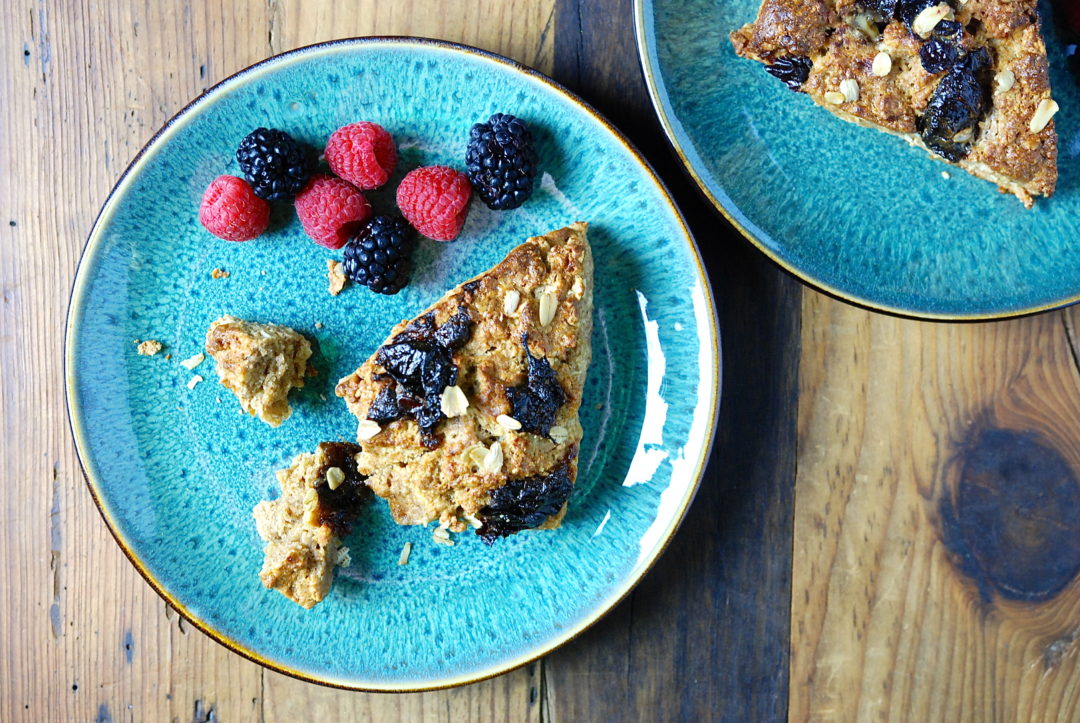 This isn't the first time I've steeped dried fruit in Earl Grey tea to enhance its flavor; remember those delightful fig bars? Here's another recipe inspired by The Violet Bakery Cookbook – I made a few changes to the original – that punches up whole wheat and oat scones with Earl Grey-soaked prunes. According to cookbook author Clair Ptak, Earl Grey enhances the flavor of other foods to make them taste more like themselves. I'm not sure what this means exactly. I really couldn't say the prunes tasted any more "prunier" post-soak, but I'll play along.
The Violet bakery is in London and it's fun noticing little quirks and British colloquialisms as I make my way through this book. For instance, the inspiration for these scones came from a porridge Claire eats at a restaurant in Brick Lane. The oven temperatures, nice round numbers in degrees Centigrade, are unusual when converted to degrees Fahrenheit. I wasn't even sure I could set my oven to 355°F or, for these scones, 390°F, thinking I could only select increments of 25°F.
In any event, these scones weren't too heavy and the flavor was really nice. I like that you can prep them the night before and bake in the morning. Makes waking up with fresh baked treats so much easier.
Prune and Oat Scones
Makes 12 large scones
4 tablespoons brewed Earl Grey tea
10 ½ ounces (about 35) pitted prunes
2 cups rolled oats, plus more for sprinkling on top
3 cups plus 2 tablespoons whole wheat flour
½ cup light brown sugar
1 tablespoon baking powder
1 teaspoon baking soda
1 ⅓ cups cold unsalted butter, cut into ½ cubes*
2 egg yolks
2 eggs
4 tablespoons maple syrup
1 cup plain yogurt
¼ cup cream to brush on top of scones before baking
*I recommend using higher-fat (often European-style) butters for scones, biscuits, pie crusts and the like where the butter plays such an important role in texture. This could include Irish Kerrygold or Danish Lurpak
Butter a 8×12-inch baking pan – or, if you're like me and don't have this size dish, use an 8×8-inch pan and a 9×5-inch pan which will give you similar results – and line with parchment paper.
Put prunes in a small bowl and pour hot tea over them. Set aside.
In a large bowl, combine oats, whole wheat flour, brown sugar, baking powder, baking soda and salt and whisk to combine. Use a pastry cutter or the back of a fork, cut the butter cubes into the dry ingredients until mixture resembles coarse meal. This will take 3-5 minutes, maybe more depending on how strong you are. (I vowed to do push-ups more regularly as I took yet another break from this arduous process!) Apparently you can also do this in a stand mixer.
In another bowl, whisk together the yolks, eggs, maple syrup and yogurt until combined. Pour wet ingredients into dry and mix until ingredients just come together. (You're looking to make sure there aren't pockets of dry ingredients. I find pouring in the wet ingredients in installments, mixing between each addition, helps to avoid such pockets.) Spoon the sticky mixture into prepared pan or pans and spread out. Tear the soaked prunes into bite-sized pieces and dot on top. Push prunes into the mixture, then pour remaining liquid from soaked prunes over the top and spread flat with an icing or rubber spatula. Cover with plastic wrap and chill for about 3 hours or overnight.
When ready to cook, preheat oven to 390°F and line a baking sheet with parchment paper.
Remove chilled scone mixture from pan and cut into triangles. If using a rectangular pan (8×12-inch), slice mixture in half lengthwise, divide each half into three squares, and then cut each half on the diagonal to give you your triangles. For a square baking dish (8×8-inch) slice mixture into four squares and then cut the squares into triangles. And so on.
(If you don't want to bake all the scones at one time, individually wrap scones in plastic and freeze until ready to eat. There's no need to defrost them before baking, just bake right from the freezer.)
Place the scones on parchment-lined baking sheet, 2 inches apart, and brush the tops with cream. Sprinkle with remaining oats and bake 35-40 minutes until golden. These are best eaten the day you make them.