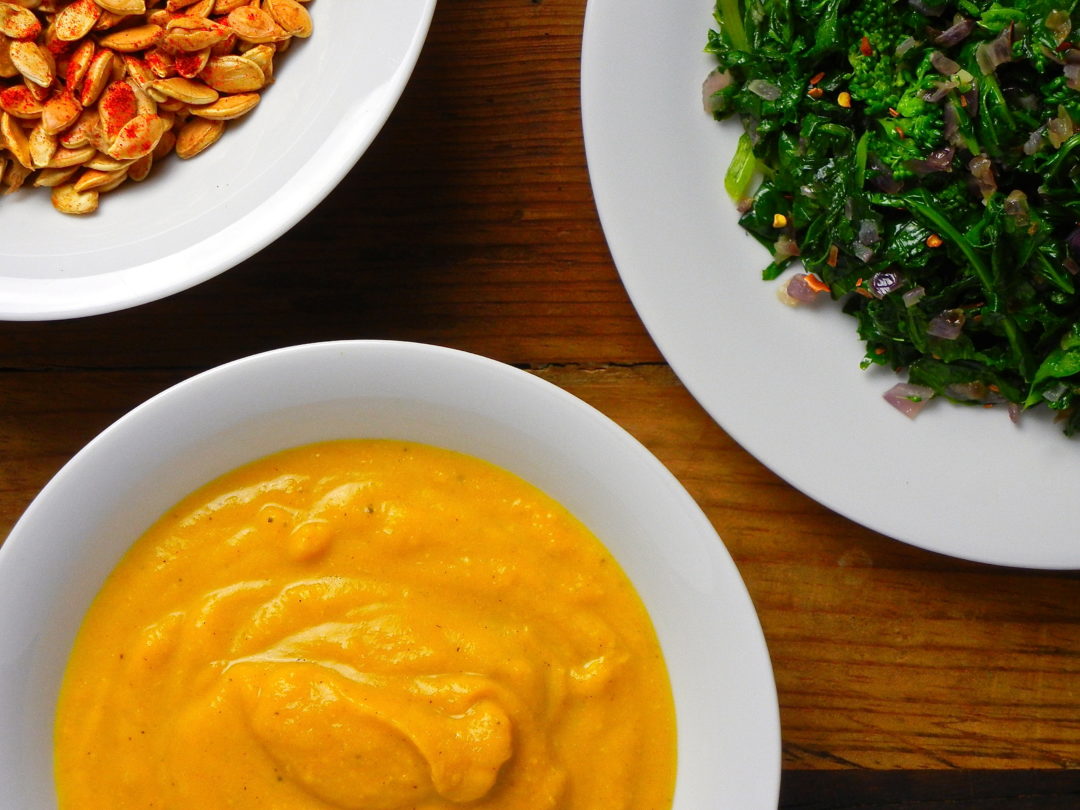 It's finally getting cooler in Southern California, making me want to make this soup over and over again. Super simple and super delicious!
This time it made it with some sautéed broccoli rabe sprinkled with red pepper flakes and roasted the seeds with smoked paprika for a little crunch.
Pumpkin Soup
Serves two
2 small pumpkins
1 T olive oil
2 shallots, diced
3 cloves garlic, minced
2 cups vegetable broth
1 cup milk
2 T maple syrup
1/4 tsp Kosher salt
1/4 tsp black pepper
1/4 tsp cinnamon
1/4 tsp nutmeg
Preheat oven to 350°F. Line a baking sheet with parchment paper. Using a sharp knife, cut off the tops off the pumpkins and then halve them. Scrape out all of the seeds and strings.
Brush the flesh with oil and place face down on the baking sheet. Bake for 45-50 minutes or until a fork easily pierces the skin. Remove from the oven, let cool for 10 minutes, then peel away skin and set pumpkin aside.
You could also sub for store-bought pumpkin puree. If you take this route, you'll want about 2  to 2 – 1/2 cups of puree.
Heat 1 T olive oil in a large saucepan over medium heat. Add the shallot and cook 1 minute before adding garlic and cooking for another 1-2 minutes or until the shallots are slightly browned and translucent. I tend to find that garlic can burn quickly (I minced those cloves very well.) so usually add garlic a minute after I add onion to the pot or pan to cook.
Add remaining ingredients, including the pumpkin, and bring to a simmer.
Transfer soup mixture to a blender or use an emulsion blender to puree the soup. Pour mixture back into pot. Continue cooking over medium-low heat for 5-10 minutes and taste and adjust seasonings as needed. Serve.