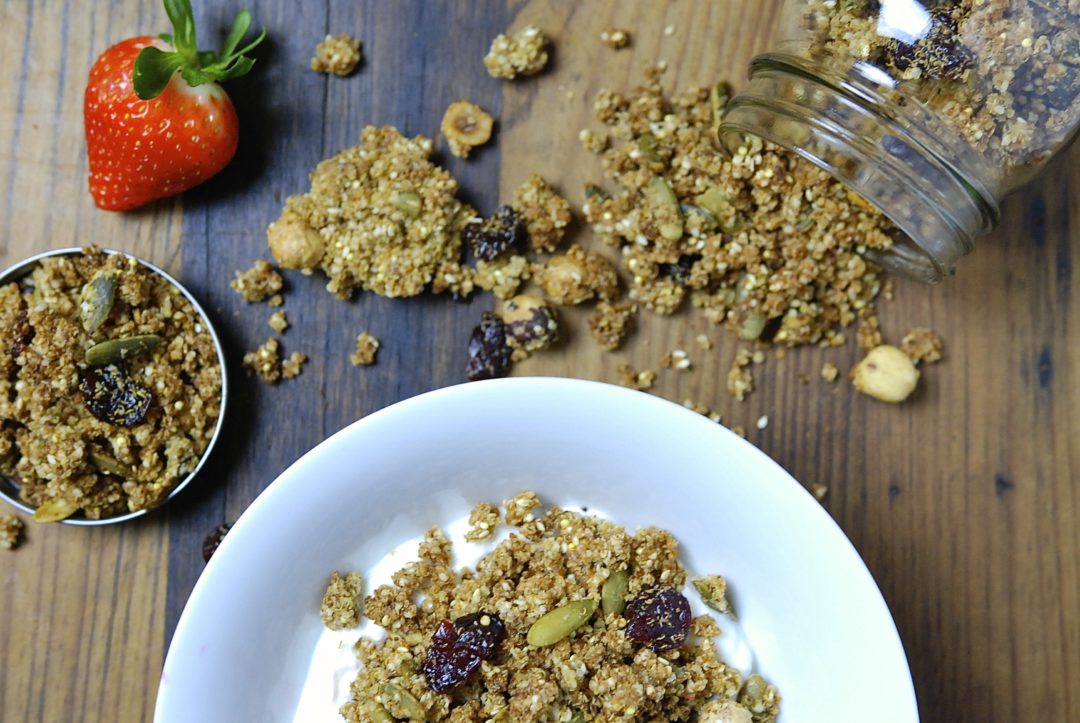 While running my fingers along the spines of cookbooks in the Tarzana library, I came across this unassuming yellow-bound bakery book with simple, yet lovely, pictures of cookies, cakes, brownies and tarts. There were no elaborate spreads, just images of a single cookie or a slice of cake resting on a little plate beside a fork. The flavor combinations were intriguing, chocolate rye brownies, oatmeal cookies with slivers of candied orange peel and oat scones with prunes steeped in Earl Grey tea to name a few. I checked out The Violet Bakery Cookbook and have been admiring it ever since – and cooking from it on occasion.
My first recipe from the book was this granola, which turned out to be the most expensive granola I have ever had the pleasure of eating. It also necessitated trips to multiple supermarkets, for while every grocer in California now carries agave thanks to recent anti-sugar fervor, quinoa flakes are still hard to find. Don't expect this to be the case for much longer though! While shopping was inconvenient, and I couldn't believe I dropped 14 bucks on ground up quinoa, this granola wasn't that sweet at all and, yet, was some of the most satisfying I have ever had.
The book's author Claire Ptak, a Chez Panisse alum, puts a lot of effort in trying to explain flavor balancing and maintains even slight additions and subtractions can impact the final product. This is why, she says, we should start thinking about baking more like we do cooking, as an art rather than a science. I find I am more comfortable editing a recipe when cooking, but when it comes to baking, I absolutely stick to the recipe. It's a new thought for me and while I could make excuses to say, well of course she can bake according to taste because she has baked so much more than me, I shouldn't.
In that spirit, I made a riff on this granola using oats to replace half of the quinoa flakes, honey in agave's stead, and orange blossom water instead of water. It wasn't a winner, but at least I tried right?
Quinoa, Hazelnut and Cherry Granola
Makes 8 cups
6 cups quinoa flakes
1 cup whole hazelnuts
½ cup flaxseed meal
⅓ cup sesame seeds
¾ cup pumpkin seeds
¼ cup millet
¾ cup plus 2 tablespoons agave syrup
3 ½ tablespoons olive oil (not extra virgin)
½ cup coconut oil
½ cup water
1 ½ teaspoons vanilla extract
a few grates of fresh nutmeg
a pinch of sea salt
1 cup dried tart cherries
Combine quinoa flakes, hazelnuts, flaxseed meal, sesame seeds, pumpkin seeds, and millet in a large bowl and set aside.
Preheat oven to 300°F. Line two baking sheets or roasting pan with parchment paper.
In a medium saucepan, combine the agave syrup, olive oil, coconut oil and water. Place over medium heat and whisk constantly to melt all together.
Remove the syrup mixture from the heat and stir in the vanilla, nutmeg and sea salt. Pour this over the quinoa mixture and stir well to coat completely.
Spread the mixture on the lined baking sheets or roasting pans. Bake for 30 minutes. Remove from the oven, toss well and return to the oven. Lower the temperature to 285°F and bake for another 30 minutes, turning every 10 minutes, until the mixture is golden brown.
Remove from the oven and allow to cool completely before stirring in the cherries. Store in an airtight container.