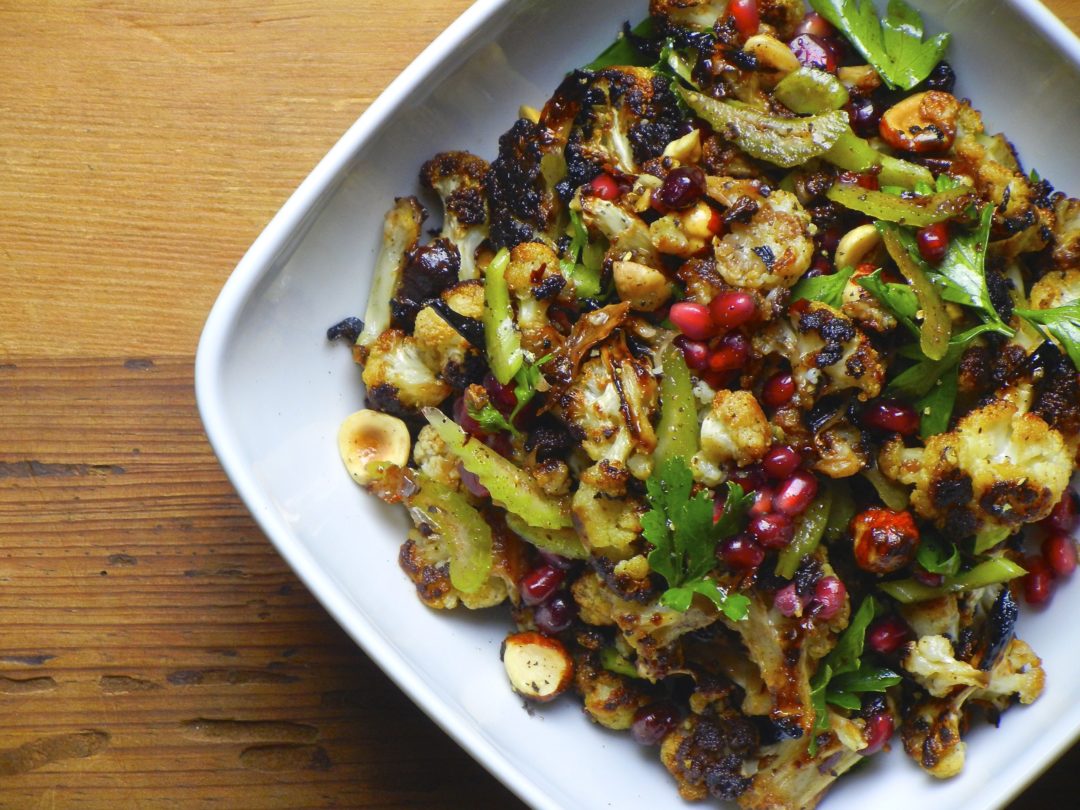 I usually wouldn't go for a salad without cheese because when wouldn't some freshly grated parm or feta crumbles be an improvement? What's a spinach salad without goat cheese or a BBQ chicken salad without cheddar? But this Jerusalem cookbook is teaching me more than just what it's like to live in the holy city.
I'm learning to make dinners that, in the tradition of keeping Kosher, don't rely on cheese or dairy products of any kind to complete the meal. For instance, there was the roasted eggplant with ground lamb. The meat was sautéed with onions and spices like cinnamon and cumin before being spooned over halves of eggplant and finished in the oven. The chicken sofrito, slow cooked in a Dutch oven one Sunday afternoon, was paired with fried potatoes and garlic. A squeeze of lemon was the only condiment suggested and all that was really needed.
It's unusual for me to cook without cheese, sour cream, milk or butter, all things I so often consider as essential to making something taste really good. I'll still put cheese in my grits when making a pot roast and indulge in Greek gyros loaded with lamb and yogurt-based tzatziki, but finding satisfaction in meat without cheese or cheese without meat – albeit easier – is something new and different.
It also led me to this delightful discovery.
Roasted Cauliflower and Hazelnut Salad

Serves 2 to 4
1 head cauliflower, broken into small florets
5 tablespoons olive oil
1 large celery stalk, cut on an angle in 1/4-inch slices
5 tablespoons hazelnuts, with skins
1/3 cup flat-leaf parsley, leaves plucked from stems
1/3 cup pomegranate seeds
1/4 teaspoon cinnamon
1/4 teaspoon allspice
1 tablespoon sherry vinegar
1 1/2 teaspoon maple syrup
salt and fresh ground black pepper
Preheat oven to 425°F.
Mix cauliflower florets with 3 tablespoons of the oil, 1/2 teaspoon salt and some pepper. Spread on a baking sheet and roast on the top shelf of the oven for 25 to 35 minutes, until the cauliflower is crisp and parts of it have turned golden brown. Transfer to a large mixing bowl and set aside to cool.
Decrease oven temperature to 325°F. Spread hazelnuts on a baking sheet lined with tin foil and roast for about 17 minutes.
Allow the nuts to cool a little, then coarsely chop them and add to the cauliflower, along with the remaining oil and the rest of the ingredients. Stir, taste and season with salt and pepper accordingly. Serve at room temperature.