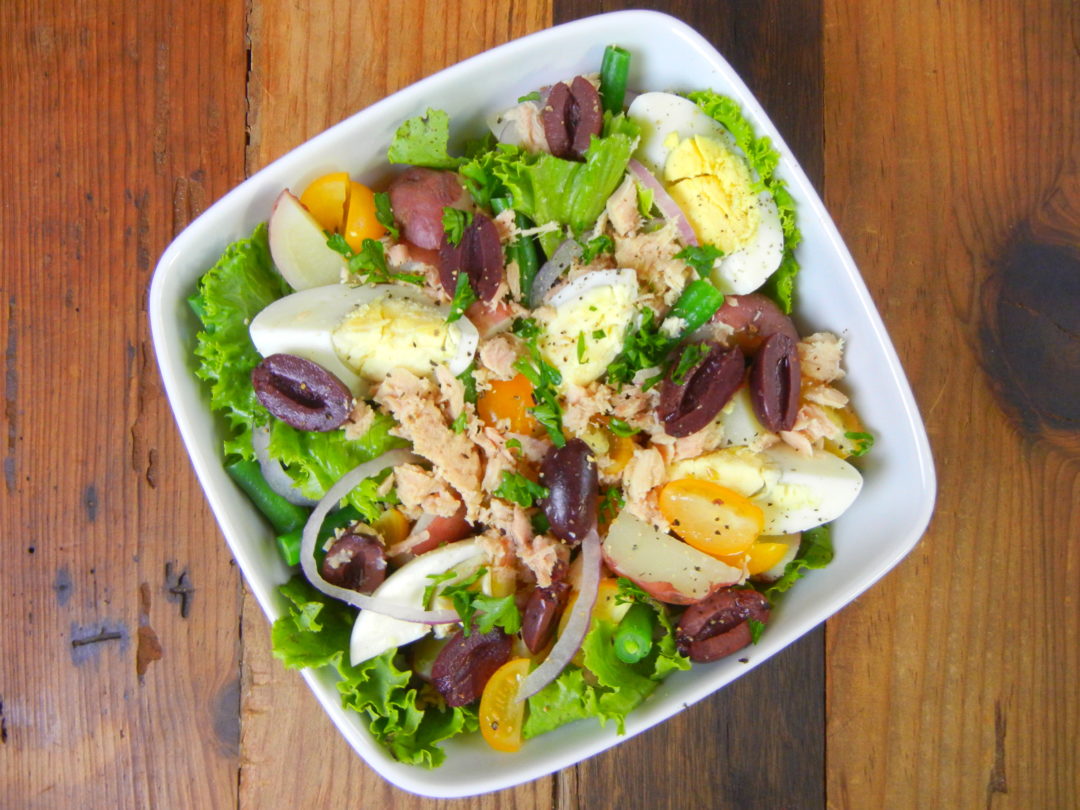 When I make a nice salad like this one I always serve it in the wooden salad bowl my grandmother insisted on buying for me when I moved to California. While my mom worried about getting me the bare essentials like bath towels, bed sheets and a vacuum, my grandmother was in a state about whether or not I had a salad bowl.
Apparently they are absolutely critical for entertaining and you really shouldn't think of having people over without one. She, Gaysie, found a "very good-looking" one after some searching around and, I must admit, it is nice to have when friends come over for dinner.
Salade Niçoise
Adapted from The Silver Palate
Serves 6
1 head lettuce, preferably butter
10 little red potatoes
1/2 pound green beans, blanched
15 cherry tomatoes, quartered
1/2 red onion, thinly sliced
1/2 cup black olives, halved
1/4 cup chopped Italian parsley
6 hard boiled eggs, quartered
12 ounces canned oil-packed white tuna, drained
salt and pepper
For the dressing: 
1/2 tablespoon (1 1/2 teaspoons) Dijon mustard
2 tablespoons red wine vinegar
1/2 teaspoon granulated sugar
1/4 teaspoon salt
1/4 teaspoon fresh ground black pepper
minced parsley
1/2 cup olive oil
1. Cook potatoes in boiling water with a pinch of salt until tender but not mushy, 15-20 minutes. When cool, quarter potatoes and set aside.
2. To prepare the dressing whisk together all dressing ingredients save the olive oil. Pour oil in a steady stream into vinegar-based mixture, whisking constantly to emulsify dressing. (The recipe for dressing can easily be doubled to ensure you have homemade salad dressing for the rest of the week.)
2. To assemble the salad, fill a medium bowl with lettuce. Top with red onion, green beans, tomatoes, olives, hard-boiled eggs, tuna, and a dash of salt and pepper. Pour about half of the dressing over the salad and mix to coat evenly.
3. Drizzle with additional vinaigrette and serve.