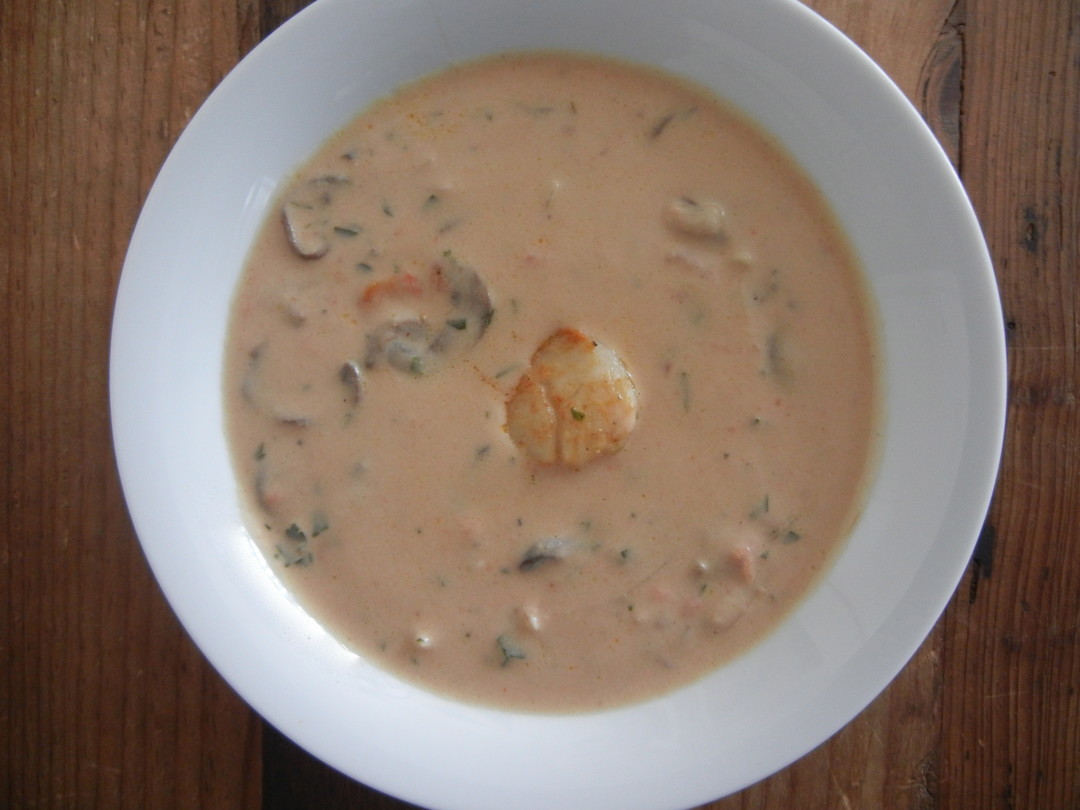 This bisque reminded me of a movie I saw recently. The movie was Haute Cuisine and, as you might imagine, its very reason for being was French food.
The soup was delicate, creamy without being heavy. I couldn't distinguish any of the individual flavors save the sherry which was stirred in at the very end. It was surprisingly easy to make and with its nuanced flavors, the bisque was – like most of the food I've had in France – so much more than the sum of its parts.
Haute Cuisine is based on the life of Danièle Mazet-Delpeuch and the time she spent as Président François Mitterand's personal chef at the Élysée Palace, the home to France's head of state. In its highly competitive and testosterone-charged kitchens, the madame soon became a favorite of the president for her traditional, no-frills style of cooking. This, of course, irritated her more "cutting edge" male counterparts to no end.
Danièle's cooking celebrated classic French fare, highlighting regional specialities and focusing on the more humble ingredients of a simpler time. In one of their scenes together, the president says to his chef: "[I want] a simple kind of cooking. I detest complicated concoctions, overelaborate preparations and superfluous decorations…If you cooked for me like my grandmother cooked for me, I'd be perfectly happy."
I am fascinated by food's ability to transport us to another time and place. By capturing our senses, what we eat can recall thoughts and feelings we may have experienced long ago and the president's comments seemed to encapsulate this phenomenon.
The take away here being that for all the hype around food coming from trendy chefs at hip restaurants, using of-the-moment vegetables like daikon radishes and spiking their chocolate chip cookies with cayenne pepper – all in an effort to get a reaction – it seems as though it's the simple foods that leave a lasting impression.
Scallop Bisque
4 to 6 portions
7 tablespoons sweet butter
1 cup leeks, white part only, well cleaned and thinly sliced
1/2 pound mushroom caps, wiped with a damp cloth and thinly sliced
1/3 cup chopped Italian parsley
salt and freshly ground pepper, to taste
4 cups fish stock
1 pound bay scallops, rinsed and patted dry
1/4 cup flour
2 eggs
1 cup heavy cream
3/4 cup canned crushed tomatoes
1/3 cup dry sherry wine
fresh chives (garnish)
1. Melt 3 tablespoons of the butter in a 4-quart soup pot. Add the leeks and cook over low heat, covered, for 20 minutes.
2. Add mushrooms and cook gently for 5 minutes, or until they just begin to render their juices. Add parsley, season with salt and pepper, and raise heat. Cook, stirring constantly, until mushroom juices have evaporated.
3. Add fish stock to the soup pot, bring to a boil, reduce heat and simmer, partially covered for 15 minutes.
4. Removed from heat, add scallops and let stand, covered for 1 minute. Pour the soup through a strainer set over a bowl, reserving solids. (I couldn't get my hands on bay scallops, so instead used the larger sea scallops. These were too big to cook through this way, so I ended up pulling the scallops out of the soup and sautéing in a bit of olive oil before adding back to the bisque.)  
5. Transfer cooking stock to a small saucepan and bring to a boil.
6. Melt the remaining 4 tablespoons butter in the soup pot. Add the flour and cook over low heat for 5 minutes, stirring constantly. Do not allow the flour mixture to brown.
7. Remove from heat and pour in the boiling soup stock all at once, beating constantly with a wire whisk. The mixture will bubble furiously and then subside.
8. Set the pot over medium heat and cook, stirring with the whisk, until the mixture has simmered for 5 minutes.
9. Thoroughly whisk the eggs and the cream together in a small bowl. Remove soup from the heat and slowly whisk 1 cup into the egg and cream mixture. (I skipped this step and nothing disastrous happened.) Now whisk this mixture into the remainder of the soup.
10. Set the soup pot over low heat; stir in the crushed tomatoes and sherry. Cook, stirring constantly, until the soup has thickened slightly, about 5 minutes. Do not allow the mixture to boil.
11. Add reserved scallop and leek-mushroom mixture and heat for another minute. Taste, correct seasoning, and ladle into warmed soup bowls. Garnish with fresh chives and serve immediately.