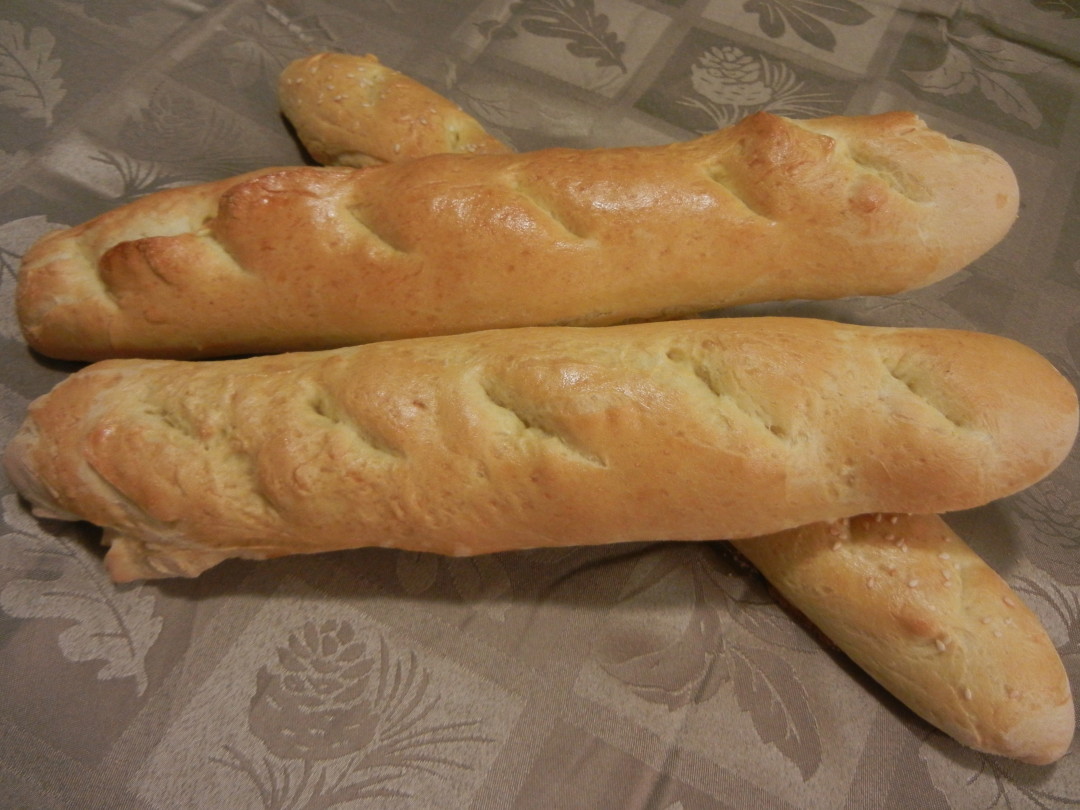 Occasions to work with yeast are few and far between for me. I think bread is one of those things that's easy to make but infinitely harder to master. But maybe that's the case with most everything.
I'm reminded of a quote from Patagonia founder and avid outdoorsman Yvon Chouinard, who once wrote: "I've always thought of myself as an 80 percenter. I like to throw myself passionately into a sport or activity until I reach about an 80 percent proficiency level. To go beyond that requires an obsession that doesn't appeal to me."
I think he makes an interesting point. It's possible, whether driven by your interests or talents, to become really good at something but to become an expert, to get that additional 20 percent, demands a passion and commitment that far exceeds what you displayed in getting to that first 80 percent. I guess that's why there's so few real experts, true craftsmen and top athletes.
Semolina Bread
3 loaves, about 18 inches long
2 cups lukewarm water (105°F to 115°F)
1 package dry active yeast
3 cups semolina flour
1 tablespoon salt
2 to 3 cups bread flour or unbleached, all-purpose flour
2 tablespoons olive oil
3 to 4 tablespoons cornmeal
1 egg
sesame seeds (optional)
1. Pour the water into a mixing bowl, stir in the yeast, and let stand for 10 minutes. Stir again to be sure all the yeast is dissolved.
2. Add semolina flour and salt and stir well.
3. Add 2 cups of the bread flour and stir to make a sticky dough. Turn dough out onto a work surface and let rest while you wash and dry the bowl.
4. Begin kneading the dough, sprinkling it with the remaining cup of bread flour as necessary to keep it from sticking to your hands. After about 10 minutes the dough will be smooth and elastic and will have absorbed more or less the last cup of flour.
5. Shape the dough into a ball and place it in the bowl. Pour the olive oil over the dough and turn it several times to coat with the oil. Cover bowl with a towel and set aside until dough has tripled in bulk. (The increase in volume is more important than the time it takes; depending on the room temperature this may be 2 or more hours. Do not try to force the dough to rise more rapidly by setting it on radiators, etc. This can sour the bread. Patience is a virtue.)
6. Punch down the dough, turn it out onto a lightly floured work surface, knead briefly (5 minutes or less), and return it to the bowl. Cover and let rise again until doubled.
7. Punch down the dough, cut it into thirds, and shape each third into a thin loaf about 24 inches long. Sprinkle a baking sheet with 3 to 4 tablespoons cornmeal and arrange the loaves on the sheet, leaving as much room between loaves as possible. Cover and let rise until not quite doubled, about 30 minutes.
8. Preheat oven to 425°F.
9. Beat together the egg and 1 tablespoon water. When the loaves have risen, brush them well with this egg wash. Sprinkle sesame seeds to taste, and slash loaves decoratively on top with a sharp knife, making diagonal cuts.
10. Slide the baking sheet onto the middle rack of the oven and reduce heat to 375°F. Bake for 30 to 40 minutes, or until loaves are brown and sound hollow when the bottoms are thumped. (For a crisper bottom crust, remove loaves from the baking sheet and place them directly on the oven rack for the last 5 to 10 minutes of baking time.)
11. Remove loaves from oven and cool on a rack. Wrap when cool.