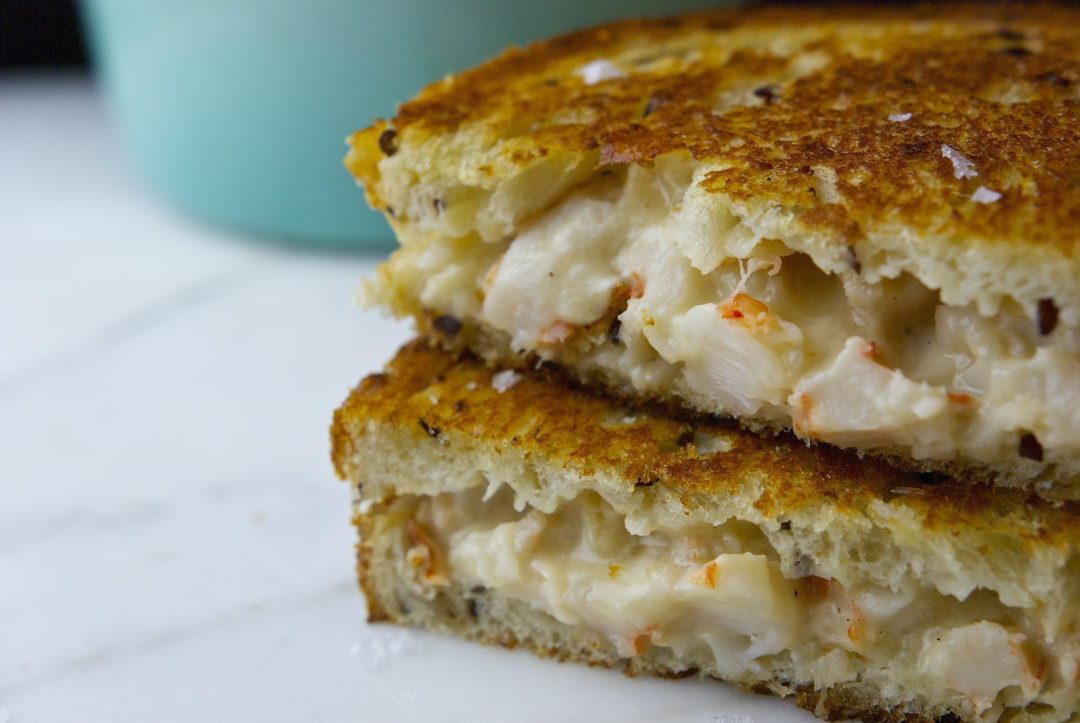 In requiring more than what is needed to make a great grilled cheese, with the addition of pink shrimp and cream cheese, this riff on the classic lends creed to the maxim more is better.
Its debatable overindulgence is a stark contrast to the deprivations jockeys endure daily to make weight. I just finished reading Seabiscuit and, while completely enthralled with the story as a whole, I was darkly fascinated by the lengths jockeys go to in order to compete in a sport where serious injuries are, or were, commonplace and the threat of death was not an empty one.
In a handicap system of sorts, horses were assigned "imposts," or weights they would carry in a race, depending on how good they were. The better the horse, the higher the impost. The higher the impost, the heavier the rider could be. With imposts ranging from 83 to about 130 pounds, many jockeys "reduced" constantly to maintain a frighteningly thin 114 pounds or less. Many subsisted on 600 calories a day and drank water by the droplet. One rider supposedly ate two lettuce leaves for dinner during his riding days. Red Pollard, Seabiscuit's jockey, ate nothing but eggs for a year.
In reading Seabiscuit I developed a new appreciation for horse racing and some of sports' most overlooked athletes. Beyond the dieting, the balance, strength, agility and quick thinking required to maneuver a thousand pound animal running at speeds of 40-plus miles an hour is remarkable.
I recommend the book if you haven't read it. And I absolutely recommend this grilled cheese as well! The recipe is adapted from Hans Rockenwagner's Das Cookbook.
Shrimp Grilled Cheese
Makes 2 sandwiches
1/2 pound shrimp, peeled and deveined
1 cup grated fontina
1 ounce cream cheese, softened
Pinch of cayenne
Kosher salt, to taste
Unsalted butter, for greasing pan
4 slices bread of choice
In a large sauté pan, heat 1/2 tablespoon butter over medium heat heat. Quickly cook shrimp, for 1-2 minutes on each side before removing from heat, along with pan juices to a bowl. Wipe pan clean. When cool enough to handle, chop shrimp into smaller pieces.
Mix together fontina, cream cheese, cayenne and some salt in a bowl. Add shrimp and juices and stir to combine. Divide half of the shrimp mixture among two slices of bread and top with the remaining slices of bread. Heat some more butter in the sauté pan over medium heat. When foam subsides, lay the two sandwiches side by side in the pan and cook until the cheese begins to look melted and the bread is golden brown. Flip sandwiches and repeat on the other side, adding a bit more butter as you flip to get the same golden brown color on the opposite side. After a another couple minutes, remove sandwiches from heat, slice in half – or don't slice, I know that's a personal preference – and serve immediately.