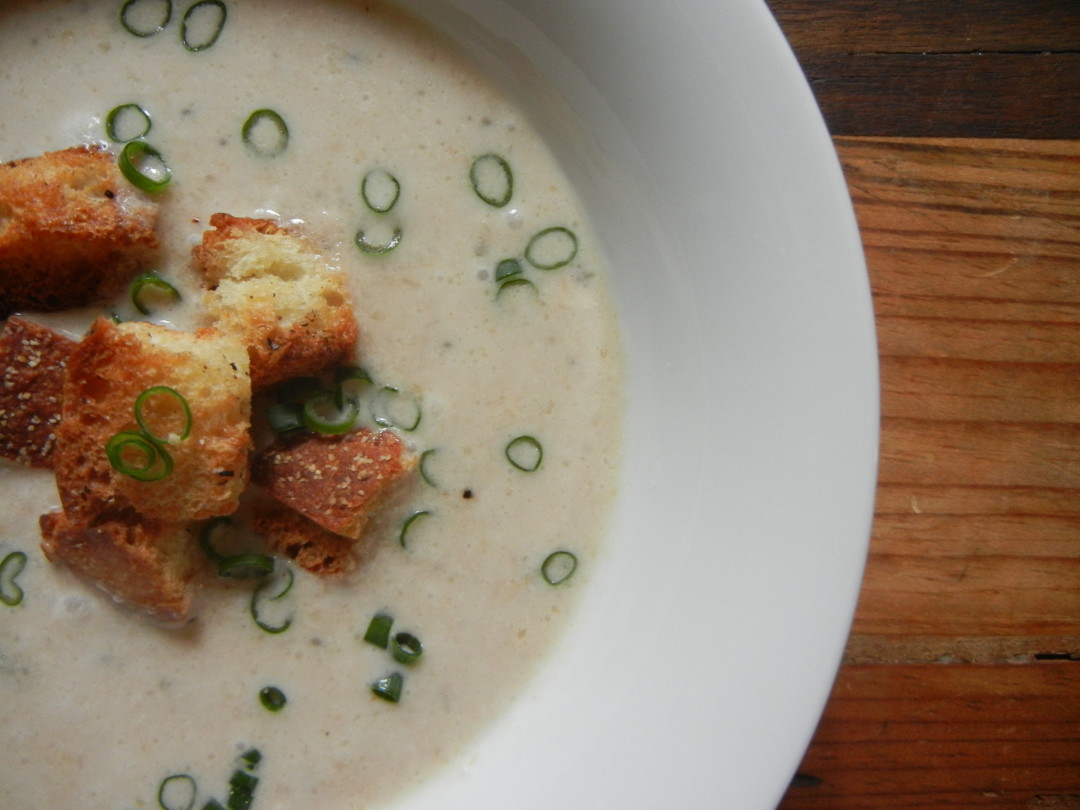 It's been a while since I had French Onion Soup, but once I decided to try this Silver Palate recipe, I felt perfectly comfortable telling people I was planning to make a soup akin to the classic starter.
In telling people about the soup I made, all of them – my less than culinarily inclined mom included – figured that what I made was really nothing like French Onion Soup at all. French Onion is clear; mine was creamy. French Onion has pieces of onion intact; mine, having been puréed, was smooth. French Onion has the iconic cheesy crust; mine was topped with a few homemade croutons. So, to confirm, this Six-Onion Soup is in fact not at all like French Onion Soup.
The homemade croutons were a nice touch and easy to make. Cut your bread of choice into small cubes and toss with olive oil, salt and pepper. Toast in a 400°F for 15 minutes or until bread has some nice color.
Six-Onion Soup
4 to 6 portions 
4 tablespoons sweet butter
2 cups finely chopped yellow onions
4 large leeks, white parts only, well cleaned and thinly sliced
1/2 cup chopped shallots
4 to 6 garlic cloves, peeled and minced
4 cups Chicken Stock
1 teaspoon dried thyme
1 bay leaf
salt and freshly ground black pepper, to taste
1 cup heavy cream
3 scallions, trimmed, cleaned, and diagonally cut into 1/2-inch pieces
toasted French bread croutons
snipped fresh chives
1. Melt the butter in a pot. Add the onions, leeks, shallots and garlic and cook, covered, over low heat until vegetables are tender and lightly colored, about 25 minutes.
2. Add the stock, thyme and bay leaf, and season to taste with salt and pepper. Bring to a boil, reduce heat, and cook, partially covered, for 20 minutes.
3. Pour the soup through a strainer set over a bowl, transfer the solids and 1 cup of the liquid to the bowl of a food processor fitted with a steel blade (or use a food mill fitted with with the medium disc), and purée.
4. Return the purée and remaining 3 cups of liquid to the pot and set over medium heat. Whisk in the heavy cream and bring to a simmer. Add the scallions and simmer for another 5 minutes, or until they are very tender.
5. Ladle into heated bowls and garnish with croutons or toasted French bread and snipped fresh chives.