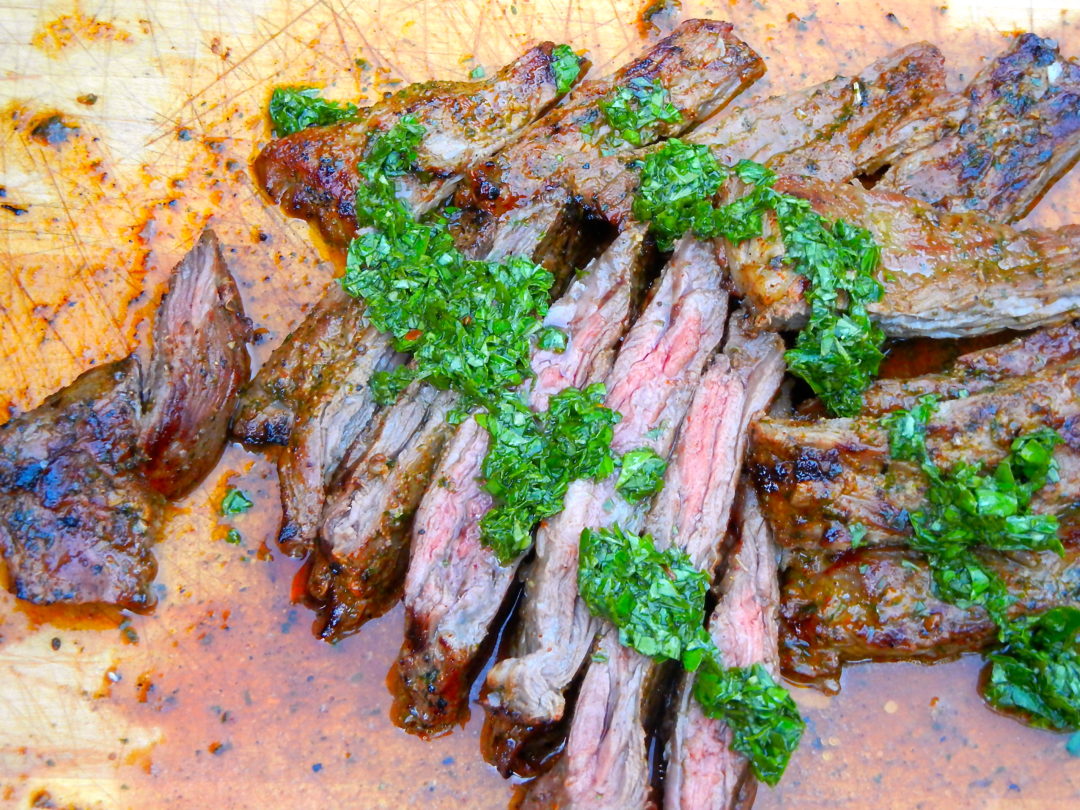 I think the phrase, "You don't know what you've got 'til it's gone", could be made better by adding, "and you get a taste of what's been missing." Might not fit neatly into a song lyric, but seems a little more poignant to me after this recipe: a slab of long-marinated skirt steak seared on the grill, drizzled with garlic infused herbs and enjoyed sitting out on my parents' back patio. 
A few years ago, we invested in a nice, though by no means excessive, grill. Dorian shopped around, diligently comparing models and prices. I was privy to the final showdown at Lowe's where he deliberated between the finalists in the way that only someone torn by indecision, or indecisive by nature, could do.
He lifted lids up and down. He moved grills six inches forward and four inches back, adding a little sideways swoop to see if they passed some sort of agility test. He flicked ignition switches on and off and twisted control knobs right and left. He  examined front panels, grease cups and grill hoses. He debated burners, grates and grids. He was indefatigable in his effort to determine which grill would burn better and deliver more flavor and I was tired just watching. 
We used that grill every day (and I do mean every day) for a year. Steaks, chicken breasts and pork chops were routine, but we also experimented with recipes like pork tenderloin and summer squash kabobs and apricot-glazed chicken thighs. We grilled pieces of salmon, slices of zucchini, and halves of peaches; anything and (practically) everything had a turn on the grill.
So when we, along with the rest of the tenants in our building, got a letter taped to our front door saying all barbecues needed to be gone within 30 days on some fire safety grounds, we were devastated. Did they want us to starve? What could we eat without the grill?
We didn't starve and it didn't take too long before we had reacquainted ourselves with the oven and stovetop. The laments about missing the grill grew fewer and further between.
More than a year later, I went back to Philadelphia for a few weeks and, while staying with my parents, remembered just how wonderful grills are, especially come summer time. I then missed the grill we had more than ever. I missed the flavor. I missed that slight char you get on a grill, the juiciness of the meat, and the experience of cooking over an open flame.
A recipe from The Founding Farmers Cookbook, this steak was the highlight of those grill sessions. The overnight marinade meant every bite was a burst of tequila-spiked garlic-citrus goodness. My sister was heard saying that this was some of the best steak she had ever had and she often orders steak when eating out. Skirt or flank steak is the way to go here, each capable of delivering a tender and flavorful result, though I think skirt is a bit more tender.
Now I'm not sure whether I am more upset that we don't have a barbecue or that I may not have this steak like that again for a long time.
Skirt Steak with Chimichurri Sauce

Marinade
1/4 cup chopped garlic
2 teaspoons kosher salt
2 teaspoons chili powder
1/4 cup fresh orange juice
3 tablespoons tequila
1/4 cup chopped fresh cilantro
2 teaspoons chopped fresh oregano
2 teaspoons black pepper
3 tablespoons extra virgin olive oil
2 teaspoons fresh lime juice
1 (3-pound) beef skirt steak
Chimichurri Sauce
1/2 cup packed fresh parsley
1/4 cup packed fresh mint
10 large basil leaves
1 1/2 tablespoons extra virgin olive oil
Pinch of crushed pepper flakes
Pinch of black pepper
Pinch of white pepper
1/4 teaspoon kosher salt
1 tablespoon rice vinegar
1 tablespoon apple cider vinegar
2 teaspoons lemon juice
Salt
Fresh ground black pepper
Make marinade at least 12 hours, and up to 24 hours before you plan to make the steak. Place all marinade ingredients in a blender and puree until smooth. Place steak in a shallow dish and pour marinade over the meat. Cover and refrigerate until ready to cook.
For the Chimichurri Sauce, roughly chop the parsley, mint and basil together. Combine remaining ingredients in a small bowl. Fold in the chopped herbs and mix well. Allow the sauce to sit for at least 30 minutes at room temperature before using.
Remove steak from refrigerator and allow to come to room temperature for 20 to 30 minutes before cooking. Preheat grill. Remove steak from marinade and season both sides with salt and pepper. Grill (or broil if you – like me – don't have a grill) the steak to desired doneness. It will be quick if you like your meat on the rarer side, maybe a couple minutes per side depending on thickness.
Let steak rest for 5 to 7 minutes before slicing into 1/4-inch to 1/2-inch slices. Drizzle the Chimichurri Sauce on top and serve immediately.