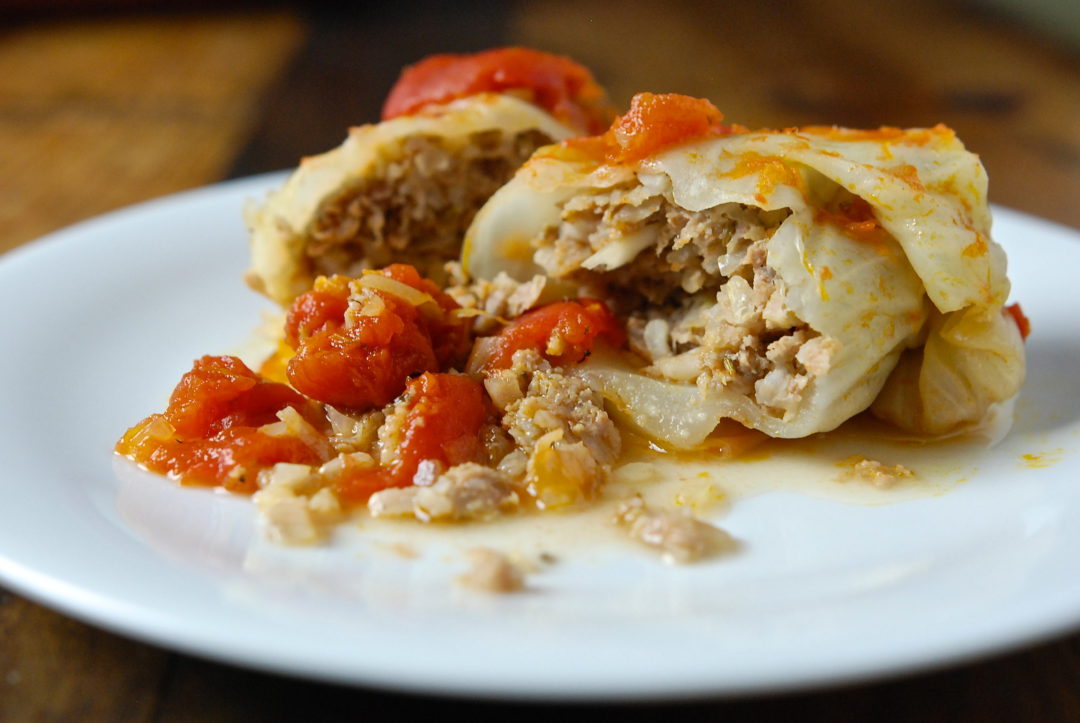 This is one of those foods I never would have had as a child. We were a pretty straight meat and potatoes, pizza and pasta, grilled chicken galore kind of family, so in their defense, I'm sure my parents had never even heard of stuffed cabbage. Though with my dad's aversion to casseroles, anything slightly unrecognizable served in a baking dish would have quickly been deemed "food fit for prisoners," something that's only "served in a dungeon;" and I really can't believe it's taken me this long to see where I get my flare for the dramatic!
Stuffed cabbage is, however, something I get a lot of these days as a plus one at all of Dorian's family functions. It's a Romanian staple and always served with sour cream. (I can just see my dad exercising his gag reflex now.) This recipe was adapted from Mario Batali's Big American Cookbook; it was featured in the Great Lakes section where the cooking is heavily influenced by Eastern European cuisines.
The trouble with making something that someone has had since childhood is the bar is pretty high. Dorian's family usually makes these cabbage rolls with picked cabbage, with ground pork rather than pork sausage and without the fennel seeds. It is pretty easy to make, even if boiling the cabbage to tenderize its leaves and then stuffing them takes some time. It's worth it every now and then though!
Stuffed Cabbage
Makes 12 rolls
Kosher salt
1 large head green cabbage
1 pound ground beef
1 pound ground pork sausage
2 cups cooked rice, brown or white
2 medium onions, grated
2 teaspoons fennel seeds
2 teaspoons ground coriander
2 teaspoons fresh ground black pepper
3 cups Basic Tomato Sauce (see below)
½ cup water
Bring a large pot half-full of water to a boil over medium-high heat and add 2 tablespoons salt. Turn the cabbage upside down with the stem sticking up. With a long thin knife, cut around the core, angling the knife slightly toward the center of the head. Remove the core and discard. Trim away any large veins remaining in the cabbage, then carefully drop into the boiling water. Keep head submerged for two minutes. Remove cabbage and pull off the outer leaves, putting them on a towel-lined tray. The goal is to remove the leaves without tearing them. Return the cabbage to the pot, and after a couple minutes, pull it out a remove another few outer leaves. Repeat until you've harvested as many leaves as you can get. Let the leaves cool and dry.
In a bowl, combine beef, pork, rice, onions, fennel seeds, coriander, pepper and 2 teaspoons for salt. Mix well.
Preheat the oven to 350°F.
Cover the bottom of a 9×13-inch baking pan with 1 cup of the tomato sauce. To stuff the cabbages, take a full leaf, or two smaller leaves, and lay flat on your work surface. Put about 1/2 – 3/4 cup of the meat mixture on the leaf. Fold the sides of the leaf over the ends of the meat, then roll the leaf to close. Put the cabbage rolls in the baking dish, seam side down and repeat to fill the rest of the rolls. Make 3 rows of 4 rolls. In a bowl, mix the remaining 2 cups tomato sauce and the water and pour over the cabbage rolls. Pack any remaining cabbage leaves around the rolls. Cover the pan with foil. Bake 1 hour and 10 minutes and serve hot from the oven.
Basic Tomato Sauce
Makes about 4 cups
¼ cup extra-virgin olive oil
1 large onion, cut into ¼-inch dice
4 cloves garlic, thinly sliced
½ medium carrot, finely shredded
1 tablespoon dried thyme
2 (28-ounce) cans peeled whole tomatoes, crushed by hand, juices reserved
Kosher salt
In a 3-quart saucepan, heat the olive oil over medium heat. Add the onion and garlic and sauté until soft and light golden brown, 8 to 10 minutes, Add the carrot and thyme and cook 5 minutes more, until the carrot is quite soft. Add the tomatoes and their juice and bring to a boil, stirring often. Lower the heat and simmer for 30 minutes, until the sauce is as thick as hot cereal. Season with salt.
The sauce holds for 1 week in the refrigerator or up to 6 months in the freezer.