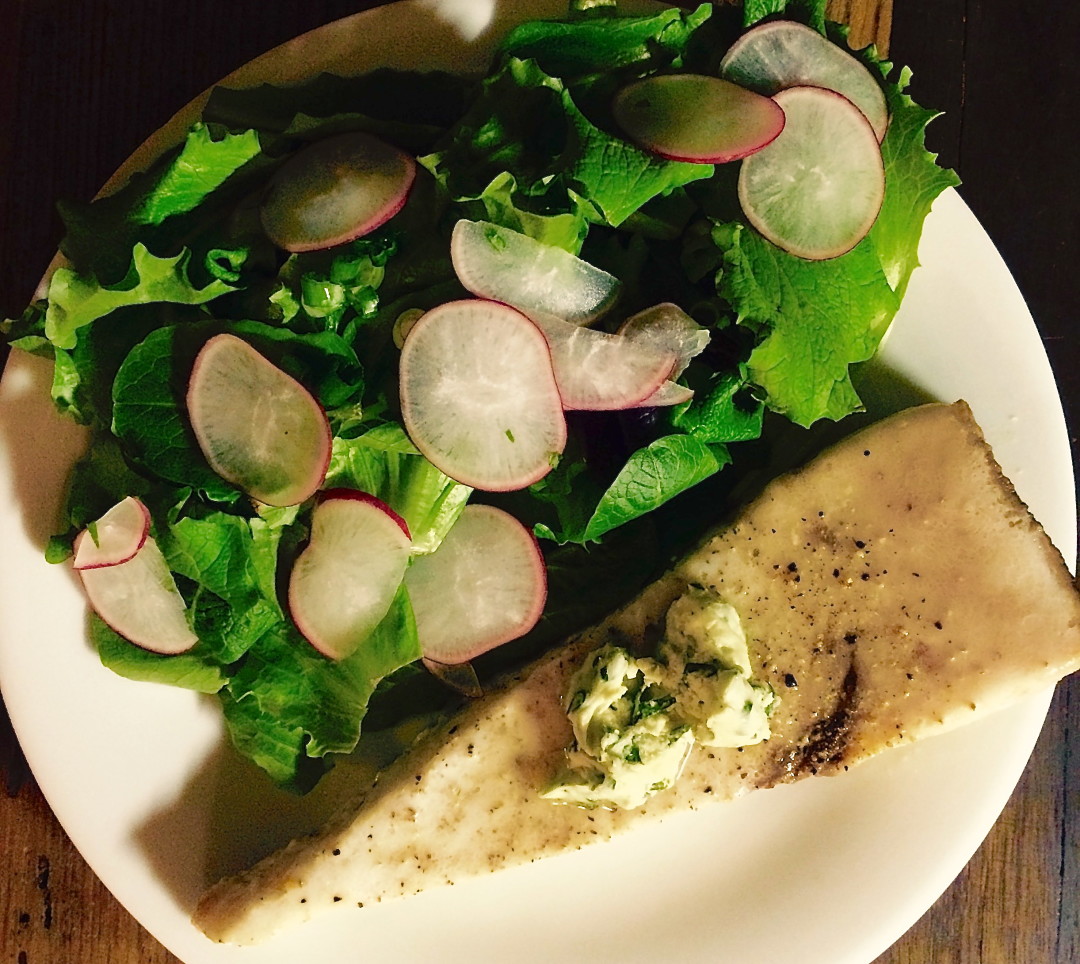 To eat, or not to eat? That is the question.
Strange as it may sound, for I know few kids gravitate toward seafood, swordfish was one of my favorite things to eat when I was younger. Flash forward to the present day and aside from preparing this The Silver Palate recipe, I can't remember the last time I ate swordfish.
Somewhere along the way, the threat of mercury poisoning became so dire that restaurants stopped serving it, supermarkets no longer carried it, and people quit eating it.
The arguments against eating swordfish begin with chemical pollution. Toxic metals run into the soil and from there leach into the water table, contaminating lakes, rivers, and streams which eventually empty into the ocean. As fish feed in these contaminated waters, mercury and other heavy metals build up inside them. As larger fish eat these fish, mercury travels up the food chain.
All fish and shellfish contain some traces of mercury, but since mercury stays in the body for a long time larger, longer-living predatory fish, like swordfish, shark and king mackerel, have the highest toxicity levels. If people eat these kinds of fish frequently, they run the risk of mercury poisoning. The issue with mercury is that it hinders oxygen absorption and the passage of signals in the nervous system. Too much mercury has been known to cause brain damage and can affect the development of the nervous system in unborn babies and young children.
Perhaps steering clear of swordfish is a good call after all.
Like most fish, swordfish is a high quality protein that's low in saturated fat and contains omega-3 fatty acids that support a healthy brain and heart. With benefits like these, it need not be sworn off forever. While the FDA recommends women who are pregnant, women who may become pregnant, and young children avoid swordfish, it's safe for the rest of us to eat so long as it's consumed occasionally and as part of varied diet.
Swordfish Steaks
6 portions
6 swordfish steaks, 1/2 to 3/4 pound each, cut 1 inch thick
1 cup fish stock or dry white wine, approximately
salt and freshly ground black pepper, to taste
1/2 cup to 3/4 cup flavored butter of your choice
1. Preheat oven to 375°F.
2. Arrange swordfish steaks in a single layer in 1 or 2 baking dishes just large enough to hold them comfortably. Pour fish stock or white wine, or a combination of both, around the fish, to a depth equal to half the thickness of the steaks. Season lightly with salt and freshly ground black pepper.
3. Set the dish or dishes on the middle level of the oven and bake for 9 minutes. Check the fish for doneness with a fork, remembering that residual heat will continue to cook the fish even after you take it from the oven; if fish is not ready, bake a moment or two longer and test again.
4. When almost done to your liking, transfer steaks with a spatula to heated plates. (Obviously the heated plates are optional.) Place a tablespoon or two of the flavored butter in the center of each steak and serve immediately.
Flavored Butter
The Silver Palate provides a slew of flavored, or compound, butters to try. From Anchovy Butter and Curry-Chutney Butter to Dill Butter with Lemon, the basic concept revolves around mixing various ingredients into softened butter in order to create a more flavorful spread. I did a riff on the Basil-Mustard Butter, substituting cilantro that was on hand for the basil and scaling the proportions down to better suit two people. I let about two tablespoons of butter come to room temperature, mixed in maybe a teaspoon and a half of mustard, and then added a small handful of chopped cilantro.
I was surprised how those small flavor additions worked to enhance the fish in a significant way and would recommended giving this technique a try. Since the fish is cooked without fat, just in a bath of stock or wine, you don't need not feel bad about finishing it with a touch of butter.