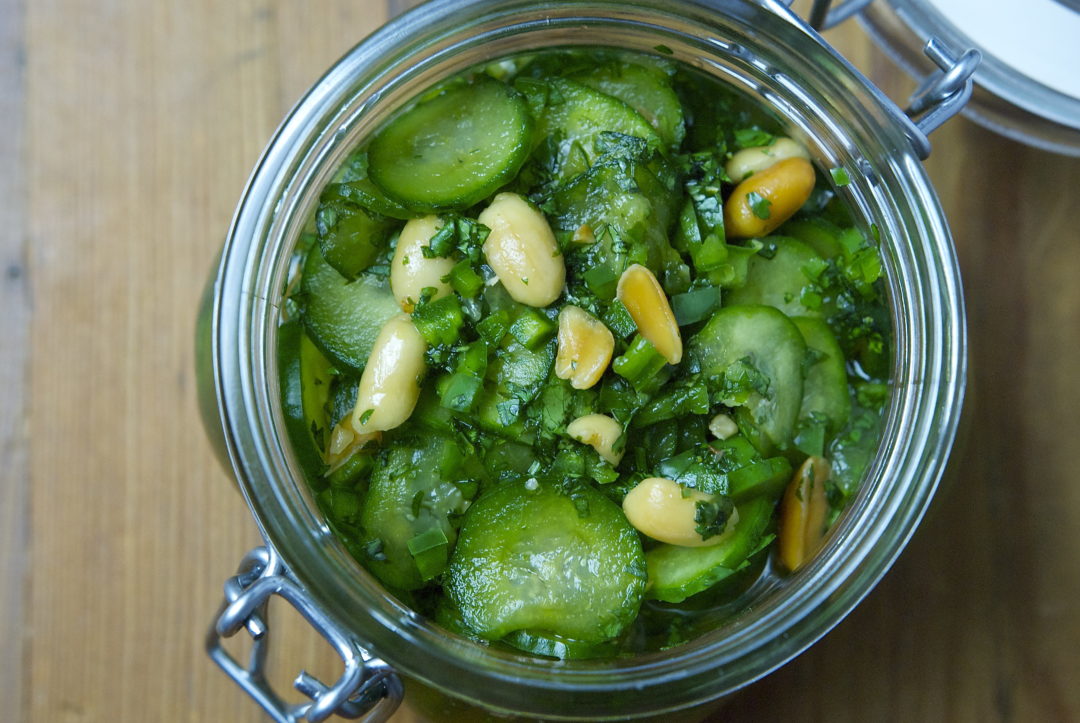 Much the same way adding avocado automatically makes something "California" – think California Cobb, California Burger, California Scramble – adding peanuts seems to make anything "Thai." My Thai Tuna Salad and this Thai Cucumber Salad are case in point.
Is it "case in point" or "case and point"? I just finished reading The Sellout, the Man Booker Prize-winning satire about a black man in South Central LA who gets arrested for reinstating segregation. There was a funny line about how you could tell a lot about a person – where they lived, how they were raised, maybe everything short of their zodiac sign – by whether they said for "all tense and purposes" or "all intensive purposes."
It made me chuckle.
I used to say "let's play it by year," as in we'll cross that bridge when we get to it because I could have sworn that's what my mom always said. I thought it made perfect sense until Dorian pointed out the phrase is actually "let's play it by ear," as in we'll do whatever sounds good.
Luckily there's little to debate with this straightforward recipe!
Adapted from Vegetables by James Peterson, this is one of my favorite summer salads. It's sweet and spicy and real addictive! Enjoy.
Thai Cucumber Salad
3 regular cucumbers or 6-7 Persian cucumbers
1 tablespoon Kosher salt
½ cup sugar
½ cup sherry vinegar
3 jalapeños, seeded and finely chopped
½ cup roasted, salted peanuts, coarsely chopped
3 tablespoons cilantro, freshly chopped
Thinly slice cucumbers into rounds, between ⅛ and ¼-inch thick. Toss slices with salt in a colander and place in the sink for 30 minutes to allow water from cucumbers to drain out. Rinse well with cold water and squeeze cucumbers to remove as much water as possible.
Whisk sugar and vinegar in a medium-sized bowl until sugar dissolves. Add cucumber slices and jalapeños and toss to combine. Sprinkle with peanuts and cilantro. Serve cold or at room temperature.