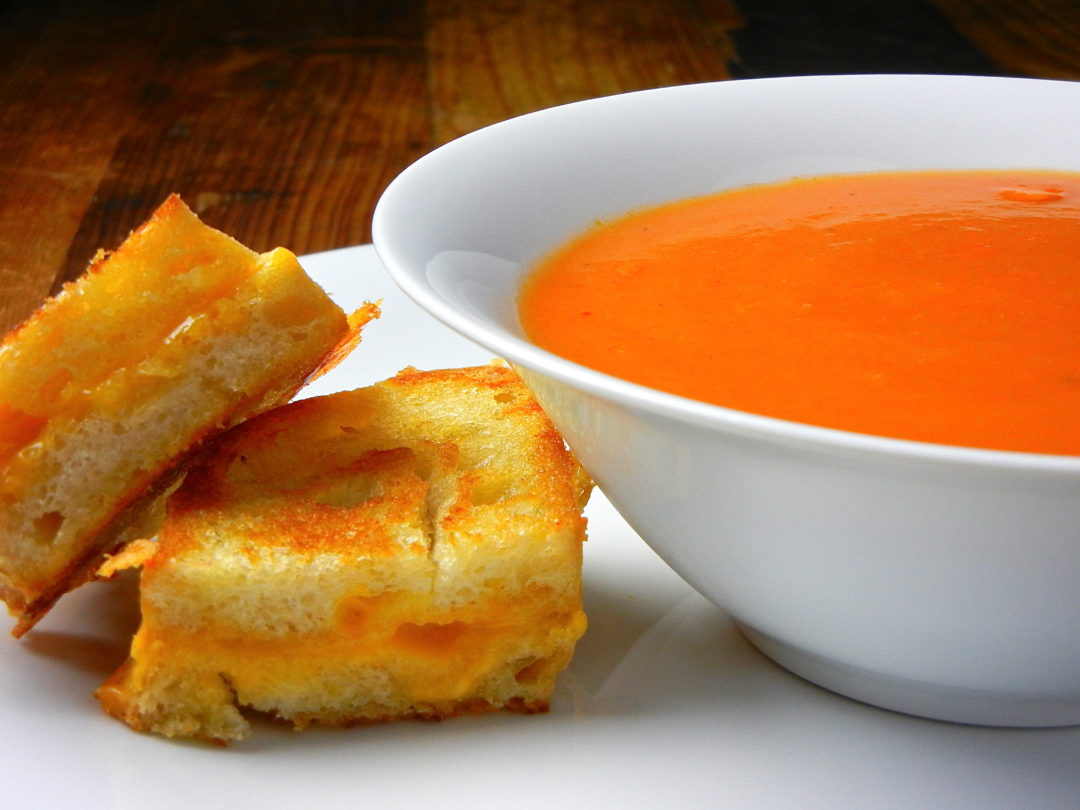 My grandmother taught me the secret to a great grilled cheese is to butter the bread before you lay it, butter side down, in the skillet. From a cooking magazine, I learned the other secret to a great grilled cheese is to use several different kinds of cheese; this one here was made with sharp cheddar and smoked gouda, but the possibilities are endless. During a trip to Reading Terminal Market where Dorian and I had the most outstanding grilled cheese at Meltkraft, I noticed the third – and obviously far from final – secret to a great grilled cheese is to grate the cheese for better melting. No more slices. So long Kraft singles. (Well, I'd say that's still a point of contention in my apartment!)
This tomato soup, adapted slightly from a Fine Cooking magazine, is tops, easy to make, and – of course – is the best kind of accompaniment to grilled cheese.
Tomato Soup
Serves 8
2 tablespoons olive oil
1 tablespoon unsalted butter
1 large white onion, finely chopped
1 large garlic clove, smashed and peeled
2 tablespoons all-purpose flour
3 cups reduced sodium chicken broth
1 28-ounce can whole peeled plum tomatoes
1 ½ teaspoon sugar
2 sprigs fresh thyme
Kosher salt and fresh ground black pepper
Heat the oil and butter in a Dutch onion over medium-low heat until the butter melts. Add the onion and garlic and cook, stirring occasionally, until soft but not browned, about 8 minutes. Add the flour and stir to coat the onion and garlic.
Add the broth, tomatoes, sugar, thyme, and ¼ teaspoon each salt and pepper. Bring to a simmer over medium-high heat while stirring the mixture to make sure that the flour is not sticking to the bottom of the pan. Reduce the heat to low, cover, and simmer for 40 minutes.
Discard the thyme sprig and purée the soup in a blender or with an immersion blender. Rinse the pot and return the soup to the pot.
Season to taste with salt and pepper. Reheat if necessary. Serve warm.