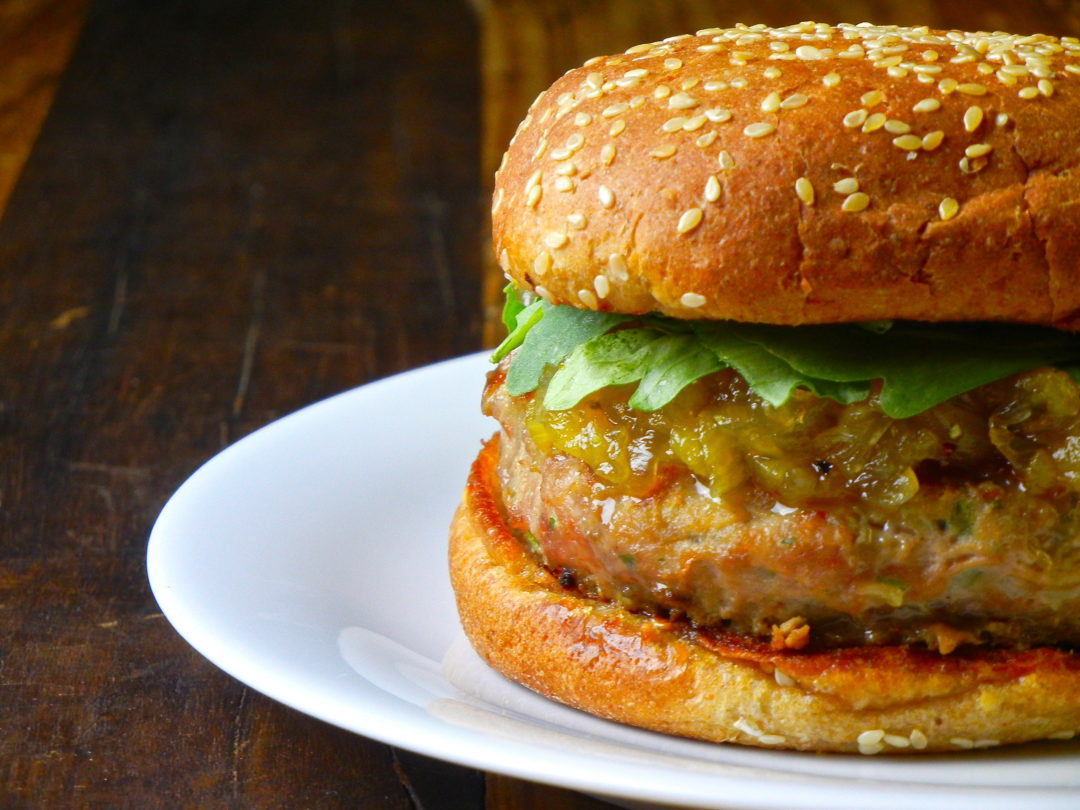 You might hear radio silence from me after this one. I seem to have lucked out with this recipe – and the steady concentration I somehow maintained while making these burgers; since then I've had a slew of kitchen flops.
The following night I planned a Middle Eastern-inspired feast with lamb and red onion kebabs, cucumber and tomato salad with Feta and Sangak bread. I overcooked the lamb! Sacrilege. Without a grill, I often cook meat under the broiler on high. I cut the meat into smaller chunks than I had on a previous occasion and I think that made a big difference. Overcook chicken, okay – it happens. But lamb! Ugh I'm still mad thinking about it.
Next weekend I took a pass at maple-bacon biscuits to less-than stellar results. There was little rise to speak of and too many crumbs. Since then, I've decided I will master biscuit making before Thanksgiving and have tried a few more recipes (all to less-than-stellar results) and watched lots of YouTube videos to see just what the dough mixture should look like when "it resembles coarse meal." Unfortunately though I have nothing to show for it today.
So if it's a while before there's more on Red Hot and Hungry, at least I leave you with this recipe.
When I make turkey burgers, I typically mimic the additions I would make to ground beef when making burgers – an egg, salt, pepper, maybe some Worcestershire, garlic powder – and add a few more spices to bump up the flavor. This recipe made me think differently about building a burger, namely the incorporation of creme fraîche (I bet sour cream would be an excellent substitute) and using fruit compote as a condiment.
With little fat to insulate the meat, I think the creme fraîche was important for keeping these burgers moist and tender. The extra egg must have added more structure, though the refrigeration step is an important one. The pineapple-onion compote paired well with the burger and the arugula and I used the leftovers as a spread for some turkey and swiss sandwiches on pumpernickel the next day.
This recipe was adapted from Tasting Table.
Turkey Burgers with Pineapple-Onion Compote
Serves 4
For the Burgers:
1 pound ground turkey
¼ cup crème fraîche
2 tablespoons chopped parsley
2 teaspoons kosher salt
2 eggs
1 shallot, minced
Freshly ground pepper, to taste
For the Pineapple-Onion Compote:
2 cups (12 ounces) finely chopped pineapple
1 cup white wine vinegar
2½ tablespoons honey
½ yellow onion, minced
1 cup water
Salt and pepper, to taste
For Assembly:
2 tablespoons olive oil
4 hamburger buns
Arugula
1. Make the patties: In a medium bowl, add all ingredients for the turkey burgers and mix until incorporated completely. Form 4 equal-sized patties and place on a plate; cover with plastic wrap and chill in the refrigerator for 1 hour.
2. Meanwhile, make the compote: In a large skillet over medium heat, combine the pineapple, vinegar, honey and onion. Bring to a simmer and cook until the vinegar has completely evaporated, about 20 to 25 minutes. Go by what you see here, rather than by time; it took closer to 30-35 minutes for the liquid in my compote to completely evaporate.
3. Once the pineapple begins to caramelize, stir in the water. Simmer until the pineapple thickens to form a compote, another 6 to 8 minutes. Season with salt and pepper.
4. Cook the burgers: In another large skillet, heat the olive oil over medium-high heat. Add the patties and cook, flipping once, until golden brown and their internal temperature reads 165º, 4 to 5 minutes per side.
5. Assemble the burgers: On each toasted bun bottom, place a patty, then top each with a spoonful of the caramelized pineapple, a handful of arugula and the other bun half. Serve.