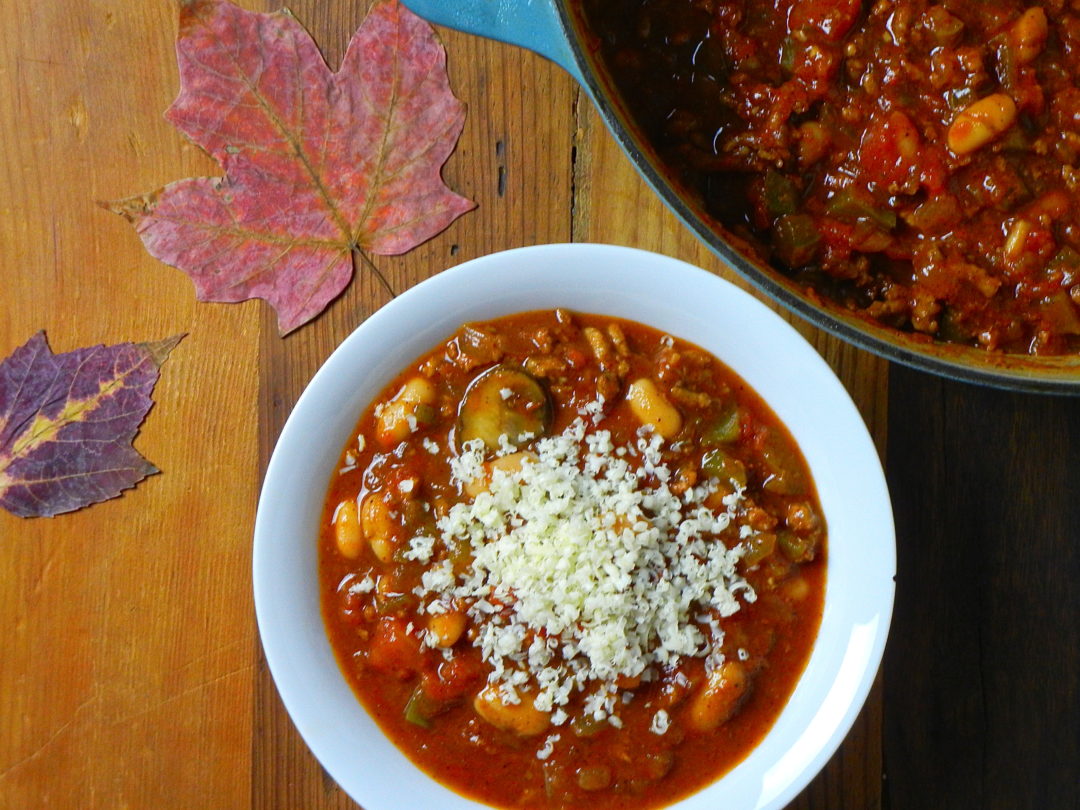 This one goes out to Ray Chui, BBQ pit master and internal auditor extraordinaire. He's been on the hunt for a decent turkey chili recipe and here it is, one that's meaty, spicy and game day-approved. Hope you like it Ray!
Turkey Chili
Serves 4 to 6
3 tablespoons oil
1 medium onion, chopped
1 green bell pepper, chopped
8 oz. mushrooms, sliced
2 cloves garlic, minced
1 jalapeño, minced
2 ½ tablespoons chili powder
1 teaspoon dried oregano
¼ teaspoon cayenne pepper
Kosher salt and fresh ground black pepper
1 lb. ground turkey
1 29-oz. can tomato purée
1 14½-oz. can diced tomatoes
1 15½-oz. can small white beans (Great Northern, Cannellini), rinsed and drained
1 to 2 teaspoons balsamic vinegar
Garnish options: Sour cream, minced fresh chives, shredded Cheddar
In a medium Dutch oven, heat the oil over medium heat. Add the chopped onion and bell pepper. Cook, stirring frequently, until they're just limp and some of the edge are browned, about 7 minutes.
When the onion mixture is ready, add mushrooms and continue cooking, stirring occasionally, until tender and light brown on edges, about 5 minutes.
Add the garlic, jalapeño, chili powder, dried oregano, cayenne, 1½ teaspoons salt and pepper to taste. Stir until well blended and fragrant, about 1 minute. Loosely break apart the ground turkey and add it to the pot. Gently stir until slightly more separated (don't stir too much or the chili will be mealy) and coated with the other ingredients.
Stir in the tomato purée and diced tomatoes. Bring to a boil, reduce heat to medium low or low and simmer, stirring frequently, until the sauce is slightly reduced and thickened, about 20 minutes. Stir in the drained white beans and the balsamic vinegar. Taste and add more cayenne, salt and pepper or another 1 teaspoon balsamic vinegar to taste.
Serve immediately; garnish with sour cream, chives, and/or Cheddar if you like.