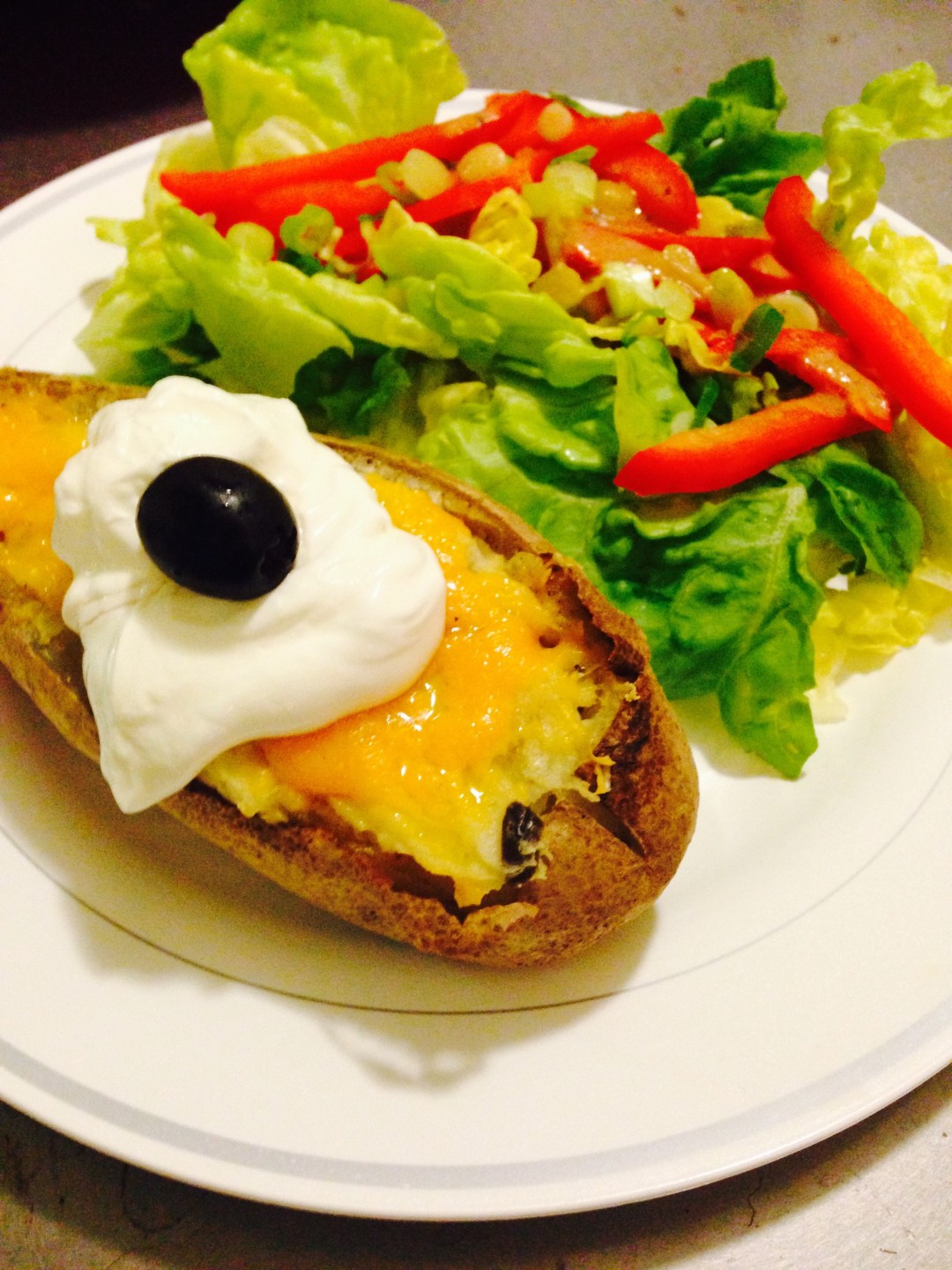 Would you believe me if I told you I've never eaten a loaded baked potato?
It's true. I can't recall a time when I even contemplated one, let alone a plain baked potato. I can't get enough of sweet potatoes, but have always had an aversion to those regular spuds. (This is a bit of a non sequitur as sweet potatoes are actually not even in the same family as Russetts, Yukon Golds, etc.!) I could always pass on Pops' tiny roasted red potatoes that he seasons with salt, pepper and Herbes de Provence, regularly ate burgers without fries, and never failed to turn my nose up when Mom offered me a bite of her baked potato slathered with butter and sour cream.
But living with a potato eater, who claims to have mastered the art of mashed potatoes and enjoys displaying his mastery on a more than regular basis, has brought me around to these tubers. I also realized last year that an old-fashioned potato salad with crumbled bits of bacon, hard-boiled eggs, and some sliced scallions is the perfect side to bring to any summer party.
The beauty of the loaded baked potato is that it's an easy make and very satisfying. Paired with a simple salad, it was a great option for a weeknight dinner.
Twice Baked Potatoes with Cheese and Chiles
Adapted for 2 portions
2 large baking potatoes
salt and freshly ground black pepper
2 tablespoons chopped imported black olives
1/4 cup diced canned mild green chili peppers
2-3 tablespoons heavy cream
1/4 cup grated sharp Cheddar cheese, plus more for topping potato
sour cream (garnish)
1. Preheat oven to 400° F. Scrub and dry potatoes, cut a small deep slit in the top of the potatoes (don't pierce the skin on the other side though) and put in the oven to bake for an hour or until tender when pierced with a fork.
2. Let potatoes cool slightly, cut off the tops, and scape the flesh into a bowl. Don't scrape so deeply that you tear the potato skin though. Salt and pepper potato shells and set aside.
3. Mash the potato flesh and stir in chopped olives, diced green chilies, and enough heavy cream to give the mixture the desired consistency. (Think masked potatoes; you want creamy on this one.) Season to taste with salt and pepper and stir in 1/4 cup of the grated cheese.
4. Divide the potato mixture equally among the shells, mounding the filling slightly. Sprinkle with additional grated cheese and place on a baking sheet.
5. Bake again, until potatoes are hot and the cheese is bubbling.
6. Top each potato with some sour cream and a black olive if you like. Serve immediately.
Would you also believe me if I told you salad dressing is easy to make?
No joke. Sure Wishbone is convenient and Girard's makes a pretty bottle, but as long as you've got oil and vinegar, salt and pepper, you can make salad dressing. It'll take you a couple minutes and there's no right formula; the more you play around, the more you figure out what you like. There's a world of vinegars out there, aside from balsamic, there's red wine, white wine, sherry, and rice vinegars, and the list goes on. If you like  acidic vinaigrettes, as I do, then consider leaning heavier on the vinegar or adding lemon juice. If you love tarragon or oregano or any other herbs in particular, throw them in there.
The Silver Palate's Sherry Vinaigrette focused on sherry vinegar. Sherry vinegar is just another wine vinegar made from the (traditionally) Spanish fortified wine of the same name. This one jazzed up a salad with Boston (Bibb) lettuce, scallions and thinly sliced red peppers.
Sherry Vinaigrette
Makes 1 3/4 cup
1 tablespoon Dijon mustard
1/4 cup sherry vinegar
1/4 teaspoon salt
freshly ground black pepper
1 1/2 cups olive oil
1. Whisk mustard and the sherry vinegar together in a small bowl. Stir in salt and pepper to taste.
2. Whisking constantly, dribble the olive oil into the vinegar mixture in a slow, steady stream. (I very much like a tart vinaigrette, so I did not use nearly as much as 1 1/2 cups oil.) Taste, correct seasoning if needed, and reserve until ready to serve.
If sherry vinegar is a new addition to your pantry and you're looking for another way to use it, here's one of my favorite summer salads. James Beard Award-winning cookbook author James Paterson has a beautiful book all about vegetables. Keeping it simple, he's called it Vegetables.
Thai Cucumber Salad with Peanuts
Makes 4 side-dish servings

3 regular cucumbers, or 2 long hothouse cucumbers, peeled (peeling optional)
1 tablespoon coarse salt
1/2 cup sugar
1/2 cup sherry vinegar
5 Thai chilies or jalapeños, seeded and finely chopped
1/2 cup dry-roasted, salted peanuts, coarsely chopped
3 tablespoons finely chopped fresh cilantro
Cut the cucumbers in half lengthwise and spoon out their seeds. (I use Persian cucumbers and don't worry about this step.) Slice into thin cresents. Toss the slices with coarse salt and drain in a colander for 30 minutes. Cucumbers have a very high water content, so the salt helps to draw the salt out, ultimately making your salad more flavorful. Rinse the cucumber under cold running water and squeeze the cucumber slices tightly in small bunches.
Stir together vinegar and sugar until the sugar dissolves. Reserve the mixture in the refrigerator. Just before serving, combine cucumbers, chilies, peanuts and cilantro. Add vinegar mixture and toss.
Once mixed, the cucumber salad will kept for a couple days in the fridge just fine.