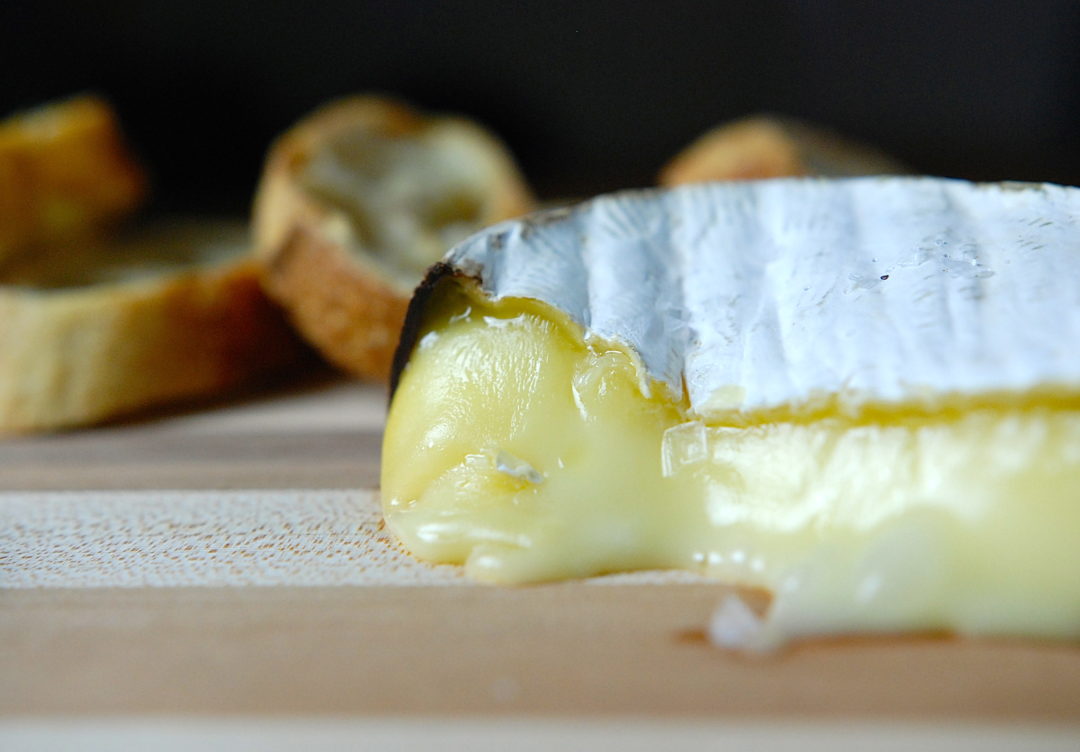 The Barefoot Contessa's recipe for Warm Vacherin sent me in search of a cheese shop here in the San Fernando Valley and, lucky for me, I found one not too far away in Sherman Oaks. I'm no cheese connoisseur so when I walk into a place that is stacked high and wide with countless cheeses, I'm often at a loss. Amid the soft, semi-soft and hard wedges of ash-coated, wax-sealed and bark-wrapped cheeses, I usually take the path of least resistance and pick myself up some sharp cheddar.
Cheesemongers of Sherman Oaks tones it down with maybe 25 cheeses in the display case, making the world of fine cheese a little less daunting. Being the only customer in the store at the time, one of the cheesemongers was able to give me a bit of an education in Vacherin. Vacherin, or Vacherin Mont d'Or, is a soft ripened cow's milk cheese with a bloomy rind – essentially a Brie-like cheese. Traditionally, Mont d'Or, as it's called in France, is a raw milk cheese which are not sold in here in the U.S. Blame it on our overly hygienic tendencies when it comes to food and drink!
What the shop could offer me though in a similar vein was Jasper Hill Farm's Harbison, winner of last year's Best American Cheese, as named at the World Cheese Awards. The cheese awards feature some 2700 cheeses – I can't even imagine – and Harbison topped the list for cheeses from this side of the pond; it's got to be good to stand out from a pack like that.
In reading more about the cheese and how it's made, it's actually wrapped in spruce bark to hold the gooey cheese together, I came across this interesting video produced by Jasper Hill showing how they make their award-winning cheese.
Warm Harbison
Serves 8
1 whole Harbison or Mont d'Or, room temperature
1 tablespoon dry white wine
Flaky sea salt and fresh ground black pepper
Good bread, thinly sliced and toasted
Preheat the broiler and position rack 8 to 9 inches below the heat.
Mont d'Or typically comes in spruce boxes; check to see if the box is stapled or glued. If the former, place round on a baking sheet. If the latter, wrap a piece of aluminum foil around tightly around bottom and sides, as the glue will melt in the oven, and then place on a baking sheet. With Harbison, the spruce bark just circles the middle of the cheese so if you have a ramekin similar in size to the cheese, use this so the wine will stay close to the cheese. With a small sharp knife, remove and discard the top rind of the cheese. Pour wine over cheese.
Broil cheese 2-3 minutes, watching carefully so the box doesn't catch on fire if using Mont d'Or. Remove from the oven, sprinkle generously with sea salt and fresh ground black pepper and serve immediately with toasted bread.