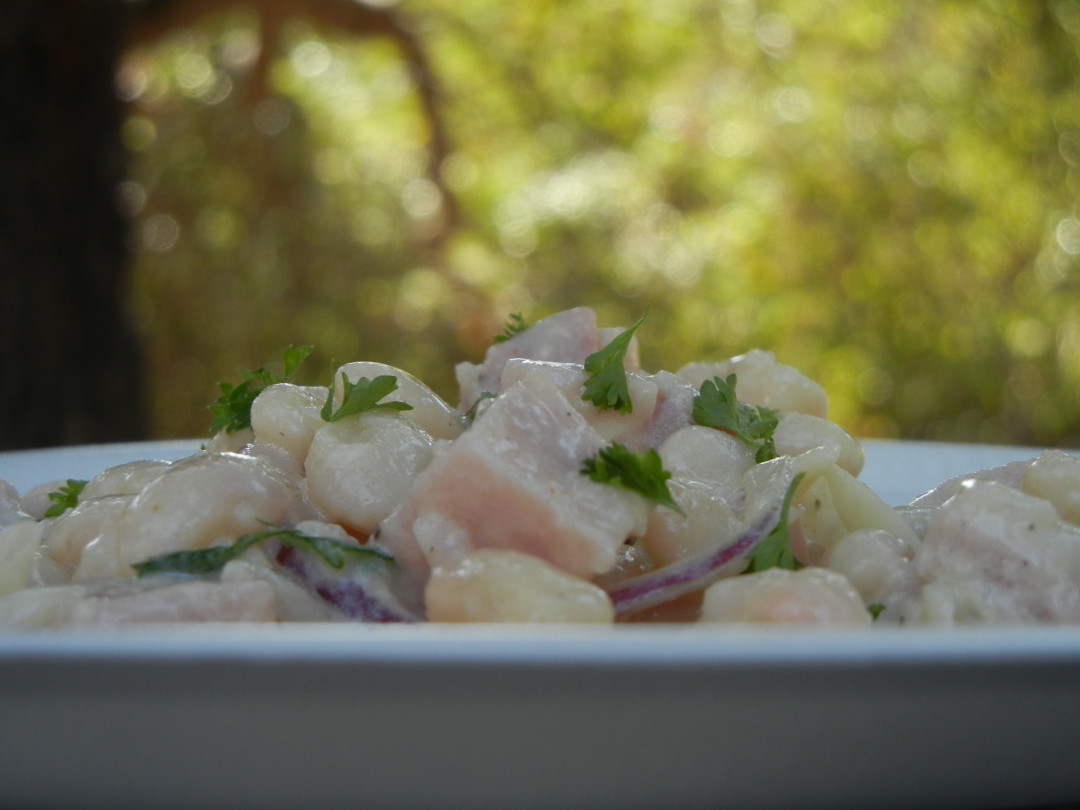 Somewhere between a picnic in Central Park and backpacking in Yosemite, The Silver Palate loses all practicality. Fortunately for the blog though, our camping trip was no backwoods affair. We were going to Leo Carrillo, a campsite just off Pacific Coast Highway seven-and-a-half miles from the nearest Starbucks. It would be the ideal testing ground for some of the book's make-ahead recipes. Would they hold their own among the simple smoke-infused food that characterizes camping fare?
I had been eyeing the White Bean and Ham Salad for a little while as white beans are the star of some of my favorite dishes. Dorian's white bean dip with caramelized onions comes to mind. As does a sausage and white bean one-pan dinner, so easy that of all the recipes I've shared with my brother – which have been more than a few as he often thinks he might, possibly like to try this or that – it's the only one he ever made. It also appealed to me because I am a big fan of hearty salads that can stand on their own if need be.
"If need be," however, is never a predicament I find myself in with Dorian. Despite the two packs of brats, a bag of hot dog buns, White Bean and Ham Salad fit for six to eight people, a bag of potato chips and two cartons of fruit, as well as one Chunky Apple Walnut Cake, he worried we might not have enough food. Dorian is not one to worry and so we stopped at the grocery store for a five-pack of pork chops and a loaf of bread on the way to the campsite. He doesn't buy my idea that you can just eat a salad for a lunch, no matter how "hearty" it may be. (In fairness to him, we were expecting a couple friends to join.)
This salad is an alternate to potato or macaroni salad with its mayo-based dressing of mustard and garlic and thinly sliced red onions. It had some campfire flair thanks to the hickory-smoked ham steak. The beans were slightly undercooked, a little too firm, so next time I think I'll use canned beans for consistency and skip the overnight soak. I'm usually underwhelmed by the parsley-as-a-garnish routine but here, in this salad, I saw parsley's true calling; meant to deliver a touch of freshness and brighten this otherwise heavy dish.
All in all, it worked pretty well alongside grilled pork chops and a hunk of store-bought Italian bread. I'd say it passed the camping test. It also fueled an epic hike from the campsite up to Nicholas Flat. Check out the pictures.
White Bean and Ham Salad
6 to 8 portions
1 pound Great Northern or other dried white beans
salt, to taste
1 to 2 cups Garlic-Mustard Dressing (see below)
1 medium-sized purple onion, peeled and sliced paper-thin
1 cup chopped Italian parsley
1 pound cooked ham, trimmed and cut into 1-inch cubes (I used one of the ham steaks you find in the grocery store near the bacon and other Smithfield products.)
salt and freshly ground pepper, to taste
1 cup best-quality imported black olives (Kalamata or Alfonso) (garnish)
1. Rinse and sort through the beans, discarding any pebbles, and soak them overnight in water that covers them by at least 3 inches.
2. Drain beans and transfer them to a kettle. Add cold water to cover the beans by at least 1 inch. Set over moderate heat. Bring to a boil, skimming off any scum that may form, and cook beans until tender, about 40 minutes, salting to taste after 30 minutes. Cooking times will vary. It is important not to overcook the beans.
3. Drain beans, transfer them immediately to a mixing bowl, and pour 1 cup of the garlic-mustard dressing over the still-hot beans.
4. Add the onions, parsley and ham, season to taste with salt and pepper, and toss again. Cover and refrigerate.
5. To serve, allow salad to return to room temperature. Toss again, correct seasoning (add more dressing if you like), and garnish with the black olives.
Garlic-Mustard Dressing
3 cups
1 egg
1/3 cup prepared Dijon-style mustard
2/3 cup red wine vinegar
salt and freshly ground pepper, to taste
6 garlic cloves, peeled and chopped
2 cups best-quality imported olive oil
1. Combine the egg, mustard and vinegar in the bowl of a food processor fitted with a steel blade. Season to taste with the salt and pepper and process for 1 minute.
2. With the motor still running, drop the garlic cloves through the feed tube. Then begin dribbling in the olive oil in a slow steady stream.
3. When all the oil is incorporated, shut off the motor, taste, and correct seasoning (the dressing should be very garlicky).
4. Transfer to a storage container and refrigerate until ready to use.