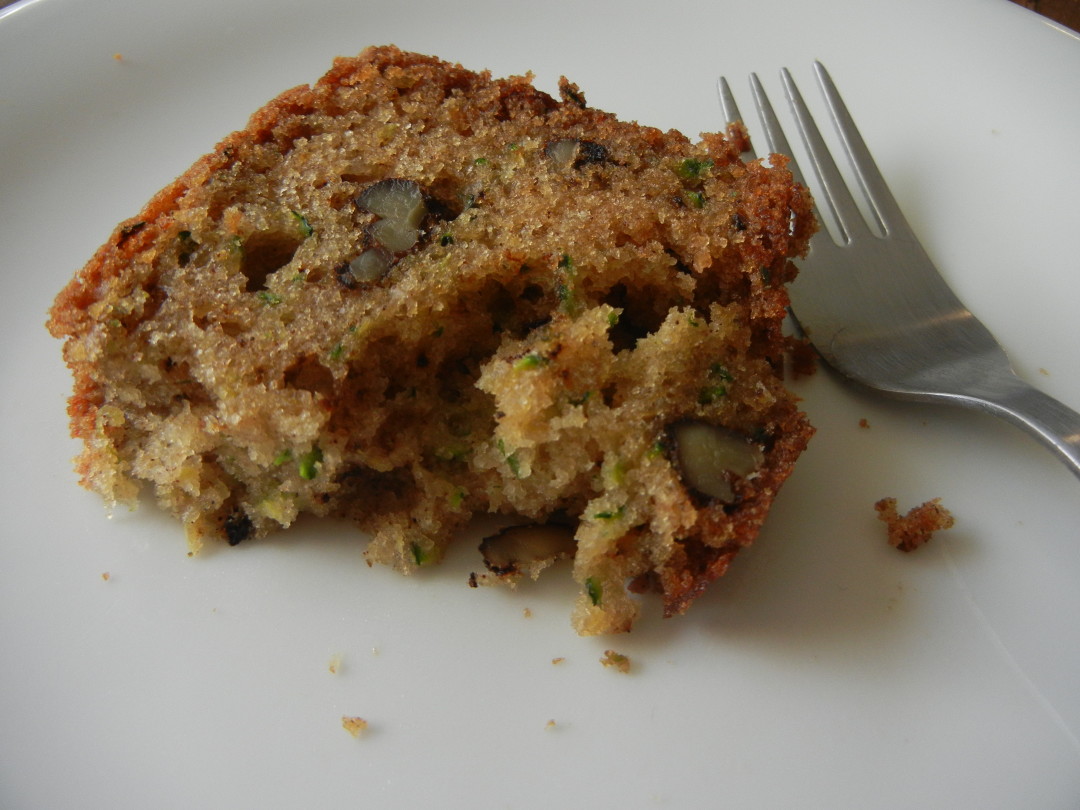 What can really be said about zucchini bread? There's not much when it comes to banana bread's ugly step-sister and carrot cake's forgotten cousin. Zucchini bread mimics the moistness of banana bread and shares some spice notes with carrot cake, but it's a long shot to rival either.
While my loyalties lie with banana bread when it comes to "tea bread," The Silver Palate's Zucchini Bread was great. The relatively neutral flavor got a boost from cinnamon and ground cloves, but was it was second to the smooth texture and dense chew. I stretched the cooking time so the top had the slightest crunch which I liked very much.
For some sort of base line on what makes a good zucchini bread I staged a zucchini bread bake-off. I compared The Silver Palate recipe with one from Bartlett's Ocean View Farm Cookbook, one of those cookbooks you pick up a charming farm stand somewhere only to be consistently frustrated at the lack of pictures. Some sort of visual might be nice when you come across "Nan's Bubble and Squeak," no?
The second recipe called for several more ingredients than the first, though by and large the recipes were pretty similar. Both called for oil instead of butter which ensures the breads' moistness as oil coats the proteins in flour – thereby preventing gluten networks which create a chewier texture – better than butter. They called for the same number of eggs and similar amounts of grated zucchini, walnuts and sugar, though the second used honey in addition to sugar to sweeten the bread. Bartlett's Ocean View Farm zucchini bread also included nutmeg, raisins and lemon zest which were not used in The Silver Palate version.
The winner in my book was the Zucchini Bread from The Silver Palate. While I can say what I didn't like as much in the second loaf, I did struggle to describe why I liked the first one so much more. Perhaps I preferred its more cohesive flavor; the addition of lemon zest with raisins and those warm spices might have had too much going on. I also preferred the bread without raisins from a textural standpoint, though the walnuts were great. Regarding texture, I found the second loaf to be more crumbly. This might have to do with the use of whole wheat flour, but I'm not quite sure about the science behind that. Overall the first loaf was more uniform in taste and texture, though both did were good and I wasn't really too upset that I needed to spend an afternoon taste-tasting these loaves.
Loaf One: Zucchini Bread from The Silver Palate
3 tablespoons unsalted butter
3 eggs
1 1/4 cups oil (I used canola – though any vegetable oil will do here)
1 1/2 cups granulated sugar
1 teaspoon vanilla extract
2 cups grated raw unpeeled zucchini
2 cups unbleached all-purpose flour
2 teaspoons baking soda
1 teaspoon baking powder
1 teaspoon salt
1 teaspoon ground cinnamon
1 teaspoon ground cloves
1 cup shelled walnuts, chopped
1. Preheat oven to 350°F. Butter a 9" x 5" loaf pan. (I had more than enough batter for one loaf so I didn't use all of it. I've learned to resist overloading the pan; it makes it hard to bake the cake all the way through without burning the edges and top.)
2. Beat eggs, oil, sugar and vanilla until light and thick. Fold grated zucchini into oil mixture.
3. Sift dry ingredients together. Stir into zucchini mixture until just blended. Fold in the walnuts.
4. Pour batter into the buttered loaf pan. Bake on the middle rack of the oven for 1 hour and 15 minutes or until a cake tester inserted in the center comes out clean.
5. Cool slightly, remove from pan, and cool completely on rack.
Loaf Two: Zucchini Walnut Bread from Bartlett's Ocean View Farm Cookbook
2 1/2 cups zucchini, unpeeled and shredded
1 cup whole wheat flour
1 1/2 cups unbleached flour
2 teaspoons baking powder
1/2 teaspoon baking soda
1 teaspoon cinnamon
1/2 teaspoon ground cloves
3/4 teaspoon salt
3 eggs
1 1/4 cups sugar
3/4 cup vegetable oil
1/4 cup honey
1/2 cup raisins
2 teaspoons lemon zest grated
1 cup chopped walnuts
1. Preheat oven to 350°F.
2. Place zucchini in a colander to allow moisture to drain off.
3. Combine flours, baking soda, baking powder, spices and salt.
4. In a large mixer bowl, beat eggs until very light. Gradually add sugar, beating until mixture is very light. Add oil and mix well.
5. Using a rubber spatula, blend in flour mixture until smooth. (Don't worry if batter doesn't seem too flow easily; the addition of the honey and shredded zucchini will loosen it up.) Add zucchini, honey, raisins, lemon zest and nuts. Stir until well blended, but do not over-stir.
6. Pour batter into 2 well-greased loaf pans (I used a 9" x 5" and a 8" x 3 7/8" pan) and bake for 50 to 60 minutes, or until inserted toothpick comes out clean. Cool in pan for 10 minutes, then cool on wire racks.
7. Wrap in aluminum foil and refrigerate overnight before slicing. I definitely skipped this step…