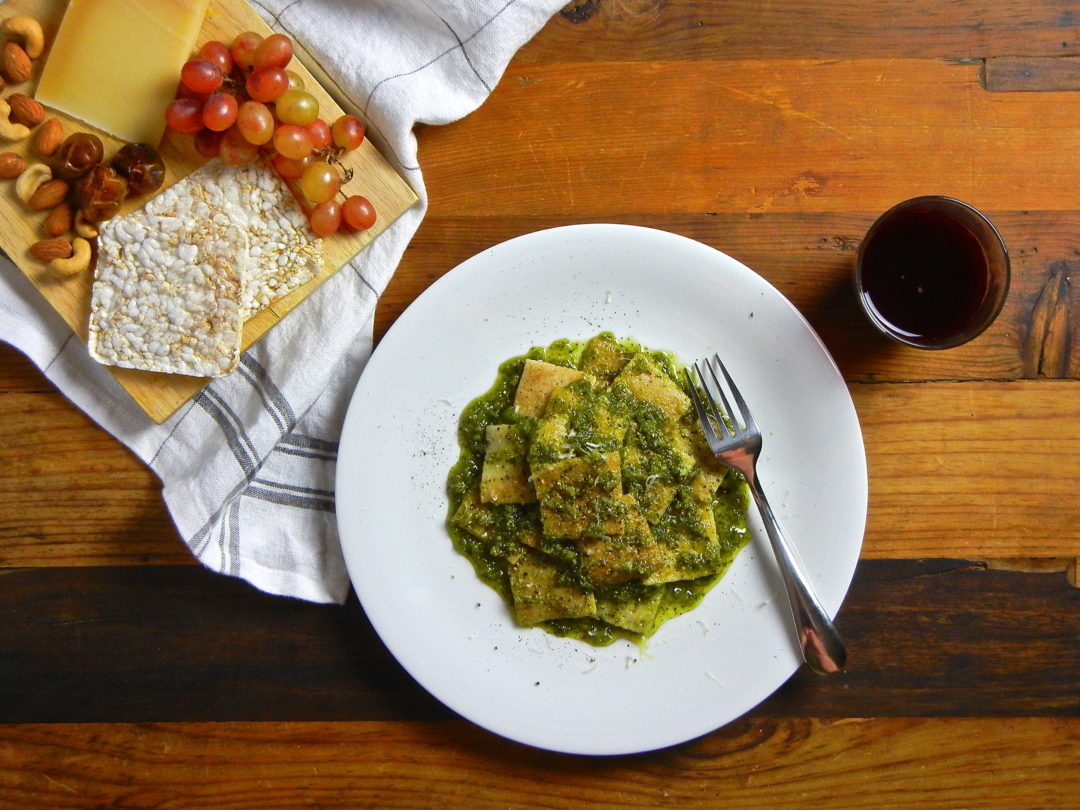 It's thanks to one Luca Rosi that I now know the wonders of testaroli, a dense and chewy pasta that's often served up with basil pesto and a healthy sprinkle of parmesan cheese. Luca is a former coworker of mine and though he is based in London and we've never actually met, we've managed to keep in touch despite no longer having our routine calls to discuss the best way to approach this or handle that. Turns out a shared interest in food and writing is a pretty good foundation for friendship!
Luca is a testaroli addict, or at least this much I gather from the number times he's used the hashtag #testarolitime. It's even the pasta, rather than Luca's face itself, that is featured in his profile picture on Instagram! The testaroli he sent me from Italy arrived in a very good looking box from l'ufficio postale, naturally, and was the size of an extra large pizza, hold all toppings, sauce and cheese. You cut the thin dough into squares or triangles and boil for all of minute before your testaroli is ready.
The pesto was homemade and the recipe is below.
Basil Pesto
Makes 2 Cups
2 cups basil leaves, rinsed and patted dry
2 large cloves, crushed and peeled
1 cup extra-virgin olive oil
1/2 cup pine nuts, lightly toasted
6 tablespoons freshly grated Parmesan cheese
6 tablespoons freshly grated Pecorino Romano
To toast pine nuts, add them to a dry skillet over medium heat and stir frequently until the nuts are lightly colored, 2 to 3 minutes.
1. Combine the basil, garlic, oil and pine nuts in a blender or food processor, and blend to form a smooth paste.
2. Stir in the cheeses. The sauce will keep, covered tightly, for several days in the refrigerator. Allow it to come to room temperature before serving.