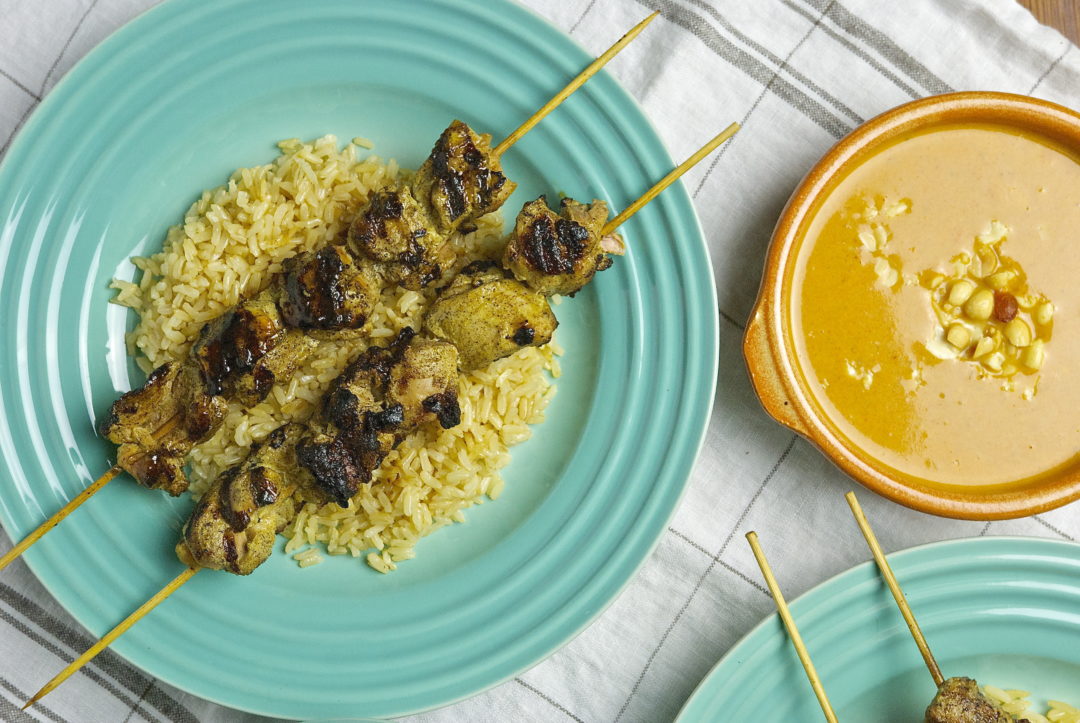 Prepping for this recipe was fun, especially now that I have a clothespin for my nose where fish sauce is involved! It's interesting, the smell isn't nearly so noticeable once it's mixed with other ingredients and the flavor it brings is – seemingly – an essential piece of Thai cuisine. I'm thinking of it like some of those gooey, smelly cheeses with a remarkable flavor. If you can get past the funk, it's totally worth it.
As some of you may or may not know, I have a problem when it comes to peanut butter. I can't stop eating it. It's not unheard of for me to go through an entire jar in a week. (But  how much is 16 ounces really?) Dorian started buying his own jar and hiding it from me to avoid the inevitable scenario where he goes to make his peanut butter toast for breakfast and a rat (a red-headed one) has polished off all that was left!
Not surprisingly, I loved the Peanut Dipping Sauce.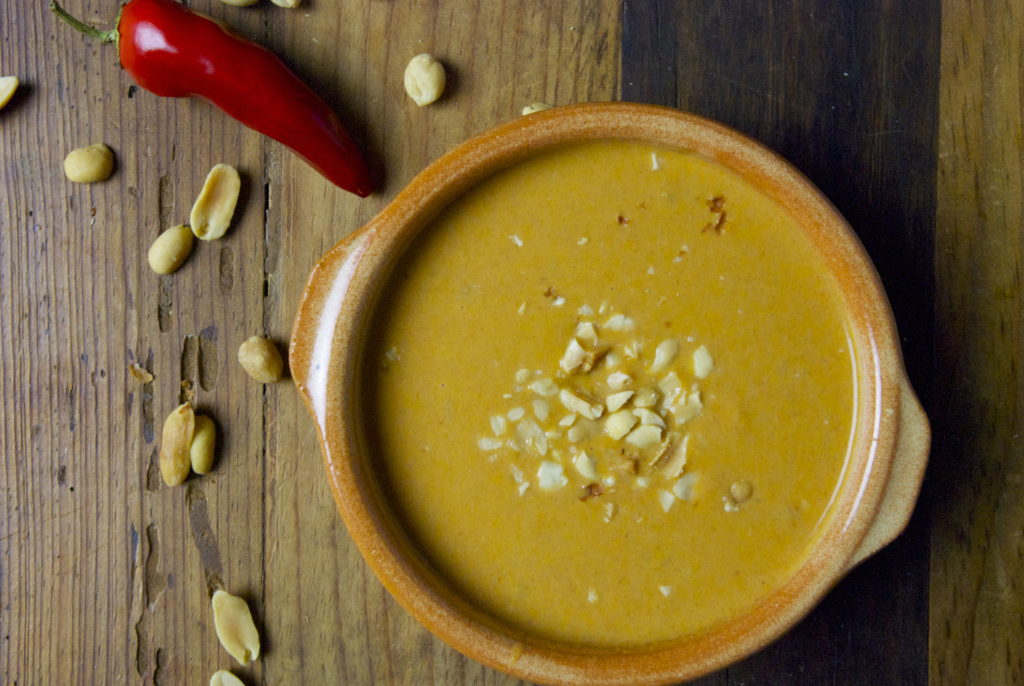 I think chicken thighs are the way to go here, but Quick and Easy Thai author Nancie McDermott suggests boneless, skinless chicken breasts as an alternative. Either way, I think the Tangy Thai Pickles are a great accompaniment to this dish.
Chicken Satay with Peanut Dipping Sauce
Serves 4 to 6
Marinade for Chicken
½ cup unsweetened coconut milk
1 teaspoon fish sauce
1 teaspoon brown sugar
1 teaspoon curry powder
1 pound boneless, skinless chicken thighs
Peanut Dipping Sauce
¾ cup unsweetened coconut milk
1 tablespoon red curry paste
2 teaspoons roasted chili paste
½ cup chicken broth
1 tablespoon fish sauce
1 tablespoon brown sugar
¼ cup chunky peanut butter
1 tablespoon fresh squeezed lime juice
10 bamboo skewers
To make the marinade, combine coconut milk, fish sauce, brown sugar and curry powder in a large mixing bowl and stir well to combine. Cut chicken thighs into bite-size pieces and add to marinade. Mix well to coat chicken pieces, cover and refrigerate for at least 30 minutes or as long as overnight.
While the chicken marinates, fill a rimmed baking sheet or a shallow baking dish with water and add the skewers. They'll still burn a little, but soaking helps minimize the smoking from and char on the wood.
To make the peanut sauce, bring the coconut milk to a gentle boil in a medium saucepan over medium-high heat. Add the curry paste and roasted chili paste and cook 4 to 5 minutes, stirring often to breakdown the pastes and ensure they dissolve into the coconut milk. Add chicken broth, fish sauce, brown sugar, peanut butter and lime juice and cook for another minute, stirring well for a smooth sauce. Remove from heat, transfer to a serving bowl, and set aside to cool. The sauce can be served warm or at room temperature.
When ready to make the satay, thread chicken thighs onto skewers and cook on a lightly oiled hot grill or grill pan or under the broiler on high, turning regularly, until chicken is cooked through, 4 to 6 minutes.
Serve immediately with the peanut sauce and refreshing Tangy Thai Pickles.