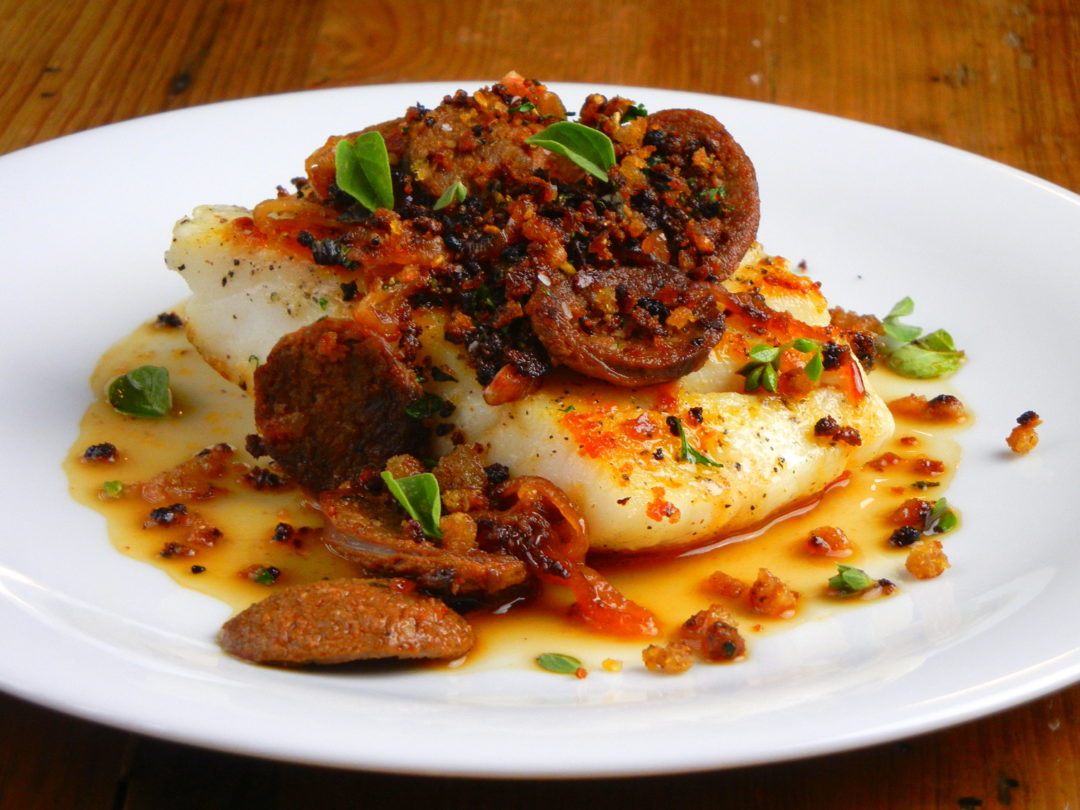 While I didn't completely nail it, making this dinner made me feel like I had got my kitchen mojo back.
It all started a couple weeks ago when my cousin David came to visit. I had planned an overly ambitious menu for someone whose biggest concern might be whether or not the food is edible. Fresh out of college, he is getting reacquainted with his alarm clock and developing a coffee habit where none formerly existed as he navigates his summer internship. David is really the best kind of dinner guest because he's not picky or fussy; I mean with his mom out of town all week, he was planning to eat every single meal at a taco shop down the street from where he lives.
Dinner was going to be a top-notch Mexican spread with carnitas tacos, fresh guacamole, corn pudding and dulce de leche brownies until I lost all control and had a near meltdown. I got carried away trimming fat off the pork shoulder which, in retrospect, was an instruction I should have ignored. The concept of braising a lean, even if formerly fatty, cut of meat didn't strike me as odd until I saw the finished product: pieces of charred pork adhered to the very black bottom of my Le Creuset Dutch oven.
Dorian could have been eating a cracker for all the noise he made while trying some. He even had the audacity to tell me they tasted great which really sent me over the edge.
First I had to navigate the meat counter at the Latin American supermarket where my Spanish could only take me so far. Who knows if I even ordered the right thing now. Then, in the middle of summer, I had to stand over a pot of hot oil in an effort to sear each piece of pork to a golden brown. In the process oil splatters burned my forearms and I began to smell like the meat department at the supermercado. Once I had sealed in the flavor, I transferred the pot to the oven and waited a couple hours until the carnitas should have been ready. They should have been shreddable and delectable with just the essence of crispiness.
For all that time and effort I could not pretend that I did a good job when I didn't – so don't try and tell me that I did!
Luckily there was enough time to run back to the market to buy two pounds of ready-made carnitas, an exceptional amount for three people which meant I would be eating carnitas for the next week, but in some way checked my frustration. After the carnitas disaster and supermarket run, I didn't have the time or desire to make the corn pudding or brownies so David and Dorian got an abridged version of the feast I had envisioned.
(I was going to pass the store-bought carnitas off as my own because they were delicious – Vallarta cooks them with extra fat and the skin on – but after a couple beers, I might have confessed to my cousin that the carnitas were not of my own making. I don't think he could have cared less.)
That was only the beginning. The next week there were rubbery chicken breasts that I thought would go well with the jerk mashed sweet potatoes I am perfecting. When I finally made the dulce de leche brownies, I overcooked them. Can you imagine anything worse than a dry brownie?
And so, once the ebb and flow of life had found a moment of balance, I pieced together a decent meal and couldn't have been more excited about it.
The recipe below is adapted from one in an older issue of Bon Appétit. I substituted lamb merguez, a sausage from North Africa flavored with cumin, chili pepper and harissa, for the chorizo, a smoked pork sausage from Spain flavored with paprika, and some whole wheat sandwich bread for the country loaf used to make the bread crumbs in the magazine's version. The more I cook, the more liberal I have become with substitutions like this. I'm learning when ingredient swaps will work and most certainly when they will not work. It's not like this was the first time when I've strung together a few flops in the kitchen.
Cod with Lamb Merguez and Breadcrumbs
Serves 4
3 slices whole-wheat sandwich bread
4 tablespoons olive oil, divided
Kosher salt and freshly ground black pepper
1 tablespoon chopped flat leaf parsley
1 tablespoon fresh oregano leaves
1 small shallot, thinly sliced
1 merguez sausage
2 tablespoons red wine vinegar
4 6-oz. pieces cod, skin removed
Cook sausage on the stovetop or grill. When cooked, half lengthwise and thinly slice.
Pulse bread in a food processor until you have coarse crumbs. Heat two tablespoons of the oil in a larger skillet over medium high heat. Add breadcrumbs and cook, stirring often until golden and crisp, about 3 minutes. Season with salt and pepper. Transfer mixture to a bowl and toss with parsley and oregano. Set aside and wipe out skillet.
Heat one tablespoon of the oil in the same skillet over medium high heat. Add shallot and sausage and cook, continuing to stir until meat is slightly crisp. This might take a few minutes. Transfer shallot-sausage mixture to a bowl and mix in vinegar; season with salt and pepper. Wipe out skillet.
Heat remaining tablespoon of oil in the skillet over medium high heat. Season cod with salt and pepper and cook on one side, then the other until a nice golden crust has formed on the fish and it is cooked through. Do not over cook. Depending on the thickness of the fillets, this could be anywhere between 3 and 5 minutes per side.
Serve cod topped with sausage mixture and toasted breadcrumbs.