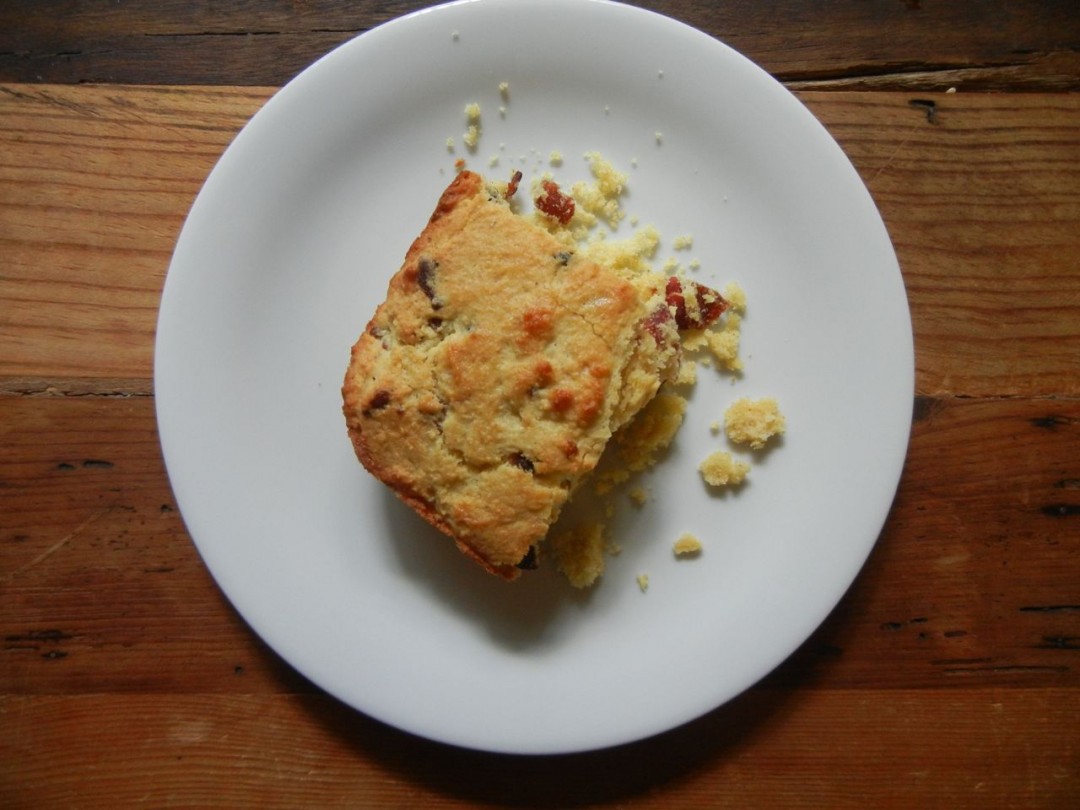 When asked what my favorite food is, the answer is easy: sweet fried plantains. You might know them as maduros if you frequent Cuban restaurants or platanos if you've ever ventured into a Salvadoran pupusaria. Though no one's ever called them the food of the gods, they really are simply divine.
Ask me what's second on the list, third, fourth, or even what foods make the top ten and you'll get anything but a simple answer. I always feel good about short ribs, crab cakes and pulled pork sandwiches and have never been known to turn down a lobster roll. Dorian's white bean dip and bratwurst are more recent favorites as is Chocolate Dacquoise after this year's Christmas dinner. I lose all control around pecan pie and eat more than my fair share of peanut butter on what sometimes seems like a weekly basis. And on and on it goes, but rest assured, cornbread makes the list every time.
The perfect cornbread, for me, is one that is moist to the touch on top, dense all the way through and only slightly sweet. If I have to slather it with butter, it's not top notch. I've tried every cornbread recipe I've come across and just about every two-step baking mix on the market on a hunt for the best of the bunch.
To the average cornbread consumer, there's nothing wrong with The Silver Palate's Crackling Cornbread, but I didn't think it was outstanding. If you like crumbled bacon, diced jalapeños and other savory bits in your cornbread, then you might like this one more than I did. I found it a little dry and lacking that moist top I like so much. I do have a recipe from all the years of tasting that comes close to the ideal. I've included it at the bottom here following the recipe for the stuffing which I made once I realized I wouldn't miss this loaf if it was used for something else.
Crackling Cornbread
Makes 9 Squares
1 cup stone-ground cornmeal
1 cup unbleached all-purpose flour
1/3 cup granulated sugar
2 1/2 teaspoons baking powder
1/4 teaspoon salt
1 cup buttermilk
1 cup diced, crisp-cooked bacon
6 tablespoons sweet butter, melted
1 egg, slightly beaten
1. Preheat oven to 400°F. Grease a 9-inch-square baking pan.
2. Stir dry ingredients together in a bowl. Then stir in buttermilk, bacon, butter and egg and mix gently.
3. Pour batter into the prepared pan, set on the middle rack of the oven, and bake for 25 minutes. Cornbread is done when edges are lightly browned and a knife inserted in the center comes out clean. Cut into 3-inch squares to serve.
Cornbread-Sausage Stuffing with Apples
Makes enough stuffing for a 20-pound turkey, to make 12 to 14 portions
12 tablespoons (1 1/2 sticks) sweet butter
2 1/2 cups finely chopped onions
3 tart apples, cored and chunked; do not peel
1 pound lightly seasoned bulk sausage (breakfast sausage with sage is best)
3 cups coarsely crumbled cornbread (preferably homemade)
3 cups coarsely crumbled whole-white bread
3 cups coarsely crumbled white bread (French or homemade preferred)
2 teaspoons dried thyme
1 teaspoon dried sage
salt and freshly ground black pepper, to taste
1/2 cup chopped Italian parsley
1 1/2 cups shelled pecan halves
1. Melt half the butter in a skillet. Add chopped onions and cook over medium heat, partially covered, until tender and lightly colored, about 25 minutes. Transfer onions and butter to a large mixing bowl.
2. Melt remaining butter in the same skillet. Add apple chunks and cook over high heat until lightly colored but not mushy. Transfer apples and butter to the mixing bowl.
3. Crumble the sausage into the skillet and cook over medium heat, stirring, until lightly browned. With a slotted spoon, transfer to the mixing bowl and reserve the rendered fat.
4. Add remaining ingredients to the ingredients in the mixing bowl and combine gently. Cool completely before stuffing the bird; refrigerate if not used promptly.
5. If you do not wish actually to stuff the bird (goose or duck, for example, can make the stuffing greasy), spoon into a casserole. Cover casserole and set into a large pan. Pour hot water around the casserole to come halfway up the sides. Bake for 30 to 45 minutes at 325°F, basting occasionally with cooking juices from the bird or with the reserved sausage fat if necessary.
Best Cornbread Recipe to Date
Makes enough for an 8-inch square baking dish
1/2 cup butter
2/3 cup white sugar
2 eggs
1 cup buttermilk
1/2 tsp baking soda
1 cup cornmeal
1 cup all-purpose flour
1/2 tsp salt
Preheat oven to 375°F. Grease an 8-inch square pan. Melt butter in a large skillet. Remove from heat and stir in sugar. Quickly add eggs and beat until well blended. Combine buttermilk with baking soda and stir mixture in pan. Stir in cornmeal, flour and salt until well blended and few lumps remain. Pour better into prepared pan. Bake 30-40 minutes.