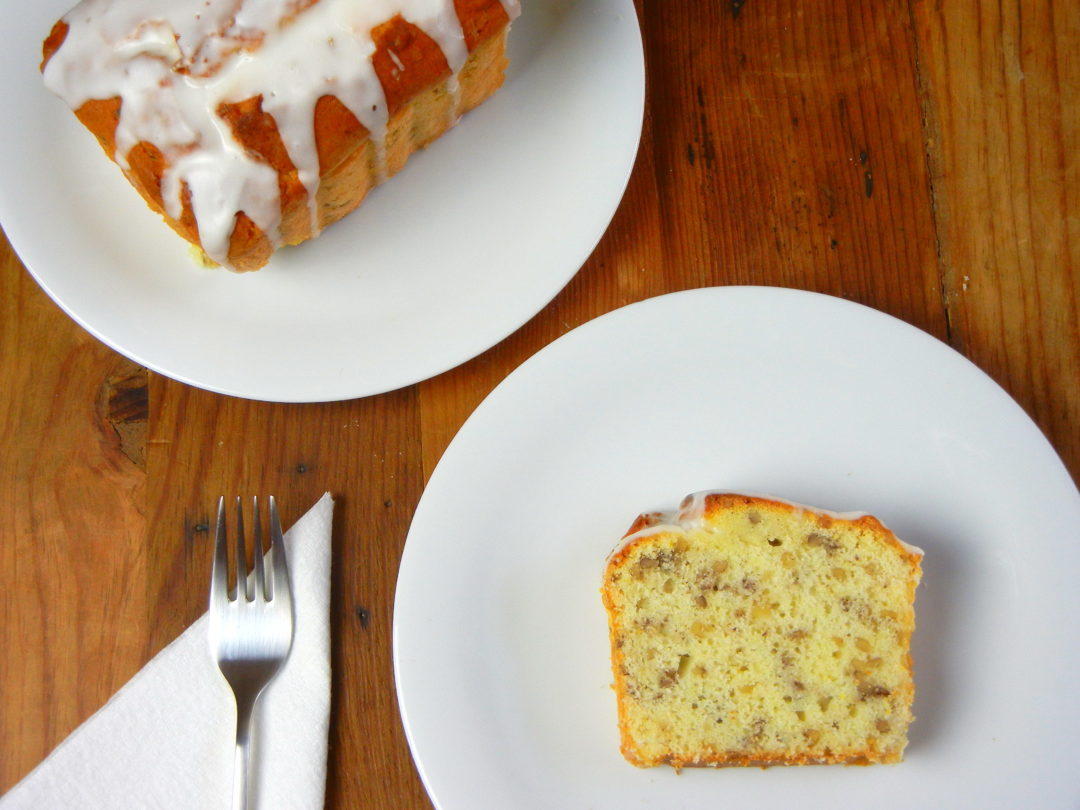 I rarely opt for anything other than banana bread when it comes to breakfast breads, quick loaves, tea cakes, or whatever you might call these treats to make you feel like you are not actually eating  a piece of cake. It's moist, dense and I'm hard pressed to remember a slice I didn't like. The best recipe for banana bread I've found to date is Dominique Ansel's and really I don't need to try any more.
Zucchini bread has turned out to be an acceptable alternative and while I'm still searching for the ideal loaf, a recent bake-off between several recipes showed The Silver Palate's version comes close.
I thought I might get into something new with this lemon-walnut bread here. While the other recipes delivered a dense loaf, this one was light, airy, and – dare I say – a little dry. Folding in egg whites made for a lighter cake, but I missed the moistness of a banana or zucchini bread. I adapted the recipe a bit to use a basic confectioners sugar glaze rather than the syrup-like glaze suggested by the cookbook.
Lemon Black Walnut Bread
Makes 2 loaves
1/2 lb. (2 sticks) unsalted butter
1 cup granulated sugar
4 eggs, separated
1/3 cup, plus 1 teaspoon, lemon juice
2 tablespoons grated lemon zest
3 cups cake flour
4 teaspoons baking powder
1 cup, plus 2-3 tablespoons, milk
1 1/4 cups confectioners sugar
pinch of salt
1. Preheat oven to 350°F. Butter 2 loaf pans with 3 tablespoons of butter.
2. In a mixing bowl cream together remaining butter and sugar. Beat in the egg yolks, one at a time, then stir in 1/3 cup lemon juice, and the grated lemon zest.
3. Combine cake flour with baking powder. Add one third of the flour mixture to the creamed butter and sugar. Then add half the milk, another third of flour, remaining milk and remaining flour. Do not over-mix.
4. In another bowl beat the egg whites and a pinch of salt together until stiff but not dry. Fold beaten egg whites and black walnuts gently into the batter.
5. Pour batter into the prepared pans. Bake on the middle rack of the oven for 45 to 50 minutes, or until cake tester inserted in the center of a loaf comes out clean.
6. Cool bread slightly, remove from pans, and cool completely on a rack.
7. Stir 3 tablespoons for milk, one at a time, into the confectioners sugar. Add lemon juice and add more sugar or liquid until frosting reaches desired consistency. You're looking for something between a cinnamon bun glaze and a cake frosting.
8. Drizzle the lemon frosting over the tops of the cooled loaves and let them sit until completely cool.